Sidney Crosby is off to the worst start of his professional hockey career and it couldn't have come at a worse time. The Penguins entered the 2015-16 season with higher expectations than normal, which is hard to believe considering the mostly insurmountable predictions that have plagued this team over the last decade. They're a team that's viewed as one of the most talented, offensively skilled organizations in the NHL and they're led by arguably the best hockey player in the world. Why is the best hockey player not contributing?
You can pin Crosby's struggles on a lot of different things. It might be an issue with Mike Johnston's system and the way his centers are heavily reliant on the Penguins' defense for their transition game. It could also be due to his long-time wingers, Chris Kunitz and Pascal Dupuis, aging and no longer exhibiting the ability to produce as they have in the past. The chemistry between the two of them and Crosby can't be denied and he could be struggling to build it with others as he moves on from that trio. Or, maybe those that claim he is rather gun-shy and unwilling to score the dirty goals that he used to bury so often are correct. Of course, there's always the chance that it's simply bad luck as well, which you don't have to look any further than his absurdly low shooting-percentage to see.
Crosby's age should be taken into consideration as well. Is he simply a victim of getting older? According to SBNation, players begin their decline once they surpass their mid-20's and while they retain approximately 90-percent of their scoring through age 29, the decline is steep after that. Crosby is approaching that age. He isn't your average NHL player and could defeat the law of averages when it comes to production but considering his recent trends, it isn't something that should be ignored.
Actions Will Speak Louder Than Words for Sidney Crosby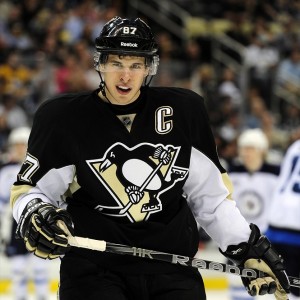 Crosby recently discussed his lack of production and as you'd expect, he knows it's an issue. He isn't making excuses and acknowledges the fact that he needs to be better. But, words won't win the Penguins hockey games. Acknowledging your struggles won't bring another championship to Pittsburgh.
At some point, it boils down to Crosby facing whatever demons are holding him back and breaking out of this slump. Fans and media can analyze, speculate and assume but the only person that can fix this is Sidney Crosby himself. Am I being hard on him considering we're at a very early stage of the 2015-16 season? Probably. But being concerned about the best all-around hockey player in the world is warranted when he isn't contributing on the score sheet with the talent he now has surrounding him.
Criticizing Crosby is a slippery slope. At the first sign of him turning things around, those that questioned his struggles will fall victim to an "I told you so" crowd claiming that there is no issue and he'll eventually score. And, that's ok because they're right. That doesn't mean it isn't unsettling to see him go through periods like he is right now. With all of the uncertainty around the situation though, there is one thing that I know for sure…
Crosby Will Rebound and He Isn't Going Anywhere
The chatter of whether or not the Penguins should trade Sidney Crosby has always surfaced and will continue to surface during periods in which he or the team struggles. There's no avoiding it. Trade speculation and 'what if's' are fun and it doesn't matter if someone is a superstar or not, they'll eventually be a subject of this topic.
The thing is, trading world-class talent rarely works out for the team that forfeits such a player. When you trade Crosby, you no longer have Sidney Crosby. Can you really replace him? Considering both revenue and skill, there's simply no one that can fill his shoes.
Lastly, the Pittsburgh Penguins are for sale. The trio of Crosby, Evgeni Malkin and newly acquired Phil Kessel locked up for the foreseeable future will play a key role in the decision for any interested buyers. Those names equal revenue and the Penguins' ownership group knows it. So, if it wasn't already obvious that barring a catastrophic cliff-dive Crosby will finish his career in Pittsburgh, it should be quite transparent now.
Bottom line, if you're worried about Crosby and even a bit angry at his start to 2015-16, it's completely valid. He's paid to produce and right now, he isn't. But, it's also important to understand that the Penguins will, as they should, be patient with him and the Penguins will remain Crosby's team until he decides otherwise.
Pittsburgh Penguins writer for TheHockeyWriters.Com and PittsburghHockeyNow.Com. Youth hockey coach, and student of the game.