The emergence of daily pools has people looking for advice when it comes to which players they should choose in their Fan Duel and Draft King leagues. With that in mind, here's a look at some of the best – and worst – selections for today's games.
Big Guns
Dustin Byfuglien
Wednesday marks the first of two meetings between the Toronto Maple Leafs and the Winnipeg Jets. While Byfuglien will cost you a pretty penny in any sort of daily pool, his numbers in Toronto and against the Leafs might be worth the cash.
The big defenceman has 13 points (3g-10a) in 13 games against the Leafs in his career and six points (1g-5a) in six games at the Air Canada Centre. If the pool tracks plus-minus, that will also help you as Buff is a plus-three in his career against Toronto.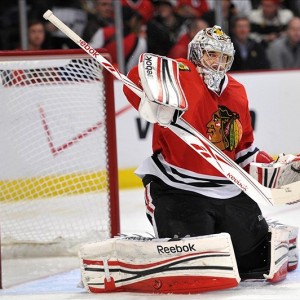 Corey Crawford
Looking for a goaltender? Crawford could be your guy – even if he is on the more expensive side. Assuming he starts, his numbers against St. Louis are quite impressive over his career.
He's played in 19 games against the Blues over his career with a record of 12-4-3. But it's his 2.23 goals against average and his .917 save percentage in those games that adds to his value in his game against the Blues today.
Is that not enough? At the United Center the Hawks goalie has a career record of 81-42-15 with a 2.37 goals against average and a .914 save percentage. Pay the money if you're willing to, he's almost a guarantee when it comes to the Blues.
Henrik and Daniel Sedin
If you can get one of the Sedins – great. If you can get both Henrik and Daniel – even better. Both of the Vancouver twins have played 15 games against the Penguins over their long careers. Daniel has 11 points (4g-7a) over that time and a plus-nine rating while his brother Henrik has recorded 14 points (3g-11a) in his 15 games and an identical plus-nine rating.
On top of that, their careers at home are impeccable. Daniel's notched 457 points (169g-288a) in 539 games at Rogers Arena. Henrik has 478 points (119g-359a) in 552 games at home. Take that for what you will, but it's likely worth it to pick up the Sedin twins tonight.
Cheaper Options
Nikolaj Ehlers
With Connor McDavid likely out of the running for the Calder Trophy with his recent injury, the favourite might be Winnipeg's Ehlers. While he's yet to play a game against Toronto in his short career, his nine points (4g-5a) in 12 games this season shouldn't go ignored.
He'll likely still be cheap in daily pools and sitting third on the Jets in scoring gives owners an idea of just how good this kid is. Take a risk on this Jet against a bottom feeding Leafs team.
Morgan Rielly
First in team scoring. He's a defenceman with a lot of offensive upside. And being on the Maple Leafs could lower the cost of Morgan Rielly in daily leagues. That being said, he might be a good option if you're looking for a cheap defenceman for your team.
Rielly has three points (0g-3a) in four games against the Jets in his career. But it's his numbers at the Air Canada Centre that are quite impressive for the young blueliner who's played for some offensively stunted teams. In 84 games at the ACC, Rielly has 42 points (11g-31a). So he might not be the worst option if you need a cheap pick.
Artemi Panarin
Another favourite for the Calder Trophy is the young gun in Chicago. Given the chance to play on the top line, Panarin is a player that should certainly not go unnoticed.
Panarin currently sits in second on the Blackhawks in scoring and has 11 points (2g-9a) in 12 games this season to go along with his plus-five rating. Whether he's playing with Toews or Kane, he's a solid candidate for your daily roster.
Stay Away
James Reimer
As well as James Reimer played against Dallas – earning his second win of the season – don't expect the same against the Winnipeg Jets tonight. If you're looking for a goaltender, chances are you should stay clear of the Toronto net.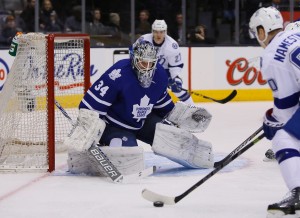 In 11 career games, the Leafs netminder has a 3-4-1 record with a goals against average over 3.00 and just a .903 save percentage. These should be the numbers that you're looking at going into making your selections. Don't let his 2.80 goals against and his 38 wins in 86 games at the ACC fool you. He may be a cheaper option, but he won't provide the points you're looking for.
Vladimir Tarasenko
His numbers against Chicago over his career are relatively impressive. He's notched six points (3g-3a) in 10 games. But even though he's been on a torrid pace to start the season, Tarasenko might be a guy you'd like to stay clear of tonight.
While he's had the Hawks number in his career, they've been able to shut him down when they play each other at the United Center in Chicago. In four career games in the Windy City, Tarasenko has no points and a minus-two rating. That's a lot of cash to spend on a possible risk.
Ryan Miller
Here's another goalie with dismal numbers against his Wednesday night opponent. Stay clear of Vancouver's Ryan Miller if you can as he's just 8-13-3 in 26 career games against the Penguins. His 3.15 goals against average and sub-.900 save percentage are also indications that caution should be used when it comes to the Canucks goalie.
On top of that his 17-11-3 record in 31 games at home isn't exactly something to write home about. He might break his bad habits against Pittsburgh tonight, but proceed with caution if you're headed down this path.
With four games on the schedule tonight, there aren't a lot of options for daily pools, but take a look at some of the numbers and choose wisely. Don't be afraid to take a risk on some of the lower-cost players as those will be the ones that help you climb to the top.
For more fantasy hockey news, check out THW's fantasy page or follow Andrew on Twitter at @AndrewGForbes.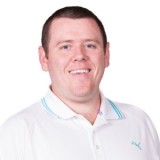 Andrew is in his 8th year reporting for The Hockey Writers covering the Toronto Maple Leafs. He began his broadcasting with CBC's Hockey Night in Canada team as well as being part of their coverage of the 2014 Winter Olympic Games in Sochi. He's the former play-by-play voice of the London Jr. Knights for Rogers TV and currently hosts the Sticks in the 6ix podcast. You can follow him on Twitter at @AndrewGForbes.