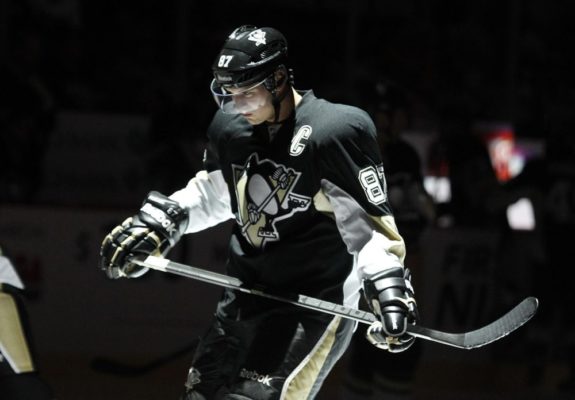 Admit it…Sidney Crosby isn't healthy.  Not even close.
Crosby says he is.
His coach, Dan Bylsma, says he is.
Even a portion of the Pittsburgh media — who interact with and follow Crosby on a daily basis — is convinced he's only dealing with the minor bumps and bruises that come standard with playoff hockey.
Fortunately, the Canadian media have been insisting that Crosby doesn't look right and I think they're focused on the right indicators.
On Sunday, CBC's Elliotte Friedman mentioned in his column that Crosby's ice time has been dwindling in the playoffs:
It's starting to sound like a conspiracy theory, but watching Sidney Crosby's ice time is fascinating. He led all Pittsburgh forwards at 19 minutes 54 seconds in Game 5, which is a good omen. Combined with his 18:47 in Game 4, that's his third-lowest back-to-back total this season. His 44-second shift length was comparable to everyone else, but the second straight game it was 10 seconds lower than his season average. Don't know what to make of it all.
CBC noticed that Crosby's top-end speed in open ice has dropped as well.
Interesting stuff from the CBC panel on whether Sidney Crosby is playing hurt. Charted his top speed elsewhere and now, and he's slower.

— Bruce Arthur (@bruce_arthur) April 24, 2014
When Crosby is at normal speed, he looks like he did in this March 30 game against Chicago, the only game in Crosby's last 16 contests where he's scored a goal:
We haven't seen that Sidney Crosby lately.
I couldn't pinpoint a specific incident where Crosby seemed to suffer an injury, but I have a guess as to when it occurred.
If you want to see how different Crosby looks when operating at (or close to) 100 percent, watch his April 3 performance against Winnipeg.  Crosby was all over the ice.  He didn't put the puck in the net, but he played one of his best games in recent memory.
Two nights later against Minnesota, Crosby looked dreadful.  Really bad.  He was avoiding contact, could hardly generate acceleration, and was bailing out of faceoffs right as the puck was dropped.
The following night, he was scratched from a game against Colorado.
Nothing stood out during his shifts in Winnipeg that indicated an injury other than this takedown in the third period that left him a little slow to get up:
Crosby has been taken down a few times in a similar fashion throughout the Penguins' series against Columbus and one league executive I spoke to on Sunday speculated that it could be a back/disc issue.
Again, this was total speculation, but let's remember that Crosby supposedly struggled with swelling in the C1-2 joint of his neck in 2012.
While we're all making uneducated medical guesses, I suspect it's something in the groin or core area, such as a sports hernia.
Crosby has looked uncomfortable in traffic, often reaching with 'alligator arms' for loose pucks.  He can't get solid leverage on faceoffs, although his stats in the faceoff dot haven't suffered too much.  He's also missing the net far more than usual with his shot.  When he does hit the goalie, it isn't with normal velocity.
Crosby isn't at full health, but neither is Patrick Kane, Jonathan Toews, or Ryan Getzlaf.
The problem is that Crosby has zero goals in the playoffs.  Kane, Toews and Getzlaf have three apiece.
Goals aren't the only stat that matters, but Crosby wasn't paid $12 million this season to win faceoffs and block shots.  On a top-heavy team (that's fortunately getting a lot of secondary scoring so far in the playoffs), he's paid to score goals.
The Penguins need him to score goals.
If he's not anywhere close to healthy, then his minutes should be cut and handed to someone else, which Friedman noted has been happening the last few games.
Aside from scoring, his play in the offensive zone has also been limiting the quality opportunities his whole line is capable of generating.
Lately, when Crosby heads into the corner to pick up a loose puck, his first thought is to funnel a pass back to an open defenseman.  That strategy isn't terrible against a goalie like Sergei Bobrovsky — who seems to be really struggling with shots from the point — but it also depends on who the defenseman is you're passing to.
Far too often, Crosby makes a quick pass to Rob Scuderi or Brooks Orpik, who don't have have the confidence or offensive abilities to get a hard shot on goal.  Instead, both simply dump the puck back into the corner and the Penguins are forced to battle again for possession.
Having the puck on Crosby's stick — even an injured Sidney Crosby — is far more desirable than a 50/50 battle in the corner for a loose puck.
Crosby needs to find a way to attack the net from the corner and side boards.  If he does, he'll either draw a penalty or the attention of opposing defenders, leaving his linemates with more room to operate.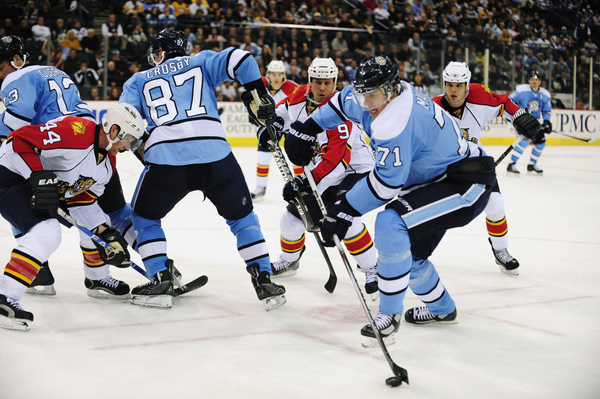 Now, let's keep in mind that we're nitpicking the contributions of the likely NHL MVP this season.
If he is battling injuries, Crosby deserves a ton of credit for taking his game to another level in the third period of Game 5 with the Penguins holding a 2-1 lead.
"When it gets tight, you have to find a way to raise your game," he said prior to the game.  "I mean that individually and as a team.  Your desperation and the importance of every play becomes that much more important."
Crosby backed up his words by winning battles in the neutral zone, chasing down loose pucks, and backchecking hard to preserve the victory.
He's also not the only star player in the NHL struggling to find the back of the net in this year's playoffs.
The list to the right contains 15 players from a variety of winning and losing teams in the first round.
The group has over 4000 career goals on their collective resumes, yet they've only accounted for six goals in the first round.  This trend is even more surprising when you consider that playoff scoring is up nearly 16 percent this year (5.8 goals per game vs 5.0 in 2013)
Goals are being scored, just not by the household names we've come to expect each spring.
But the Penguins will need Crosby (and Evgeni Malkin) to produce for the Penguins to have a chance at a Stanley Cup.
Nine of their 20 non-empty-net goals have been as a result of point shots or tips in front.
That won't continue.  That can't continue.
Relying on fortunate bounces is a tough way to generate playoff success, as the Penguins found out last season.
Injuries may be a factor, but if we've learned anything about this Penguins team in recent years, injuries are the rule and not the exception.
"Injuries are something we've dealt with all year," Crosby said this weekend.  "In the playoffs, it doesn't get any easier, so you've got to find ways to be successful."
__________________________________