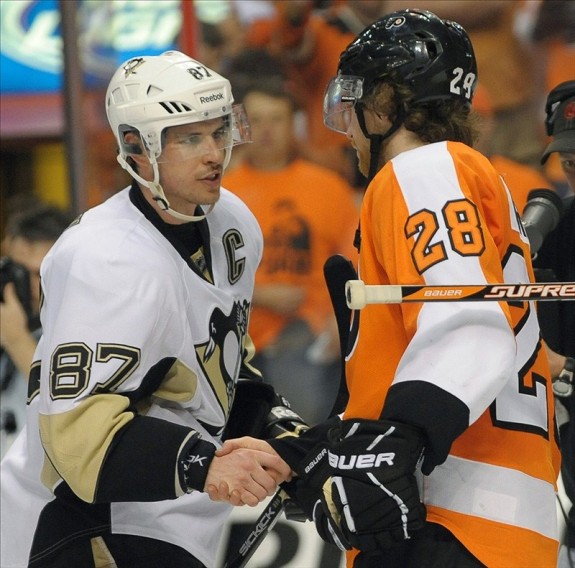 Sidney Crosby and Peyton Manning are respected as their league's best player. They've both excelled in the regular season by winning MVP awards. But once the spotlight hits in the playoffs, these two global superstars seem to find a dark cave rather than success.
Peyton Manning, who's lost his first playoff game eight times in 13 post-season appearances, is well-known for underperforming in the NFL playoffs. Crosby is developing the same reputation by not living up to expectations and playing poorly in the NHL playoffs.
Crosby and Manning have won and lost a championship (Manning lost two Super Bowls) in their respective leagues. Both players have played well in spurts during playoff runs, but both individuals are famous for their problems with one of their arch-rivals. Manning struggled to beat the New England Patriots for years when he was playing for the Indianapolis Colts. Crosby and the Pittsburgh Penguins  have been tormented by their cross-state rivals, the Philadelphia Flyers.
Even though each player won a championship in the last decade, neither player was solely responsible for their team's success in the biggest moments of the season. If not for the help of teammates, both players would still be searching for their first championship.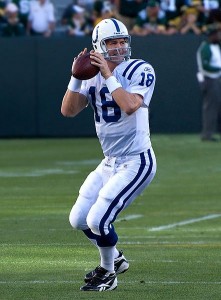 When Manning was the quarterback of the Colts, he didn't light up the Chicago Bears when he won his only Super Bowl ring in 2007. The Colts' defense was more responsible than Manning for winning Super Bowl XLI. Manning was 25 of 38 for 247 yards, one touchdown and one interception. But he won the Super Bowl MVP by default.
Crosby performed well during the Penguins' 2008-09 Stanley Cup playoff run. But he wasn't the player who carried the Penguins through the playoffs when they defeated the Detroit Red Wings in the Stanley Cup Finals. Crosby was outscored that post-season by Evgeni Malkin, the Conn Smythe Trophy winner. In seven games against the Red Wings in those Finals, Crosby had three points and was a minus-three.
The Penguins pay millions of dollars to Crosby with the expectations that he'll step up his game in the playoffs. But he's not holding up his end of the bargain. Crosby, like Manning, seems to play as if he's only paid in regular season dollars.
There's one playoff series that positively sticks out in Crosby's career. That was his battle against Alex Ovechkin in the second round of 2008-09 playoffs. Crosby had eight goals in seven games against the Washington Capitals. Since that time, what other series can you honestly say that he dominated?
Crosby is a minus-eight in his last 22 post-season games. He's goalless and has one even-strength point in his last seven post-season games dating back to last season. That's because Crosby is lacking a killer instinct and playoff intensity.
In his first two playoff games against the Columbus Blue Jackets, he's a minus-two, with no goals and three secondary assists. Two of those secondary assists have come on 11 power play opportunities.
Crosby has won less than 50% of his face-offs. He hasn't possessed the puck enough, and when he has, he's passed the puck to a Blue Jackets' player. Crosby has six giveaways in the series. That's more giveaways than anyone else in the playoffs.
Crosby possesses the ability to take over a game in a way words cannot explain. But for some unknown reason, he's looked disinterested. Remember when Crosby had 30-second shifts in the offensive zone where he'd possess the puck the entire time while carrying an opponent on his back? When's the last time we've seen that in the post-season from Crosby?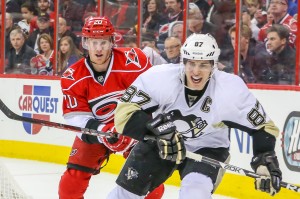 The playoffs are where legends are made. Both Crosby and Manning won a championship. But to authenticate true post-season greatness, Crosby and Manning must win another crown. They must prove their first championship wasn't a fluke. Neither player has been able to overcome this obstacle.
There's no doubt Crosby and Manning will go down as two of the greatest regular season players in the history of their respective sport. But Manning will always be regarded as a choker in the playoffs until he wins another Super Bowl. Crosby may also be known as a choker if he continues to underperform and doesn't win a second Stanley Cup.
Justin Glock has covered the Pittsburgh Penguins for The Hockey Writers since 2011. As a lead writer, his Penguins knowledge traces back over two decades. For any requests, please feel free to contact Justin via email: JGlock10@gmail.com.