Even though it happened just 24 hours ago, by now it's old news that the Edmonton Oilers named Connor McDavid the 15th captain in franchise history and the youngest captain to ever don the "C" in the NHL. As fellow The Hockey Writers contributor Marcy Di Michele noted, the Oilers naming McDavid as captain shouldn't come as a surprise. He's the logical and correct choice for a team headed in a different direction than the one that dwells in the basement of professional hockey.
What makes the decision so logical are the obvious signs of leadership McDavid displayed before being asked to lead. It's as if he was destined to be the Oilers' next captain. Coaches, management and the players on the team knew it, it was simply a matter of making it official.
Betting on His Team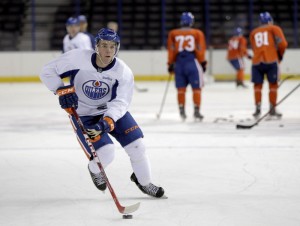 Ryan Rishaug, of TSN, wrote an interesting piece back in October of 2015. It was a behind the scenes story from someone who had access to an Oiler's practice and speaks clearly to the character of a player who understood how to motivate his team.
As Rishaug explains it, during one of the special team drills they were asked by coach Todd McLellan to decide which group would win the drill — the power play or the penalty killers. Skaters were asked to either stay on the bench or skate to the penalty box side of the ice to signify which team they had the most confidence in. Only McDavid chose the side which showed trust in his under-manned power play team.
As Rishaug describes this clear display of leadership:
"Connor McDavid was the only Oiler to skate to the far side of the ice, and bet on his fellow power play specialists. The rest of the team, including members of the first PP unit (Hall, Nugent-Hopkins, Pouliot, Schultz) stayed on the bench side betting on the penalty kill, who the drill clearly favoured. McDavid could not openly bet against his fellow power play unit, even if it meant he was standing all by himself, getting a few jeers from teammates."
Maybe McDavid had confidence in his power play unit when no one else did. True leaders have a tendency to do that. Or perhaps, McDavid knew the power play wasn't going to win a drill that favored the penalty-killers and even in the face of looking like he'd made an incorrect choice and potentially forced to skate laps (the people who chose incorrectly were penalized with a few back-and-forth skates), McDavid was willing to pay the price to show confidence and motivate his team. Ultimately, even though the penalty-killers won the drill and McDavid wasn't forced to skate those laps, he was prepared to do whatever it took to show confidence in his fellow players' abilities.
Ambassador of the Game
Just recently, the Oilers traveled to Vernon B.C. to take part in a Kraft Hockeyville contest against the Los Angeles Kings. To the surprise of many, a red carpet was rolled out and fans lined the streets to welcome the NHL to town. Most fans were especially excited to see McDavid.
Players signed autographs and thanked fans for coming, but typically this process is a 15-20 minute formality. It's not to say the players don't enjoy seeing the fans, but only so much time is given to signing autographs. Most will sign a few pieces and then head inside the arena with the rest of the team. McDavid stayed out twice as long as expected to dole out as many autographs as possible, even hugging an 8-year-old who asked.
Just another quiet start to his Sunday for @edmonoilers @cmdavid97 part of #KraftHockeyville pic.twitter.com/pssqScBdJT

— Gene Principe (@GenePrincipe) October 2, 2016
This sort of thing is just par for the course for McDavid. He understands that his talent is a big deal to the NHL and also understands that he's an attraction. He's not bothered by the pressure; he welcomes it. He had a goal and an assist in that game and you could see the genuine joy and gratitude McDavid felt toward the fans. He gives fans and the NHL what they want — and what they want is McDavid.
McDavid was named captain of the Oilers the day before his first game on Rogers Place ice. It isn't a coincidence. McDavid will be the first Oilers captain Rogers Place has ever seen and he'll represent the city of Edmonton on the new ice surface for what could be a two decades of exciting hockey.
Team North America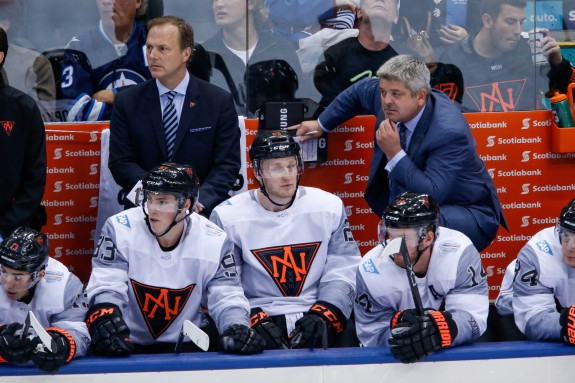 Sometimes to represent a city, you have to represent a continent first. McDavid got to warm-up to his new job with a practice run at the World Cup of Hockey. His coach at the World Cup is also his coach in Edmonton, but being named to captain team Team North America wasn't a responsibility handed to him by a coach that wanted to see how he'd handle the pressure that came with being a young leader. McDavid was named captain by his teammates, on a team that was full of players who someday would and could be captains of their own respective NHL rosters.
Michael Traikos of the Toronto Sun described the situation as a subtle understanding that there was really only one logical choice for the role:
"In other words, the players were already following McDavid before he had the 'C' on his jersey. There was a level of respect, even though he is the second-youngest on the team, that was evident to anyone who was watching."
While Team North America was mathematically eliminated from the tournament and fans were denied the Team Canada versus Team North America matchup that everyone wanted to see, McDavid captained a team of youngsters to a respectable finish and many believe, after dismissing their inclusion at the tournament, that the team had a legitimate chance to win it all. McDavid has expressed his interest in playing for Team Canada in the future, so his time as a member of Team North America may have been a one-time deal, but it was an interesting short few weeks where McDavid's team was the talk of the tournament.
Taking Nothing for Granted
For McDavid, nothing is given and everything is earned. He is a player who, when granted exceptional status to play in the Ontario Hockey League as a 15-year-old, came to training camp wearing his old equipment from minor midget. To McDavid, the right to put on his new jersey had to be earned.
Fellow Oilers teammate Matt Hendricks described him as a player who is confident in his own abilities, but despite his status as the best hockey player on the Oilers, never once puts himself ahead of the team. It's always a team-first mentality for McDavid.
LeBrun: "To me, McDavid might be the best player in the world by the end of this year." #Oilers #WCH2016

— Chris Nichols (@NicholsOnHockey) October 6, 2016
A normally subdued personality, the only time McDavid showed any emotion during the Oilers' post-announcement presser was when he was asked how his teammates felt about the decision to make him captain.
"I think that's the main thing. I think that's definitely the part that feels the best," Connor repled.

"To hear what they all say definitely feels good. To know you have the support of those guys, ultimately, is what it is all about. We're a team and to have the respect of your teammates means a lot."
For most NHL teams, naming a new team captain who is also the youngest captain in your team's history can be a controversial decision. There will always be naysayers who say a 19-year-old is too young or too inexperienced. In this case, when your captain is named Connor McDavid, few people seem to find the decision controversial. That's because the signs that this was the correct choice were everywhere.