Blackhawks Interested in Oilers' Yakupov
The Chicago Blackhawks are reportedly interested in trading for Edmonton Oilers forward Nail Yakupov, according to TSN's Bob McKenzie on Thursday.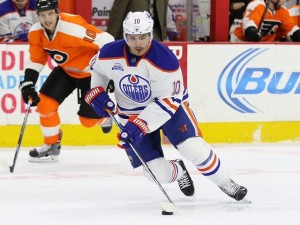 Although McKenzie acknowledged Stan Bowman and Peter Chiarelli have talked about the Blackhawks' interest in Yakupov, he was quick to point out there was nothing imminent at the moment between the two clubs and the discussion was not too recent. The Blackhawks are still in the process of evaluating young talent at camp, including 19-year-old winger Alexandre Fortin, but McKenzie's comments show there's interest in the Russian winger.
Given the realities of the salary cap for the Blackhawks, the Oilers would need to retain at least part of Yakupov's salary if a trade was ever made between the teams. The Blackhawks have an estimated $3.6 million in remaining cap space entering 2016-17, according to Capfriendly.com.
Yakupov, 23, was selected by the Oilers first overall in the 2012 NHL Entry Draft and has not become the player the franchise hoped he would be when the Oilers picked him ahead of forwards Alex Galchenyuk and Filip Forsberg. In 252 career NHL games, Yakupov has tallied 50 goals and 61 assists.
After the 2015-16 season, the Oilers signed free agent Milan Lucic to add a veteran presence and named Connor McDavid captain earlier this week— marking the start of what the Oilers hope will be a new era in Edmonton. When Ryan Nugent-Hopkins, Jordan Eberle and Lucic were each named alternate captains, the signs indicate Nugent-Hopkins or Eberle are not leaving Edmonton in the immediate future.
Yakupov, however, could be nearing the end of his career as an Edmonton Oiler.
Tkachuk to Start Season With Flames
Calgary Flames prospect Matthew Tkachuk will be starting the 2016-17 season with the NHL club, according to a report by Calgary Flames TV's Ryan Leslie on Thursday.
Gulutzan says Tkachuk will start the season with the #Flames

— Ryan Leslie (@ryanlesliemedia) October 6, 2016
Tkachuk, 18, was selected by the Flames sixth overall in the 2016 NHL Entry Draft. Because of his age, if Flames head coach Greg Gulutzen decides Tkachuk needs more time to develop outside of the NHL, it would be back with the Ontario Hockey League's London Knights.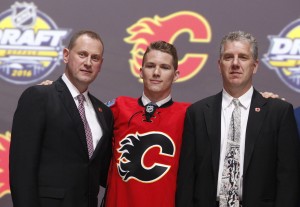 In his first and only season with the Knights in 2015-16, the Arizona native tallied 30 goals and 77 assists in 57 games. Tkachuk and Toronto Maple Leafs prospect Mitch Marner helped the Knights to the 2016 Memorial Cup. In 18 postseason games, Tkachuk registered 40 points and 42 penalty minutes.
The Flames will need to make a decision about Tkachuk's immediate future early in 2016-17. That's because Tkachuk can play in up to nine NHL games before the 10th game locks a rookie into the first year of his NHL entry-level contract.
Tkachuk and the Flames open the regular season against the Oilers on Oct. 12.
Ducks' Stoner Waived to Clear Cap Space for RFAs
The Anaheim Ducks have placed defenseman Clayton Stoner on waivers, according to a report by Sportsnet's Elliotte Friedman on Thursday.
The decision comes as the Ducks continue the preseason without RFA forward Rickard Rakell and defenseman Hampus Lindholm under contract. The Ducks were reportedly in talks with an Eastern Conference team to move a "significant contract" according to Pierre McGuire on Sept. 30. Rakell is seeking a six-year, $24 million deal, according to a report by the Orange County Register's Eric Stephens.
There is nothing to indicate the Ducks will not re-sign Lindholm or Rakell at this time. In fact, the major hindrance at this point is likely the team's limited salary cap space, which was at just approximately $7.5 million before Stoner was placed on waivers, according to Capfriendly.com.
If Stoner clears & is sent down to San Diego, #Ducks will receive $950K in cap relief, reducing his cap hit to $2,300,000 against their cap. https://t.co/vWld0mZRv7

— CapFriendly (@CapFriendly) October 6, 2016
While $950,000 is not a large number in the bigger picture of NHL salary caps, it brings the team's remaining cap space to just under $8.5 million. Lindholm is reportedly seeking an eight-year deal worth more than $48 million.
While waiving Stoner provides some cap relief, it's not enough to re-sign Lindholm and Rakell. This means Ducks GM Bob Murray will need to get creative to sign both players in time to start the regular season.
Lester Patrick Winners Announced
Hall of Famer Mark Howe and ECHL co-founder Pat Kelly have been named the recipients of the 2016 Lester Patrick Trophy, the NHL announced on Thursday. The Lester Patrick Trophy was given to the NHL by the New York Rangers in memory of Lester Patrick in 1966. It is awarded annually to recognize outstanding service to hockey in the United States. Howe and Kelly will be honored during a ceremony as part of the U.S. Hockey Induction Celebration in Philadelphia on Nov. 30.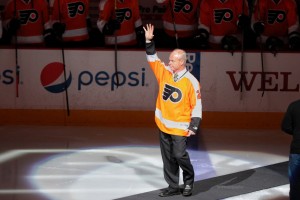 Howe, 61, was born in Detroit and was just 16-years-old when he helped Team USA to a silver medal at the 1972 Winter Olympics in Sapporo, Japan. After his professional hockey debut in the World Hockey Association, Howe made his NHL debut in 1979-80. He was a three-time runner-up for the Norris Memorial Trophy and played for the Hartford Whalers and Philadelphia Flyers before ending his career as a Detroit Red Wing. Howe played in two Stanley Cup Finals during his career and was a scout for the Red Wings during four Stanley Cup seasons. He was inducted into the Hockey Hall of Fame in 2011.
https://twitter.com/CheckersHockey/status/784127964153872384
Kelly, 81, is best known for being a co-founder of the ECHL in 1988 and is entering his 64th year in junior and professional hockey in 2016-17. After serving as the ECHL's Commissioner during the league's first eight years, Kelly was named Commissioner Emeritus in 1995-96. He was later inducted into the ECHL's Hall of Fame as a member of its inaugural class in 2008. Kelly's extensive coaching career in professional hockey includes coaching the Colorado Rockies to the team's only playoff appearance in the 1978 Stanley Cup playoffs.
Odds and Ends
— New York Islanders prospects Josh Ho-Sang and Michael Del Colle are among nine players who were assigned to the AHL's Bridgeport Sound Tigers, the team announced on Thursday. The Islanders also released Steve Bernier, Colin Markison and Tanner Fritz from their Professional Tryouts (PTOs). Defenseman Scott Mayfield was placed on waivers.
— The Detroit Red Wings assigned forward Dylan Sadowy to the AHL's Grand Rapid Griffins and released defenseman Connor Allen from his PTO on Thursday, bringing the team's training camp roster to 45 players.
— The Washington Capitals have extended their affiliation agreement with the AHL's Hershey Bears through the 2019-20 season, the team announced on Thursday.
Steven is a lawyer and writer with a passion for the game of hockey. He's the Lead Writer covering the Tampa Bay Lightning with THW. He's also been press credentialed through the Lightning since 2016. His work has been published at The Fourth Period, LightningInsider.com, Bolt Prospects, The Sports Daily Network, U.S. College Hockey Online and College Hockey News. He's had radio appearances on TSN 690 in Montreal, Lightning Power Play Live and multiple podcasts to give insight and analysis on the team. He can be reached on Twitter @StevenDiOssi and by email at sdiossi@gmail.com.