With the NHL season upon us, every team is slowly making the necessary cuts to fit 23 players into their opening day roster. While all the focus will be on who makes the team from day one, it is always certain the roster will never stay with the same 23 players all year. Injuries, midseason acquisitions and changes in performances and expectations happen all the time. Thus, in the cut-throat business of the NHL, everyone is doing whatever they can to put the best roster possible for every minute.
I started this feature before last season to take the best guess as to who will get playing time from the Washington Capitals, beyond those that receive regular sweaters and the same exercise is being performed again this year. Last season, the 592 forwards that played NHL minutes was the highest total since the 2011-12 season. Along with that, the 167 NHL rookies was the highest amount since the 211 from the 2005-06 season: the first season after the first league-wide lockout under commissioner Gary Bettman's tenure. Still, the totals from last year were not enough to shake up the yearly per NHL team averages (only counting seasons when the league contained 30 teams) too drastically. In general, about seven extra forwards, four defensemen and one goaltender receive playing time in the NHL beyond those that make the 23-man roster.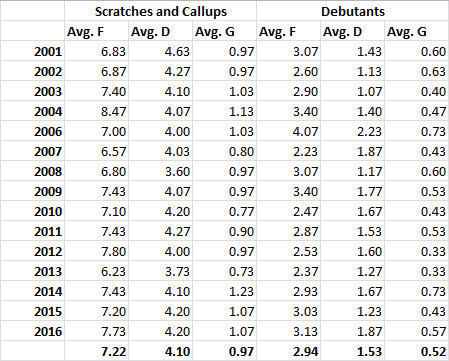 With that information in mind, let's take a crack as to who will receive playing time for the Capitals in 2016-17, even if you won't see them on Thursday's opener against the Pittsburgh Penguins.
Goaltenders: Philipp Grubauer, Joe Cannata
Last season was the first time in 19 years that Washington only used two goaltenders the entire season. Plenty of that comes down to injury luck but it also came down to better management of handling Braden Holtby's workload during the regular season. In the 2014-15 season, Holtby played 4,247 minutes and 73 games. Those numbers dwindled to 3,841 minutes and 66 games the following year and a claim to the Vezina Trophy. It also resulted in a fresher Holtby throughout the year and more opportunities for Philipp Grubauer to develop into an NHL caliber goaltender.
If either of them have to miss a handful of games this season, expect newly acquired Joe Cannata to join the Capitals. The 26-year old was drafted by the Vancouver Canucks as a sixth round pick in 2009 and it wasn't until this year that he became the full-time starter at the AHL level. He will have to improve on his overall play from last season if he were to be a mainstay at the NHL level. His save percentage of 90.9 percent from that year was only good enough for 27th best among qualifying goaltenders in the AHL.
Defensemen: Taylor Chorney, Aaron Ness, Madison Bowey, Tyler Lewington/Jonas Siegenthaler
Another amazing statistic from last year's Capitals teams was the use of 12 defenseman throughout all of last season. Considering how stable they were in knowing who their six best players were in those positions, it only shows how injury plagued the likes of John Carlson and Brooks Orpik were throughout the year. Taylor Chorney and Aaron Ness got their fair share of playing time and received contract extensions as a result. Mike Weber also got a run of games after his midseason acquisition, but it was beyond clear how much he was surplus to requirements for Washington.
That being said, this season has a chance of seeing some young players make their NHL debuts. Madison Bowey is still among the best prospects on the team despite a subpar rookie season in Hershey. Meanwhile, Tyler Lewington and Jonas Siegenthaler have not shown their ability to rack up massive amounts of points during their junior and professional careers, but have received plenty of praise from Barry Trotz and the rest of the coaching staff from the other aspects of the defensemen position.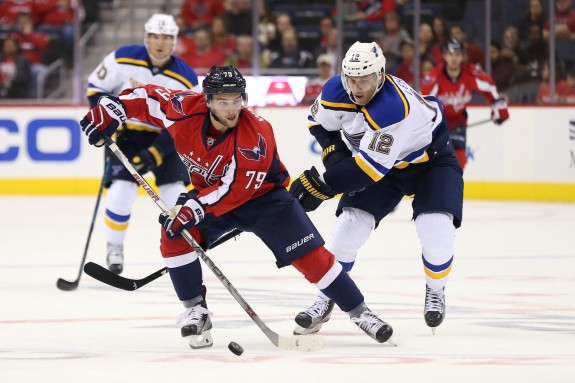 Forwards: Stanislav Galiev, Zach Sill, Zach Sanford, Nathan Walker, Paul Carey, Travis Boyd, Riley Barber/Jakub Vrana
One last amazing statistic regarding Washington's use of call ups was that only one player came from Hershey and made his NHL debut. That is more to do with the construction of Washington's NHL roster and the high level of expectations than anything else. Chandler Stephenson went on to play the first nine games of his NHL career, but did not record a single point. In fact, Stephenson's career NHLe Points is currently at a rate of seven goals and 20 points. That is decent enough to be a Tom Wilson-level forward, but not good enough to be a mainstay within the top nine of a Stanley Cup-contending roster. This is why the likes of Riley Barber, Jakub Vrana, Zach Sanford and Travis Boyd have a better shot of getting called up to the NHL.
While Vrana and Barber can rack up points no matter what teammates they have, Boyd and Sanford have continued to improve every season that their ceiling could be much higher than what it is right now. Meanwhile, Paul Carey has been a consistent half-a-point per game player at the AHL level while Sill and Galiev have enough NHL experience under their belts to be among the first set of forwards to receive playing time should injuries to any of those getting a regular sweater come up.
The big surprise this training camp has been Nathan Walker. It has not been an easy road for the 2014 draft pick, but he found his stride in Hershey last year and had an eventful preseason by having to fight the eventually suspended Andrew Shaw after an illegal check to the boards on Connor Hobbs. Like Barber, Walker is considered a feisty player along the boards despite his lack of ideal NHL-level size. However, Walker will need to continue to improve his scoring like he did to the tune of 17 goals and 41 points in 73 AHL games last season for him to get a regular sweater in Washington.
In short, plenty of younger players should be expected to play for the Capitals this season and could have the potential to pressure some of the veteran players to improve their games. They will bring a welcome addition to the team that could be in need of some fresh new changes should staleness come about on a team that is expected to win the Stanley Cup during the grind of the season. If for anything else, it will be fun to see if any of them produce and could make a bigger impact in future seasons.
Ben covers the Washington Capitals at the hockey writers. He has been blogging about the NHL since March 2013. Follow him @DCSportsDork