Last year at Philadelphia Flyers training camp, the big lineup questions after the prospects were gone was who would take the last spots among the forwards and defensemen? Chris VandeVelde won the forward spot and Brandon Manning was a mild surprise earning a spot over Andrew MacDonald.
Sure, there was Russian newcomer Evgeny Medvedev and trade-acquisition Sam Gagner who added excitement, but for the most part it was a lackluster training camp. At forward, players like R.J. Umberger and Vinny Lecavalier were taking up spots.
This training camp and preseason, though, offers much more excitement and speculation than has been seen in years. At offense, there's as many as 16 players that could compete for the 12 starting spots. On the blue line, eight players continue to compete for the six spots.
In previous years, players like Tye McGinn, Zac Rinaldo, Jay Rosehill and Kurtis Foster were the ones winning spots on the Flyers. Of those, Rinaldo is the closest to being an even marginal NHL player anymore.
What this means is that there's much more depth on this Flyers team than has been seen in years. There's prospects, AHLers and European imports fighting for the openings among the Philadelphia roster.
At Offense
Despite 107 NHL games under his belt, there was a good chance Scott Laughton may not have made the Flyers roster before he suffered a lower-body injury at practice Wednesday (injured players can't be sent down). It also helps that he can still be demoted to the Phantoms without requiring waivers.
According to Ron Hextall, Scott Laughton is waiver exempt. I actually thought he had to go through.

— Dave Isaac (@davegisaac) October 6, 2016
Dale Weise and Boyd Gordon may have replaced the departing Gagner and Ryan White, but Travis Konecny, Jordan Weal and Roman Lyubimov have made it much harder for Laughton and others to nail down a spot. The trio comes from all walks of NHL life, yet each has made a case for himself.
Prospect Konecny is the bell of the ball at Flyers training camp. A good majority thought he would be gone from camp by now, but he's played his way this deep into preseason and most think he'll be a part of the opening lineup.
[RELATED: Flyers – Who Gets the Nod in Net?]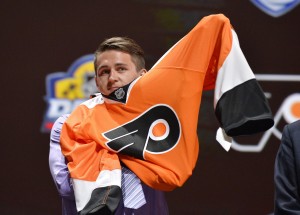 He's scored six points in six preseason games while playing with stars like Claude Giroux and Brayden Schenn. He's probably the team's best option in the top six.
Konecny may be the stud 19-year-old prospect, but that's not the only way to get noticed in preseason. Weal, a 24-year-old with 217 more AHL games than NHL contests, is still in camp because of his strong play.
The former King, who was acquired in the Lecavalier and Luke Schenn deal, has three points in five games and has made it deeper than most thought. The problem for him is that he isn't skilled enough for a top-six role and isn't good enough defensively for a bottom-six role.
He'll likely go through waivers and sent to the Phantoms, but will be a top recall option if an injury occurs.
Lyubimov won't need to go through waivers, but it's likely he starts the year with the Phantoms also. However, the 24-year-old undrafted Russian has proved he can play in a bottom-six role.
His main obstacle is continuing to acclimate to the smaller NHL rink. It's easy to imagine that he could replace a player like VandeVelde later in the season.
At Defense
Flyers coach Dave Hakstol has said it's possible the team carries eight defensemen this season. After watching the defense corps this month, it's easy to see why.
First off, Provorov has been all that he's marketed to be. A steady blueliner that can move the puck; solid defensive hockey and almost mistake-free play makes up his game. Twenty minutes a night for him should be just perfect in the NHL.
Besides Provorov, Michael Del Zotto, Radko Gudas, Mark Streit and Nick Schultz have been their normal selfs in preseason. Streit and Schultz may be pushing the clock, but they're still reliable third-pairing D-men.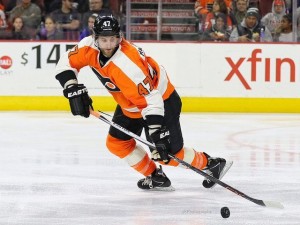 But maybe the most surprising is the play of MacDonald. Besides the team's first game against the New York Rangers, he's looked better than he has in a while.
He still needs to work on making the Flyers' blue line more difficult to cross and when he played too many minutes against the Rangers, he struggled, but he's shown he can still play defensive hockey with some puck-moving ability. Simply put, MacDonald has created some hope that wasn't there before.
Manning is out with a "week-to-week" upper-body injury, but whether he's in the NHL or AHL, he'll supply some always-needed experience.
Last season, the Flyers may have had a lackluster training camp, but it resulted in an exciting playoff berth. With the depth that this Philadelphia team has, it should have no problems repeating that success and maybe even more.