The Flyers are on the verge of starting their 50th season in the National Hockey League. With that, comes the typical Philadelphia expectation that the Flyers will end up making the playoffs. That assumption brings a lot of important questions along with it, one of the most important being: who will start in goal for the Orange and Black?
That question remains to be answered, but if anything, we can give a detailed breakdown of both of the Flyer netminders and see what they have to offer.
Michal Neuvirth
The Flyers had a relatively stable goaltending situation until Neuvirth came on to the scene last year. He came on to the scene at the beginning of last season, during a game in which the Flyers got absolutely embarrassed in Florida. He played well, and Dave Hakstol decided to go with him again. Neuvirth proceeded to post two shutouts in the next two games, but even that didn't have everybody sold.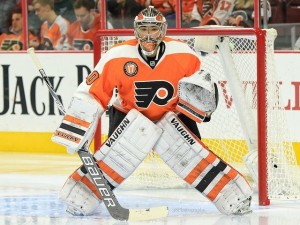 Fast forward to the end of the season and the Flyers now had a big problem moving into the playoffs. Neuvirth finished among the league leaders in save percentage and quite frankly looked like the better goalie on the ice. That being said, Mason had been through this narrative before, and nearly stole the Flyers a playoff series in 2014.
Neuvirth ultimately finished the season with a .924 save percentage and a 2.27 goals against average, very impressive for a goalie who billed as just a backup when the season started. He also went 7-2-1 in his final 10 games of the regular season.
As if that didn't compound things enough, Neuvirth almost stole the Flyers the series against the Capitals last season. After the debacle Mason underwent, Neuvirth came in and stopped 103 of 105 shots across three games. Had it not been for the lack of offense, Neuvirth could have helped facilitate a miraculous comeback.
Neuvirth certainly made his case to become a starting goalie for the club this season.
Steve Mason
The curious case of Steve Mason will go on this season. Mason finished the 2014-15 season with great numbers. He posted a .928 save percentage and 2.25 goals against average. Those numbers were eerily similar to the numbers that Neuvirth posted last season.
That gave the Flyers the notion that going into the 2015-16 season, they had a clear-cut starting goaltender.  That's when things changed. I mentioned how good Neuvirth was to start the season, well Mason was the polar opposite of that. Mason's went 3-5-2 in his first 10 games last season. To be fair, not all of that rests on Mason, the Flyers looked really bad in a few of those games, but when comparing it to Neuvirth, there was a clear difference.
Those numbers aren't necessarily something that is out of the ordinary for Mason. He has had a history of having slow starts to seasons in the past, and that seems to be exactly what happened last season.
Mason rebounded and turned out to be a huge reason why the Flyers found themselves in a wild card spot once April came around last season. He ultimately finished the season with a .918 save percentage and 2.51 goals against. Nothing to marvel over, but still a solid season nonetheless.
That earned Mason a starting spot in the playoffs and things couldn't have gone any worse.
After Mason gave the Flyers a very solid performance in game one, he came back and looked absolutely lost in game two. He gave up a 200-foot goal that completely sucked the life out of a Flyers team that was very much still in the game and the series. He gave up four goals on just 23 shots that game.
Game three was even more of a disaster. Mason gave up six goals on 27 shots, some of which looked like stoppable pucks. That was the end of his season, and Neuvirth took over from there on out and performed great.
Who Gets the Nod?
The Flyers now find themselves in a situation that could work to benefit the team as a whole, more than the goaltenders themselves. Both Neuvirth and Mason will be due for new contracts at the end of this season. If Mason has a bad season, it could very well spell the end of his career as a Philadelphia Flyer.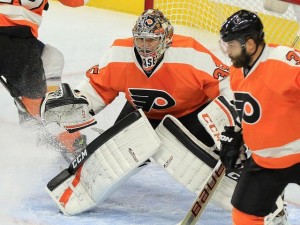 Neuvirth, on the other hand, has been a bit of a journeyman for the past few seasons. He's been in Buffalo, Washington, New York, and Philadelphia. You can bet that he would love to settle down and find a place to play.
If there's anything to take away from the numbers of these two goaltenders, it's that the Flyers most likely will not have a starter and a backup, they'll have a goaltending tandem on their hands. That's sort of akin to what the St. Louis Blues did with Jake Allen and Brian Elliot.
It may not seem like it right away, but that is a huge advantage for a team, most notably down the stretch when games come along night in and night out. It also would give the Flyers two viable options if they do make it into the playoffs.
If Michal Neuvirth continues the same type of play that he ended last season with, Dave Hakstol will have some big decisions to make in net this season, but one thing is for sure, having two goalies like Mason and Neuvirth to choose from can only help the team in the long run.