It might have felt like forever, September is here. With that, training camps for all NHL teams almost ready to go and the anticipation for the 2015-16 regular season begins. During that time period, you will see plenty of articles about any team's ideal 19-man line combinations and 23-man rosters, but once the final cuts are made before opening night, it doesn't mean that roster stays the same all season long.
Honestly, there is not a single NHL team that will stay healthy all regular season or will have their players meet a coaches preseason expectations. There is also a good chance that a team's best prospects are already better than the players currently on the NHL roster, but the coaches and management want to give them extra seasoning in the minors. In fact, since 30 teams has participated in the NHL since the 2001-02 NHL season, an average NHL team will have another seven to eight forwards, four to five defensemen and two goaltenders suit up and play along with the 19-man opening night roster. Amongst those that will play in the NHL every season, two to three forwards, one to two defenseman and one out of every two goaltenders will make their NHL debut per team.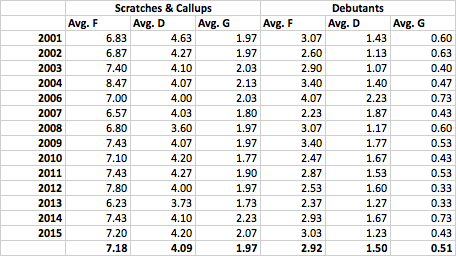 Along with thinking about the 23-man roster, it is important to know who could be in reserve to provide depth to the organization if trouble abounds. So with that in mind, who could be the additional depth that the Capitals might have to call upon this upcoming season?
Goaltenders: Justin Peters, Philipp Grubauer/Dan Ellis
Washington is pretty set in this position as all three backup goaltenders have some form of NHL experience. From here, it is a matter of which goaltender Barry Trotz trusts the most. Either way, this is a position of strength for the Capitals and if the team needs to make a trade during the season, this is a good pool to use for pieces that can be moved the other way.
Defensemen: Taylor Chorney, Connor Carrick, Aaron Ness, Ryan Stanton, Mike Moore/Madison Bowey/Tyler Lewington
Last year, Washington was fortunate not to suffer plenty of injuries from their key players along the blue line. In fact, Washington's five best defensemen played, at least, 71 games. That is a fortunate feat to accomplish considering the physical nature defensemen deliver and endure throughout an entire season. There will also be plenty of change now that Mike Green is a Detroit Red Wing. However, even if the gulf in talent from John Carlson, Brooks Orpik, Matt Niskanen and Karl Alzner to everyone else on the team is huge, it also not as much of a crater as people think.
Nate Schmidt and Dmitri Orlov have the inside track for the third pairing roles but whoever owns the role as seventh defensemen and beyond is another story. Plenty of new faces were signed this summer to possibly fill that spot. With the exception of Bowey and Lewington, all the defensemen in consideration has made it to the NHL before. For someone like Chorney, that experience includes Stanley Cup playoff games from last season.
One thing to take note is the lack of right handed defensemen now that Green is out of the picture. Some will argue that having a balanced team in terms of handedness is overrated, but try telling that to coaches and players. That side of the hockey world may value crisp tape to tape passes and strong pinches up along the boards while keeping the puck in the offensive zone and some will argue the best way to accomplish that is to have opposite handed pairings. Trotz certainly values that with the right-handed Carlson and Niskanen paired with the left-handed Orpik and Alzner, respectively. That could be one reason why Carrick is highly valued in the Capitals organization and why Bowey and Lewington could see their first cup of coffee in the NHL.
Forwards: Stanislav Galiev, Liam O'Brien, Chris Brown, Chris Bourque, Paul Carey, Garrett Mitchell, Zach Sill
While defense and goaltending doesn't seem to contain a lot of battles for roster spots, there is much more uncertainty in the forward ranks. With Tom Wilson, Michael Latta expecting to take a major but not clear cut steps up into their NHL careers this season, Brooks Laich and Jason Chimera are hitting the final years as key contributors. Thus, there could be a chance for some backup to be needed if injuries and lack of form are present. More skillful players like Galiev and AHL goal machine Bourque could come in to fill possible third line roles. If more pugilism is necessary, O'Brien and Mitchell can fit that mold. For the latter, this could be his last chance to make it to the big club before the likes of Jakub Vrana, Riley Barber, Chandler Stephensen and Caleb Herbert overtake him on the depth chart. Sill, Brown and Carey will each brought their fair share of NHL experience and while all three are not elite goalscorers in the AHL ranks, they can come in and provide a short term answer in a fourth line role. There are plenty of centers on this portion of the depth chart and there is plenty of flexibility for Trotz to slot such players in different roles when called upon.
Like the defense, there is no shortage of NHL experience and it seems like this will not be the year for the Capitals to meet the league average of players expected to make their NHL debuts. Their depth does fit the stereotype of a veteran-laden team expecting no more than a long playoff run and a possible trip to the Stanley Cup finals.
Ben covers the Washington Capitals at the hockey writers. He has been blogging about the NHL since March 2013. Follow him @DCSportsDork