After dropping their first two games of the season to the Cleveland Monsters last weekend, the Rockford IceHogs took the BMO Harris Center ice for the first time versus the Texas Stars Saturday night. Many in the building were excited to see the home debut of Dylan Sikura and did not disappoint the home crowd.
Brothers Clicking on the Power Play
In his first professional season last year, Tyler Sikura quickly became a fan favorite with 23 goals. He picked up right where he left off for the IceHogs with some help from his little brother. While Dylan and Tyler are on separate lines during 5 v 5, they are together on Rockford's top power-play unit.
The duo struck for the game's opening goal on the IceHogs' first power play early in the game. Dylan's pass from the right dot initially missed his brother's stick, but Tyler was able to locate the puck and slide it under goaltender Colton Point. The IceHogs have two power-play goals on the early season, both scored by Tyler with the primary assist coming from Dylan.
Dylan
Dylan
Dylan
Dylan
…Tyler pic.twitter.com/xeZpKZAS5J

— Rockford IceHogs (@goicehogs) October 13, 2018
"That unit has been really good and they have been finding ways to score for us," head coach Jeremy Colliton said after the victory. "I thought they could have easily had another one in the third period there. Special teams, when you're not going, it can get you back into the game. It is important to get momentum off it and obviously producing. That unit has been good and hopefully, they will continue."
Dylan Sends the Fans Home Happy
Moments after falling behind 3-2 midway through the second period, the IceHogs took over the game. They sustained offensive pressure and spent most of the time in the Stars' zone, but couldn't score the equalizer. Finally, with just under nine minutes remaining in the third period, Matheson Iacopelli finished off a nice passing play to tie it.
About three minutes later, the IceHogs' top line notched the eventual game-winner. Jacob Nilsson led the rush in the zone, gave the puck off to Matthew Highmore who found Dylan at the left dot where he quickly fired the puck past Point for his first AHL goal.
SIKURA SIKURA!!

🔫*pew, pew*🔫 pic.twitter.com/TT6uyExxon

— Rockford IceHogs (@goicehogs) October 14, 2018
"I think whenever you get to contribute in a win, it's awesome," Sikura said about his third-period tally. "Like you said, it feels like it has been a full year since I scored a goal, so it's nice to get the monkey off the back there and it was a big win for us tonight."
IceHogs Top Line Driving the Tempo
While it might be hard to tell Dylan and Tyler apart off the ice, they are very different players on the ice. Tyler loves to go straight to the front of the net, while Dylan prefers to play on the perimeter looking to snipe. That is why they work so well together on the power play.
"I honestly think so," Tyler said when asked if he sees the puck better off his little brother's stick. "It's something we talk about when we're at home or driving home from the rink or whenever. I've seen him play his whole life, I kind of know what he's looking to do most of the time and I think I'm the same way for him."
As exciting as the Sikuras look on the man advantage, it is the IceHogs' top line of Dylan, Nilsson and Highmore that dictate the play at 5 v 5. This trio is fast, hard to cover through the neutral zone and will create plenty of scoring chances this season.
"We all kind of see the game the same way," Dylan said of his line. "Obviously, we are all pretty fast guys and we are able to transition nicely and make some plays on the rush and we were rewarded there at the end."
Disappointment Did Not Follow Dylan To Rockford
Many expected Dylan to make the Chicago Blackhawks roster out of training camp and even get some playing time on the top line. Instead, he was outplayed by Dominik Kahun and Luke Johnson and was demoted to the AHL to start the season. This had to a be a disappointment for the young forward, but it sure didn't show on Saturday night.
"When you get sent down after expecting to be in the NHL some people can take it different ways," Tyler said of Dylan. "I think he has handled it really well and the way to get back up there is to produce here so I'm sure that one felt good to him. It's nice to be on the ice with him and even at home just talking about hockey and other things. It's another level of comfort that I've had for sure and I'm sure it's the same for him."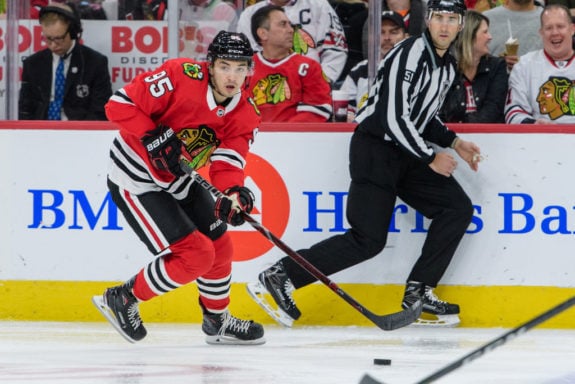 As the game went on, Dylan became more and more noticeable. The top line gained their footing. as well as their confidence, and became a nightmarish matchup for the defending Western Conference champions. Dylan led the team with five shots on goal and he also had a couple of nice chances from close range but missed the net.
Sikuras Weren't the Only Prospects to Impress
After being scratched for the opening weekend, both defensemen Dennis Gilbert and Blake Hillman made their AHL debuts on Saturday night and both were impressive. Colliton had high praise for both players after the game.
"I think they both did well," he said. "They stepped in and added something. I thought they were clean with the puck, played hard and good. That's what we are looking for; a little energy and some competition within the group. It's no guarantee you're going to be in, so when you get the chance you've got to make the most of it and I thought they did a good job."
Both youngsters picked up an assist. Gilbert has size, which makes him stick out but he also has good speed for his big frame. In the first period, Gilbert jumped into the rush and drew a penalty as he drove to the net.
The IceHogs are carrying eight defensemen, so you will have to play well in order to stay in the lineup; something Colliton calls a blessing.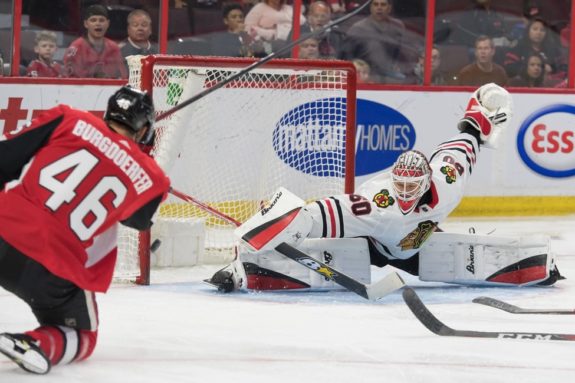 Goaltender Collin Delia had a solid night in net by stopping 34 of the 37 shots he saw. None of the three goals can be blamed on him; the first two came on partial breakaways after defensive breakdowns and the third goal was redirected just a few feet in front of him. Delia made plenty of big saves, including a handful right after the IceHogs took the lead late in the game.
"That's what winning goaltenders do," Colliton said with a smile on his face. "When you need a save they find a way. We needed a couple, we needed more than one, that's for sure. We battled so hard to get back into the game, you know, a young team, we made a bunch of mistakes and it can be really deflating for them to come right back and score, but they didn't because he was there. We are grateful for that."
The IceHogs have a quick turnaround with a late afternoon game against the Hershey Bears on Sunday. Colliton commented that it was too early to start adjusting to your opponent as they "are just trying to work our own game." The IceHogs have a very intriguing young team and seem to have the right man leading the way. It should be a very exciting season in Rockford.