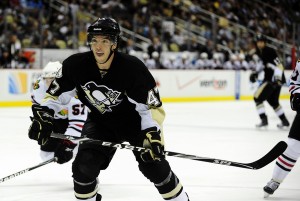 Ray Shero has been stockpiling defensive prospects for years and his draft strategy may finally be paying off.
After a few years of floating between the NHL and AHL, Robert Bortuzzo and Simon Despres are finally making an impression in the big leagues. Their emergence as NHL-caliber players already made Ben Lovejoy superfluous and when Matt Niskanen and Kris Letang come back from injury, it's going to be a tough call who sits down to make room.
Shaky Start
Things didn't start out so great. The Pittsburgh Penguins gave Despres a vote of confidence early by keeping him with the team out of camp but he quickly earned a spot on the bench and ended up a healthy scratch.
He had a particularly bad game against Toronto on January 23rd – a game where he only logged 8:46. After plays like this one it looked pretty bleak for Despres' future prospects as a Penguin, and the trade rumors began flying.
It wasn't until Niskanen went down with an ankle injury that he got a second chance to redeem himself.
And redeem himself he has.
Since re-entering the regular rotation, Despres has played exceptionally well. His even strength on-ice and relative Corsi Numbers are second only to Niskanen at 23.16 and 23.2, respectively. And he isn't exactly taking easy shifts either. He has started almost exactly half (50.7%) of his shifts in the offensive zone and has faced opponents with a relative Corsi of -0.082 (right in the middle of the pack for Penguin defensemen).
But the contributions don't stop there. He has also contributed directly on the scoreboard and is currently putting up 2.11 points/60 minutes played, including a highlight reel goal:
And reaping dividends from strong play in both ends, as seen in this clip:
His offensive stats are not anomalous, either. His PDO is currently 103.4, meaning his production may be expected to come down slightly, but not significantly. For those unfamiliar with PDO, it's a way to measure whether or not a player has been getting "good bounces" while he's on the ice. Here's the definition from Puck Prospectus:
"PDO is the sum of a player's on-ice save percentage and on-ice shooting percentage. PDO is an excellent way to measure "puck luck" or good fortune as it regresses heavily to the mean of 100 (sometimes shown as 1000)."
Despres has also been taking shifts on the power play and isn't afraid to throw his weight around. He just flat out looks confident on the ice.
Bortuzzo Stepping Up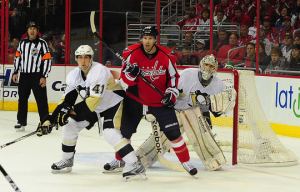 Robert Bortuzzo came out of the blocks slowly as well. But like Despres, he quickly turned his game around.
In his first game against the New York Rangers on January 31st, he looked physically outclassed (never a good sign for someone of his size).
You can see him get absolutely manhandled in this clip:
And again here against the Islanders:
But since then he has really elevated his play. Bortuzzo's advanced stats aren't as impressive as Despres', but his even strength on ice and relative Corsi numbers are still respectable:  -0.93 and -0.9. He's contributing offensively with 1.86 points/60 minutes played, but that should probably come down sharply as his 118.8 PDO reverts to the mean.
Then again, no one expects Bortuzzo to be an offensive dynamo.
Shutdown Defender?
Where Bortuzzo shines is playing hard minutes against the opponents' best players. His opponents' relative Corsi (0.76) is the highest amongst Penguin defensemen who have played more than one game.
Last night, for example, he was paired up against Alex Ovechkin for much of the game and did a great job neutralizing him at even strength and never backed down when things got physical. Bortuzzo absolutely lit him up in the final minutes, too. It was a penalty, but exactly the kind of penalty you want to see a player of his stature and role take.
The one big negative for Bortuzzo is that he has not contributed significantly on special teams at all, which may be the deciding factor in who sits to make room for Niskanen and Letang (I'm assuming of course, that Dylan Reese is sent back the AHL as soon as either one gets healthy). But on the other hand, Despres has slotted directly into Niskanen's spot and there's no guarantee his skill set would translate to a different role – like the one Bortuzzo is filling.
Whatever the case, having too many qualified defensemen is a good problem to have, and should benefit the team going forward.