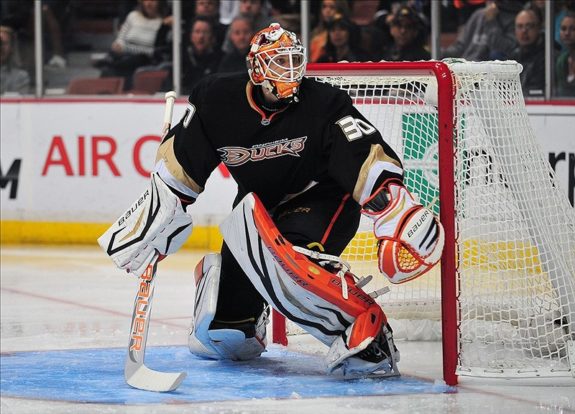 There comes a time in a fantasy hockey manager's career when they must decide which goalie to pick up off of the waiver wire. Sometimes, the options might seem clearer in shallower leagues, but those in deeper leagues might not be afforded the same luxuries when it comes to adding a starting goalie. While picking up a backup goalie might not be a fantasy manager's first option, there are certainly some second string goalies that can potentially turn out to be gems for a manager that is willing to take a little bit of a gamble.
Come back tomorrow to have a chance to win a Free Entry (a $109 value) into DraftKings $25, 000 Daily fantasy draft. 1st place is $5 000 and the game will be played Sat. night. 1 name will be drawn Sat. morning at 9am. Drop buy tomorrow and take a look at our Sidebar for Chris Wassel's post or come back to this post – I'll include an updated link to the contest. Entries will begin at 12pm Friday. To enter you will only need to comment on Chris' post.
For those with some early-season goaltending injuries, here are a few options to consider if your league has a scarce amount of starting goalies available: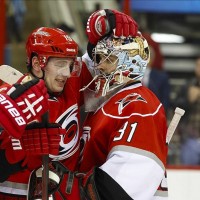 5.) Dan Ellis (Carolina Hurricanes) – Ellis has appeared in four games for the Hurricanes thus far and has been quite impressive. While the Canes' backup experienced a hiccup on Saturday night against the Flyers, he will likely receive some chances to start if Carolina decides to lighten Cam Ward's workload during a compressed schedule.
Despite the fact that Ellis might not have had a great 2011-2012 campaign with the Anaheim Ducks, a change of scenery certainly seems to be what Ellis needed to get back on track. Since Ellis is only 8% owned in Yahoo! formats, fantasy managers in deeper leagues might just be able to snag the goalie off of the waiver wire. On the other hand, those in shallower leagues who have a couple of starting goalies in their free agent pool might want to add Ellis to their watch-list and monitor the netminder's progress as the season goes along.
4.) Thomas Greiss (San Jose Sharks) – Greiss is only 6% owned in Yahoo! formats, but fantasy managers might want to watch out for this backup for a couple of reasons. Antii Niemi will certainly carry the workload for the San Jose Sharks down the stretch, but Greiss will likely make the most of his opportunities this season as he is in the last year of his contract with the Sharks.
As of now, Greiss has only had two starts under his belt for the 2012-2013 NHL season, but his stats (.964 Save Percentage, 1.01 GAA) have shown that he has made the most of his opportunities when the Sharks put him between the pipes. Many hockey fans have wondered if Greiss could potentially become a starting goalie one day, and with Alex Stalock's arrival in San Jose being imminent, Greiss will have to make the most of his starts in order to be strongly considered for a starting gig when he hits the free agent market this summer. Fantasy managers should expect Greiss to be very reliable when he starts as he has always performed formidably when the Sharks have called his number.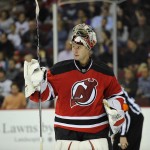 3.) Johan Hedberg (New Jersey Devils) – The Moose is loose and fantasy hockey managers could possibly benefit from adding Hedberg to their lineups. While Martin Brodeur had some minor problems last week against the Islanders and Penguins, he will still be New Jersey's go-to guy for the remainder of the season. However, that does not mean that the Devils won't try to give Brodeur enough rest during a shortened and compressed season.
Hedberg has always been a very serviceable backup to Martin Brodeur and there is no reason to believe that he will suddenly taper off. Hedberg is only 10% owned in Yahoo! formats, but if he keeps up his current numbers (0.48 GAA, .980 Save Percentage), then fantasy managers might just want to take a flier on the veteran netminder.
2.) Ray Emery (Chicago Blackhawks) – Ray Emery will see a fair amount of work for the Blackhawks as he and Corey Crawford are expected to split every back-to-back game that the Blackhawks have. Since the Blackhawks have 10 back-to-back scenarios remaining for the rest of the hockey season, fantasy managers might want to add the veteran netminder in their respective leagues.
Emery already has two wins this season and some pretty serviceable stats (.921 Save Percentage, 2.89 GAA). Fantasy managers that gave Emery a chance last year were rewarded with 15 wins, and those that take a flier on him this year might reap some rewards as well.
1.) Viktor Fasth (Anaheim Ducks) – With Jonas Hiller's early season struggles, Viktor Fasth has emerged as a solid option for the Anaheim Ducks. Fasth has won all four of his starts this season and has compiled great numbers during that stretch (.962 Save Percentage, 0.98 GAA). Not only has Fasth won every start that he has had, he has done it in impressive fashion as he hasn't allowed more than two goals against in any start.
Here's what Justin Goldman of The Goalie Guild had to say about Fasth several days ago:
Fasth fills the net really well for his size. Has that wide appearance despite hands tight to his body. Noticed that in Worlds last yr.

— The Goalie Guild (@TheGoalieGuild) January 27, 2013
Fasth is certainly making it hard for the Ducks to not give him a majority of their starts while he is the hot hand and fantasy managers should follow their lead. Fasth is 26% owned in fantasy leagues and it is unlikely that he will be available in deeper leagues, but that doesn't mean that fantasy managers in shallower leagues should not strongly consider this goalie if they need some help in their crease.
Honorable Mentions
Leland Irving (Calgary Flames) – Irving won't be Calgary's backup while Miikka Kiprusoff is out as he will take on the workload in the Flames' crease. Irving is only 7% owned in Yahoo! formats, but fantasy managers might want to see how he performs in Kiprusoff's absence before adding him to a fantasy roster.
Petr Mrazek (Detroit Red Wings) – Jonas Gustavsson does not have a timetable for his return to the Red Wings, but that has opened up a door for Petr Mrazek. Mrazek will make his NHL debut against the powerful St. Louis Blues, but the goalie has shown that he has enough composure and mental fortitude to succeed on the professional stage. Fantasy managers should hold off on adding Mrazek for the meantime, but should definitely keep a very close eye on his progress.
Richard Bachman (Dallas Stars) – Bachman is an interesting option for fantasy managers as he proved last season (8-5-0, .910 Save Percentage, 2.77 GAA) that he could certainly be a formidable backup goalie. Bachman might not get too many chances this season behind Kari Lehtonen, but if the Stars' primary goalie gets hurt, then a big spot will certainly open up for Bachman.
Anton Khudobin (Boston Bruins) – Khudobin has only has one start so far this season, but fantasy managers should keep an eye on him nonetheless. Tuukka Rask will likely bear the majority of the workload in Boston's crease, but Khudobin is a very talented netminder in his own right and fantasy managers should certainly keep him on their watch-lists for now.