Maple syrup, poutine, and hockey. Sounds absolutely delicious. And very Canadian.
There's something about hockey and Canada that just goes hand in hand. We may have invented baseketball and lacrosse (we invented the telephone too, however you don't see us going crazy with calls), but this is our sport. Since 2000, a wonderful dedication has been in place. Hockey Day in Canada is one day each season filled with hockey coverage, minor leagues across the country and the NHL, while families sit by the fire watching, eating…well, maple syrup and poutine. CBC makes a whole event of it; I guess it's the Canadian equivalent of the Superbowl.
This year's holiday takes place on February 9th in Peterborough, Ontario. Though it almost didn't come, thanks to Grinches Fehr and Bettman, here's a few previews on one of Canada's proudest holidays.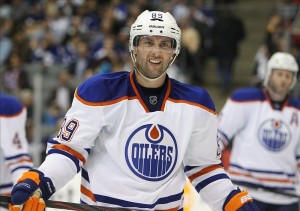 Edmonton Oilers VS. Detroit Red Wings (2 P.M.)
In the past four years, the Wings have outbattled the Oilers eight of their last 12 meetings. In 2011-2012, Detroit winger Drew Miller scored in each of their meetings (so far this year, Miller is pointless and a -4). Sam Ganger too, had four goals in four games against Detroit last year.
Winnipeg Jets VS. Ottawa Senators (2 P.M.)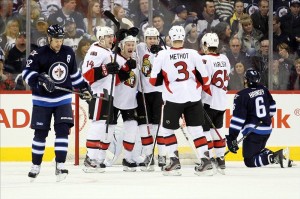 Winnipeg has the most traveling to do of all 30 teams as they're still in the Southeast Division, which would be hard enough even without the compressed season schedule. But they're on the road again on Saturday, this time in Ottawa. The Jets have only one victory away from home this year, while the Sens haven't lost at Scotiabank Place in regulation.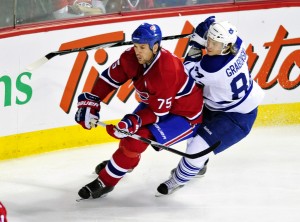 Toronto Maple Leafs VS. Montreal Canadiens (7 P.M.)
You can't have Hockey Day In Canada without a little Original Six rivalry! Last year the Buds and the Habs split their series 3-3, with Dion Phaneuf and Mikhail Grabovski leading the way, each with six points. Toronto sits at .500% at this point in the season, while Montreal is riding Andrei Markov's hot return with a 6-3-0 record.
Vancouver Canucks VS. Calgary Glames (10 P.M.)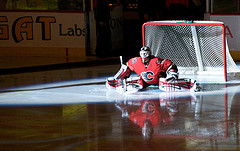 The Flames are currently 29th in the league. Miikka Kiprusoff is day-to-day, but out. Jarome Iginla has a lone goal in seven games. Similarly, Captain Canuck is still looking for his first goal. Alain Vigneault spends more time flip-flopping between Schneider and Luongo than I do between The Bachelor and How I Met Your Mother. But the Canucks are 5-2-2, and at the top of their division.

.