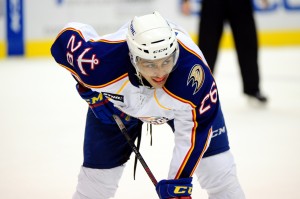 It was midway through the third period last Monday night when I peered down toward the ice at Honda Center and noticed something a bit…different.
Daniel Winnik, the team's leading goal-scorer, was no longer flanking Perry and Getzlaf on the Ducks' top line as he had been to start the game. Instead, recently recalled WHL stand-out Emerson Etem had taken his spot after starting the game on the fourth line, a position he's primarily held since being recalled just about a week ago.
Having just seen Etem earlier in the period blow past Andrew Desjardins and drive towards the net for an excellent scoring chance, it wasn't a total shock to see Bruce Boudreau call his number on the top line, he had been buzzing all night, but it certainly was a lot of responsibility to put on the youngster in a tie game late in the third period.
But not 5 minutes later, the Ducks were in the lead after a bullet shot from Sheldon Souray, and while Etem didn't factor in on the goal on the score sheet, a review of the play reveals the vital role he did play.
After a relentless forecheck and successful puck retrieval, Etem and new linemate, Ryan Getzlaf, effectively cycle the puck down low, before Etem leaves for the front of the net, posting himself up in front of the goaltender, creating the screen through which Souray eventually fires home the game-winner.
While his audition with the top unit was brief, Etem's blend of speed, skill, and tenacity looks like it could be just the right fit for a top line wing spot that has seen a carousel of players come and go this season including Kyle Palmieri, Matt Belesky and Daniel Winnik.
How He Got Here…
With their second pick of the first round of the 2010 entry draft, the Anaheim Ducks went for some true home-grown talent, selecting Long Beach native Emerson Etem from the Medicine Hat Tigers 29th overall.
The decision paid off immediately as Etem promptly lit up the WHL, scoring 61 goals in 65 games and totaling 107 points in 2011-12 while securing his position as one of the most prolific scorers in junior hockey.
At the end of the WHL season, Etem made his pro debut with the AHL's Syracuse Crunch, where his hot play continued, scoring 3 goals in just 6 total games.
With his pro-style game revolving around speed, fearless net-drive, and an instinctual ability to find open areas on the ice, hopes were high for Etem coming into his first full pro season in 2012-13, however the transition didn't occur as quickly or smoothly as many would have hoped.
With just 4 goals through the first 18 games on the season, Etem found himself settling into more of an energy role with the Admirals than a goal-scoring threat. However, those who watched him most knew there was more to his game.
Etem is very noticeable for his strong skating and speed. He struggled early but seems to be adjusting to the league. I just think he needs time, but I think he has a great future. I also love the way he handles himself off the ice; very professional. I just think he needs game experience.

– Pete Michaud, Norfolk Admirals Play-by-Play Voice
Etem responded to the slow start by potting 8 more goals through December and January and began to assert himself as a more offensive threat for the Admirals. Still, with rather pedestrian numbers through 40 games in the AHL, the decision by Ducks' coach Bruce Boudreau to recall the youngster on January 27 was at the very least, an interesting one.
Two days later, Etem made his NHL debut against the San Jose Sharks, playing on the 4th line with fellow prospects Rickard Rakell and Kyle Palmieri.
While skating for just 8 minutes of ice time, Etem made his presence felt with strong forechecking and active puck pursuit, which resulted in several good scoring opportunities including this on his very first shift.
Etem provided much of the same through the next three games, potting two assists against the Kings and earning the trust of coach Bruce Boudreau, who increased his workload from a mere 8 shifts in game 1 to 12 & 13 shifts through games 2-4.
Currently, Etem finds himself in the coveted top line wing position alongside Ryan Getzlaf and Corey Perry. His ice time has increased exponentially, from averaging just around 8 minutes in his first 4 games to over 14 minutes against Colorado.
His speed and pursuit down low have proven to be effective in opening up space for his superstar linemates and maintaining puck possession in the offensive zone, where they are most dangerous.While it's still early, Ducks fans should be very encouraged with the way Etem is making the most of this opportunity and should be excited at the potential of a Etem-Getzlaf-Perry trio for at least the near future.
Follow Anton on Twitter: http://www.twitter.com/antontibaldi
Anton has a degree in Professional Writing from the University of Waterloo and is currently studying a Master's of Sport Management at California State University. He covers the Anaheim Ducks here at The Hockey Writers and reports on CHL draft prospects in the Back Row, Corner Seat Blog at Jr Hockey Recruit.