After signing a one year deal with the San Jose Sharks, fans must be wondering what Alex Stalock's future will be with the franchise as Thomas Greiss and Antti Niemi have done a good job in net for San Jose when called upon. Greiss performed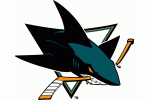 admirably during Niemi's absence in the early parts of the 2011-2012 NHL season and the netminders are likely to resume their respective duties for the upcoming 2012-2013 campaign.
While Stalock might spend the majority of his next hockey season in the AHL, the goalie has not failed to impress the San Jose organization since being drafted in the fourth round of the 2005 NHL Entry Draft. The Minnesota native has shown steady improvement since 2005 as the netminder has put up impressive numbers while playing in the USHL, NCAA, ECHL and AHL. Even though Stalock suffered a leg injury that hindered his 2011-2012 season, fans should look forward to the goalie making an impact in the NHL in the near future as there are a couple of factors that could influence the netminder's arrival in San Jose.
Expiring Contracts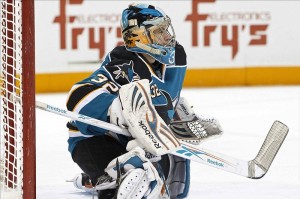 Alex Stalock might have only received a one year deal, but his upcoming hockey season will probably help the Sharks decide what route they want to take with their goalies. Antti Niemi is locked up until the 2014-2015 NHL season, but Thomas Greiss' contract expires after the 2012-2013 season ends. Once Greiss' contract expires, the San Jose Sharks and Doug Wilson will have a decision to make regarding their backup goalies.
As previously mentioned, Greiss has performed admirably for the Sharks when his number has been called, but the goalie might want to test the market and see if another team is willing to take a chance on him and give him greater responsibilities. Greiss has certainly done enough to warrant consideration for more playing time and hoping to gain a greater role behind Antti Niemi might not be an easy task to accomplish unless Niemi goes down with an injury or is extremely inconsistent. However, Greiss will still have to convince upper management in San Jose that he is worthy of being re-signed and will have to follow up his impressive performances from 2011-2012 in order to draw serious consideration from the Sharks.
Alex Stalock will also have to prove his worth throughout the 2012-2013 season as he will attempt to play in his third full season with the Worcester Sharks. A strong season in the AHL might help Stalock move up the ranks in time for the 2013-2014 NHL season, but the netminder has been widely regarded as one of San Jose's best prospects for a bit of time. Parting ways with Greiss and inking Stalock to a short-term deal might not be out of the realm of possibility for the Sharks as they head into the '13-'14 campaign, but it wouldn't be surprising to see the goalie get called up to the NHL if an injury to either one of San Jose's goalies occurs.
History is on Stalock's Side
If history has shown hockey fans anything about Stalock, then it has shown that the American netminder excels and improves whenever he is promoted. Stalock has played in a great amount of games at the USHL, NCAA, and AHL level, but more importantly, he has been consistent in his level of play throughout the years and his statistics can back it up.
Stalock had two strong seasons in the USHL before going to the University of Minnesota-Duluth, but he received Goaltender of the Year honors in his final season with the Cedar Rapids RoughRiders. In his three seasons at the University of Minnesota-Duluth, Stalock won a team MVP award and was named to the NCAA's First Team All-American squad in his final season at UMD. The goalie wasted no time getting into form for his first AHL season with the Worcester Sharks and promptly earned himself a selection to the AHL's '10-'11 All-Rookie Team by going 39-19-2 in his first season with the Baby Sharks.
If it wasn't for a nerve injury in 2011-2012, Stalock would have played another full season with the Worcester Sharks and could have gotten some more experience under his belt. While things didn't necessarily work out in Stalock's favor last season, the prospect still has much to look forward in regard to his future with the San Jose Sharks. Stalock will turn 25 in less than a month, but his consistency throughout his hockey career might indicate that hockey fans are yet to see the goalie at his best.
Decisions-A-Plenty
Aside from Stalock, the San Jose Sharks will probably have a couple of interesting goalie prospects ready for NHL action in the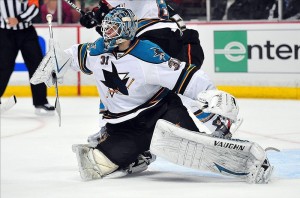 next couple of years. Harri Sateri, Thomas Heemskerk, and J.P Anderson will also be battling for their chance at a possible call-up to the NHL, but Stalock will probably be the first in line for a callup if anything happens to Greiss or Niemi. The Sharks definitely have a plethora of goaltending talent in their system and Stalock will have to show that he is fully recovered and ready to shoulder a full season's workload in his upcoming hockey season.
While Stalock missed time due to injury last season, scouts have still lauded the goalie and his prospects of becoming a dependable NHL goalie. After the Sharks locked up Stalock for one more year, Justin Goldman pointed out that Stalock sat high in his rankings of prospect goalies as he tweeted:
Stalock, as long as he stays healthy, will continue to be a Top-15 goalie on my Top-150 Prospects Rankings. Great upside with this kid.

— The Goalie Guild (@TheGoalieGuild) July 2, 2012
Goldman is not the only scout that has held Stalock in high regards, but the goalie will need to play at a high level in the AHL this season as Sateri, Heemskerk, and Anderson would probably be more than willing to steal any starts that they can at a higher level. Stalock has already logged over 100 games in the AHL and his time for a promotion might be coming sooner rather than later depending on what route the Sharks want to take in their development. Antti Niemi seems to be fitting in well in San Jose, but GM Doug Wilson has not been shy when pulling the trigger on trades.
Trading away Niemi might not be in Wilson's short or long-term plans, but Stalock has already put himself on the radar through consistent play. Even though Stalock might not play the butterfly style to a tee, he is a great positional netminder that possesses a hockey IQ that can help bail him out of numerous situations.
For a refresher on Stalock's hockey sense, here's a clip that helped earn the goalie a "save of the year" nomination:
There were two impressive plays from that clip and the first was definitely Josh Bailey's no look pass to Trent Campbell. However, Stalock's reaction and quick save trumped Bailey's effort to set up his teammate. Not only did Stalock react well to Bailey's play, the goalie looked as though he dove with the full intention of snaring the puck with his glove and was not just reaching out in hopes of making a blind save.
Antti Niemi and Thomas Greiss might be manning the fort for the meantime in San Jose, but Stalock has undoubtedly been making quite the case for himself as he seeks to crack San Jose's roster. If anything, hockey fans should expect to see some fresh faces in San Jose's crease in the next few years as Alex Stalock, Harri Sateri, Thomas Heemskerk, and J.P Anderson will try to play their way onto an NHL roster and give Antti Niemi and Thomas Greiss a run for their money.
In his third year with The Hockey Writers, Toli covers all things related to the New York Islanders. Focusing on the Islanders, the NHL Draft & draft-eligible prospect goalies, and hockey history, Toli can be contacted on Facebook by searching/messaging Toli Metter and on twitter by searching @ToliMetterTHW.