Goodbye.
Yes, goodbye to those frustrating days of being a Dallas Stars fan. In a matter of a few days, the new ownership and leadership of the Dallas franchise swept away four seasons of frustration. Since July 1, Dallas has been the most active team in free agency and on the trade market. Without a doubt, Dallas is rekindling the winning mentality that permeated the franchise in the late 1990's and early 2000's.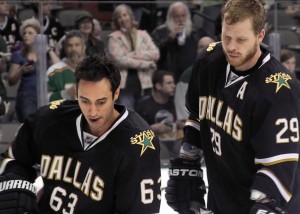 On June 22nd, General Manager Joe Nieuwendyk left many scratching their heads as he traded Mike Ribeiro, who was the Stars No. 1 center last season after the departure of Brad Richards, to the Washington Capitals for a second-round pick in this year's draft and promising young prospect Cody Eakin. With the departure of Ribeiro, the Stars were left with very few options at center, which became one of their weakest positions during last season. Ribeiro has been a key ingredient for the Stars over the past six seasons, and last season, he did a noteworthy job connecting with the suddenly hot Michael Ryder. Disrupting that promising chemistry could prove costly. It's not certain that Eakin will make an impact in the NHL next season.
On July 2nd, the Stars once again continued reshaping their roster by trading center, and long-time Stars favorite, Steve Ott with defenseman Adam Pardy to the Buffalo Sabres for the adept and agile Derek Roy. It's obvious what holes each team is trying to fill. Since the departure of Richards, and now with the trade of Ribeiro, the Stars need a playmaking center who shows intelligence and speed. Roy fits the bill, as he has notched 20 goals four times in his career (with one 30-goal season). Also, when healthy, Roy is good for nearly a point a game. Last season, Roy did not play up to his usual expectations, but the year prior he recorded 35 points in 35 games. In his career, he has 427 points in 549 games played. It's also clear that the Sabres wanted to add physicality–Ott and Pardy are pure grit. By the looks of this trade, the Stars appear to be favoring a faster, less physical game (particularly up front) than what they have put on the ice over the past three seasons.
To provide more physicality in the defensive zone, the Stars then signed Aaron Rome to a three-year deal. Although Pardy was a gritty defenseman, he lacked the experience and knowledge to be trusted with ample playing time. Rome is a proven veteran who has reached the Stanley Cup and played on a Stanley Cup contender in the Vancouver Canucks for the past three years. Rome will bring a reliable, rock-solid presence to the backend of the Stars and should fit in nicely with the more offense-first minded Alex Goligoski, Stephane Robidas, and Trevor Daley.
Soon thereafter, the Stars gave former Stanley Cup champion Ray Whitney a two-year deal worth $9 million.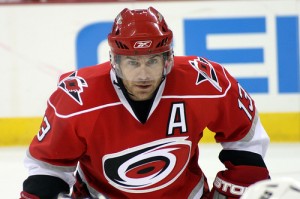 Despite being the "elderly" age of 40, Whitney recorded one of the best statistical seasons of his career, as he notched 24 goals, 53 assists for 77 points in 82 games. He also recorded a career best +26 +/- rating. Nevertheless, this deal does carry quite a bit of risk (especially considering the hefty price tag), as Whitney undoubtedly will not duplicate those numbers as he pushes into his early 40s. There is a very likely chance, in fact, that Whitney's speed and firepower drop off considerably. The experience Whitney brings cannot be replaced, but for $4.5 million a season, the Stars could end up regretting this acquisition. However, the fact that Whitney will be surrounded by young, agile talent will only help his chances of having another impact season in the offensive zone.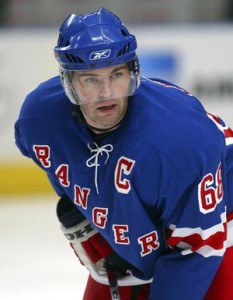 Undoubtedly, the most noteworthy transaction by the Stars was the one-year signing of Jaromir Jagr for $4.55 million. Like Whitney, Jagr is near the tail end of his career. However, Whitney and Jagr will both have a beneficial influence for the Stars. For one, the Stars already look to be a more complete offensive team than they have been over the past three years. Despite being 40 years old, Jagr recorded 19 goals and 54 points with the Philadelphia Flyers last year. If Jagr can duplicate that performance with Dallas, it would greatly improve the team's tepid offense and feeble power play. Also, pairing Jagr with other young weapons, such as Loui Eriksson or Jamie Benn, could ignite some of the Stars younger talent.
With the acquisition of two 40-year-old stars, Dallas is clearly stating they are trying to win now. It is also clear that new owner Tom Gaglardi is living up to his word of building a Western Conference contender once again out of the Dallas Stars. Without a doubt, the Stars are clearly a better team on paper than they were a year ago. With Jagr, Whitney, and Roy in the mix, the Stars now have quality depth in their top three lines (Ryder, Benn, and Eriksson will all, hopefully, be back for the Stars next season). I would suspect the Stars to make at least one more addition up front, but most importantly, the Stars need to sign or trade for another experienced defenseman. The Stars don't need a goal scorer on the back end, but a physical and experienced presence could go a long way in shoring up the team's often dismal defensive-zone performance.
The Stars are still a long way from winning the Western Conference (or even their division, for that matter), but Dallas should be predicted to earn a mid-range playoff spot this year, something that has eluded the franchise for four seasons.