Dear Marty,
Congratulations on your new two-year contract with the New Jersey Devils. Honestly, you gave us all somewhat of a shock when you announced your desire to hit the free-agent market, even if we all knew you'd end up with New Jersey in the end. Sure enough, on Monday, you made the right choice.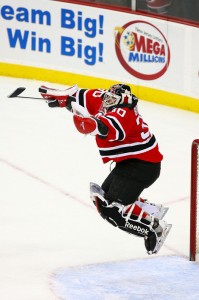 It's not hard to guess that you probably came back for another chance at the Stanley Cup. The Devils had a great run through this year's playoffs. It must have been a relief to get revenge on the Philadelphia Flyers for eliminating the Devils in 2010, and of course, what better feeling is there than eliminating your biggest rival, the New York Rangers?
Oh, and that Florida Panthers series win was nice too. Sure, they were the higher seed, but the Devils arguably had the better team. There's not much better way to wrap up a series than in double overtime of Game 7.
Falling two games short of a Stanley Cup hurts for any player, from the rookies like Adam Henrique to the most battle-tested veterans like you. Both teams had momentum and strong fanbases standing behind them. There's nothing wrong with losing to the Los Angeles Kings, either. Perhaps one day, Jonathan Quick will be as great as you.
But I'm not writing this letter to tell you how great the Kings were this year.
In the next two years, you have a lot to look forward to. Besides the chance at a Cup, you will get to keep playing with Patrik Elias, your teammate since the 1990s. He is getting close to the twilight of his career, and it would be something to continue playing with him until one or both of you leaves the game. It's rare enough these days to have one player stay with a team his whole career, and the Devils have two (three if Zach Parise stays). Cherish that.
Johan Hedberg just re-signed for two more years. Hedberg may be getting up there in years, but it's good to have a veteran backup who can still play. If you get hurt again (and we're hoping you can stay healthy in your final playing years), you can rest easy in the press box knowing that Hedberg can do the job. He wasn't eighth in the NHL in GAA for nothing.
Furthermore, you can anticipate mentoring goaltending prospect Keith Kinkaid. Kinkaid recently finished his first pro season in Albany, and his confidence can only be helped learning from an esteemed goaltender like you. While you may have accomplished everything there is to on the ice, there's a lot to be done away from the rink.
And of course, the Devils have a good shot at making the playoffs the next two years. Parise may leave, but you still have Ilya Kovalchuk, who has finally gotten a chance to shine on a competitive team. Bryce Salvador is back for three more years after an impressive playoff run. Henrique will have a prime role on the offense for a long time to come. Every player dreams of ending his career by winning a Stanley Cup, and you could do just that.
Besides, could you really imagine hoisting the Cup in another jersey? Sure, it would be a high point for you, but it should happen in front of the Devils Army at Prudential Center.
You made the right decision, and I'd like to give you props for that. I hope you're looking forward to opening night to get a rousing ovation from the Devils faithful and, most importantly, to start the road to the Cup finals once again.
Yours in hockey,
The New Jersey Devils community