The word "rebuild" is a hard one to find in the dictionaries of Dallas Stars fans.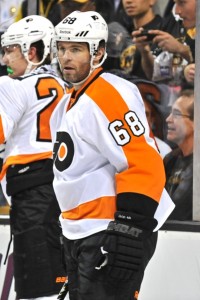 For the greater part of their existence, the Stars have been one of the league's high-rollers thanks to the previously deep pockets of former owner Tom Hicks.
When free agency rolled around it was no surprise to see the Stars going after the premier players, with the team acquiring Brett Hull, Ed Belfour, Bill Guerin, Pierre Turgeon and many more big names in that manner. It was how the pre-lockout Stars built their rosters and it was a successful formula, with the team winning the Stanley Cup in 1999 and then losing in the finals to the New Jersey Devils in 2000.
But things changed after the lockout. Hicks' seemingly infinite supply of money dried up, and the Stars fell deep into bankruptcy and were put on life support from the NHL. Hicks left the team, and with no owner in place, the Stars were unable to offer big money contracts on marquee free agents. Dallas was forced to enter unfamiliar territory and look instead to long-term success through rebuilding.
While the Stars have been doing a great job recently of drafting and developing promising youngsters, the team has simultaneously suffered through four consecutive years of missed playoffs, leaving the once-rabid fan base, unaccustomed to such failure, apathetic and weary.
The Stars tried going after the big fish like Zach Parise and Ryan Suter this offseason thanks to new owner Tom Gagliardi opening the purse strings, but those fish weren't taking the bait on a team with such a lack of recent success.
But on Tuesday afternoon Stars GM Joe Nieuwendyk made a bold move to show the fans that there is still hope on the horizon, signing NHL legend Jaromir Jagr to a one-year, $4.5 million contract.
Jagr, 40, scored 54 points in 73 games last season for the Philadelphia Flyers, but those stats don't do true justice to one of the league's all-time most highly regarded scorers, a player with 1653 career points, two Stanley Cup rings, five Art Ross Trophies, and even one Hart Memorial Trophy as NHL MVP.
While "Jags" is far beyond the peak of his career, what he brings to the Stars organization cannot be understated.
First, he still remains a dangerous offensive weapon despite his age, especially on the powerplay where he scored 20 of his 54 points last season. He'll be a welcomed addition to a powerplay that went dead last in 2011-2012, and rounds out a very formidable Top 6.
Secondly, his legacy is known all across the NHL, and will certainly provide a huge spark for getting the fans in Dallas interested in hockey again. Nieuwendyk can use this signing as a message to the fans that he still takes making the playoffs very seriously, despite the team's slow and steady rebuild.
But it's what Jagr can do to help Dallas' up-and-comers that's the most significant part of this signing. Jagr has developed a reputation over the years as a fitness buff, a man constantly dedicated to performing to the best of his abilities, and will be sure to pass on that attitude to a young Dallas core that includes budding superstars Jamie Benn and Loui Eriksson.
Flyers center Claude Giroux was outspoken on multiple occasions last season about how much he enjoyed playing with Jagr, and one can't help but wonder how much of Giroux's breakout career-high of 93 points can be attributed to Jagr's influence.
If the same effect can rub off on the 22 year-old Benn, who has already made huge strides thus far into his career, just imagine what kind of dominant player he could become.
Since the signing is only one year it will give Jagr just enough time to leave his mark on the Stars organization, and when it expires it will open up the door for a growing core of promising prospect forwards that includes Reilly Smith, Alex Chiasson, Matt Fraser and others that will then be ready for NHL duty.
With the additions of Jagr, Ray Whitney and Derek Roy over the last three days, Nieuwendyk looks to have built a serious playoff contender, and managed to do it without sacrificing the team's rebuild. If GM Joe's bold moves go according to plan they could pay significant dividends for the Stars, both now and in the future.
Derek Neumeier primarily covers the Dallas Stars, but also other various topics related to the sport of hockey. A Journalism graduate of Mount Royal University, Derek also writes for Defending Big D, and has done previous work with the Edmonton Oilers as a communications intern and Hockey Canada as a freelance writer. You can follow him on Twitter at @Derek_N_NHL