Last Free Agency period, the Buffalo Sabres had just been bought by Terry Pegula, who vowed to change the team.  The led to the Sabres' acquisition of Ville Leino and Christian Ehrhoff, who added spark to the offence and defence repsectively. This time the Sabres have gone in a completely different direction with the signing of 6 foot 8 John Scott and the acquisition of Steve Ott in exchange for Derek Roy.
While fans aren't entirely sold on Ott, trading Roy was very important. When a player publicly calls out his coach and starts to play poorly a change is almost imminent.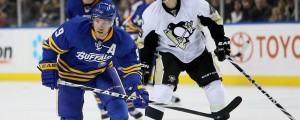 A team either fires the coach and lets the player win or as in the Sabres' case, they trade the player. No matter how good or poor a job Lindy Ruff is doing behind the bench it is important to make it clear to the players that the coach is here to stay. If Roy had stayed with the Sabres it would have sent the wrong message to the players, calling out a coach when you yourself are not playing well is not right. Good move by Darcy Regier showing he is fully behind the coach, not the selfish players.
https://twitter.com/hmansfie/status/219932895060570113
Fans can now take a sigh of relief, the player many wanted gone has finally been sent out of town. While Roy had trouble with Ruff and had made up his mind he didn't want to play for the Sabres anymore there are good reasons for this trade. The Sabres wanted to become more gritty, especially up the middle. After the whole incident involving Miller and Lucic last season something had to be done.
Within two days of Free Agency the Sabres have become bigger, stronger, and tougher. Teams last season wouldn't have to worry about playing the Sabres. They were small and unable to defend themselves. That won't be the case next season, there are now three 6 foot 8 players on the roster (Tyler Myers, John Scott and Joe Finley). While the most important aspect in hockey is scoring goals, there is more to it than that. Intimidation is a huge part in determining the outcome of a game or a season.
Remember the Broad Street Bullies? Players would instantly come down with the "broad street flu" before a game so they didn't have to face them. How about the Boston Bruins Stanley Cup victory? They intimidated Vancouver. The Canucks were a more skilled team, but they couldn't handle the Bruins toughness. Intimidation plays a major role in hockey. If opposing players are afraid of a teams "tough guys" maybe they'll think twice about running over a goalie or hitting a smaller player.
Buffalo needed to clear up cap space for a roster spot. Who will occupy that spot? Perhaps the Ducks' Bobby Ryan. It's no secret the Sabres are going hard after Ryan, but in order for him to fit on the team, they would need to clear some cap space. Now that the Sabres aren't on the hook for Roy's $4 million cap hit they can open up room to bring in other players.
In exchange for Derek Roy, the Dallas Stars parted was with agitator Steve Ott and defenceman Adam Pardy. Ott is a versitale tough guy who can play the wing or centre and has amassed a remarkable 1,170 PIM in 556 career games. While he has only scored 85 goals in that same time, he was not brought to the Sabres to score goals. He was brought in to be a tougher presence up front.
Many forget there is more to Ott's game than just hitting. Last season he lined up for 1,011 Face-Offs in which he won 55.5% a stat that already improves on Roy's Face-Off percentage of 50.6%. Ott will help the Sabres get bigger down the middle, provide a intimidation factor and help win faceoffs. What more could you ask for?
In addition to Ott, the Sabres acquired a 6 foot 4 defenceman in Pardy. Pardy has a $2 million cap hit in the last year of his contract and would be a great player to throw into other deals the Sabres are working on. If Pardy does stay with the blue and gold expect him in Rochester to start the year off.
By the time the Sabres take to the ice for the start of next season fans will see an entirely different much tougher and bigger Buffalo Sabres squad.
Caitlin is a former goaltender who turned journalist after a few too many concussions. She's a Buffalo Sabres fan living in the hockey crazed market of Toronto. She's spent time writing with Chat Sports, Fansided and The Fourth Period. Her work has been featured on Puck Daddy, Bleacher Report, Sports Illustrated and Grantland among others.