Three Takes is a column that explores the world of the Columbus Blue Jackets and offers strong insights into the team and what to watch for. Have a strong take to share? Feel free to leave your comments below or tweet me anytime @THWMark.
Take One: Put Cam Atkinson In The Top Six
With the perceived depth that many thought the Blue Jackets had, seeing Cam Atkinson on the third line excited many fans. To have a potential 20-goal scorer on the wing with an up-and-coming center (Alex Wennberg) and a solid winger (Scott Hartnell) looked nice on paper. The team started the season with Rene Bourque on the second line. It's time for that experiment to end.
Although Bourque has played ok in the first couple of games this season, he has made some costly mistakes. Monday against Buffalo, Bourque took two offensive zone penalties. The second one led to Buffalo's fourth goal, putting the game out of reach.
Bourque played just three shifts in the third period. Head coach Todd Richards then switched the lines, putting Atkinson up with Brandon Dubinsky on the second line. It makes sense putting a goal scorer like Atkinson in the top six. Whether it's with Dubinsky or Ryan Johansen, Atkinson has already established a comfort level player with either center. If Richards decides to juggle the lines for Wednesday's game vs. Ottawa, the first move we should see is Atkinson off the third line.
Take Two: Give Cody Goloubef His Chance
Goloubef started the season as the Blue Jackets' seventh defenseman. In his limited time in the league, he has played a steady game. He is also one of the best defensemen on the Blue Jackets in terms of puck possession. Yet, he hasn't been able to get in a game yet. His time needs to start Wednesday.
Two defensemen who are off to slow starts this season are Fedor Tyutin and Kevin Connauton. Tyutin is usually known as a steady, stay-at-home defenseman who rarely makes big mistakes. It was his turnover Saturday against the Rangers that got New York off and running.
Connauton is known more for his offense. Early on this season, he has struggled reading plays and leading breakouts. He has missed open passes, which could have led to sustained pressure in the offensive zone. Instead, the puck ends up on the opposition's stick, and they're chasing the game.
Given the struggles on defense, Goloubef deserves a chance to show what he can do. The Blue Jackets could really use his steadying presence now.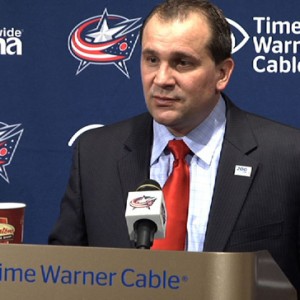 Take Three: Keep It Simple
It's not like the Blue Jackets have played poorly for the entirety of the three games. They've had moments of sustained pressure and good play. The thing that is killing them now is the ill-timed play.
Whether it was a turnover that led to a big goal, or a penalty that led to a power-play goal, the Blue Jackets' decision-making is dragging this team down. These errors are correctable, but they can't wait any longer. Doing so will put the team in an uphill fight just to stay in the playoff race.
Turnovers doomed the Blue Jackets against the Rangers. Penalties doomed them against the Sabres. When you take eight penalties and allow three power-play goals against, you're not going to win very often.
Now is the time to keep things simple. Make safe passes. Stay within your system. This limits what the opposition can do. It sounds easy, but the Blue Jackets have shown that it's not as easy as it looks.
The Blue Jackets aren't that far away. A small change here and some better play there, and they'll return to the team that we think they can become. That said, these next two home games, against Ottawa and Toronto, are big. If they lose them, they'd fall to 0-5 with a road game in Chicago waiting for them. The season isn't over after three games. But if this trend continues, you have to wonder if coach Richards' job could soon be in jeopardy.