For many teams, making a Stanley Cup run means having a player or two have a breakout season. It's at least a component of the puzzle. In the salary cap-era, it's tough to have a team deep enough to make that run unless you have some players outperforming their contract early in their career.
I'm thinking of Tyler Toffoli in 2013-14, Brandon Saad in 2012-13, Brad Marchand in 2010-11, Tyler Kennedy and Kris Letang in 2008-09, Ryan Getzlaf and Corey Perry in 2006-07, or Eric Staal and Justin Williams in 2005-06.
For the Minnesota Wild to make a run they'll need continued production from players who broke out last season like Mikael Granlund, Darcy Kuemper, and Charlie Coyle and they'll need a breakout player from the young corps of prospects. (Maybe those young prospects should take notes on Granlund, Kuemper, and Coyle's seasons last year. Step 1. Waive to children. Step 2. Play in the Olympics. Step 3. Have a terrible first couple games in the year, come back at mid-season and be a totally new player.)
Here are some candidates to be that breakout player for the Wild in the 2014-15 season.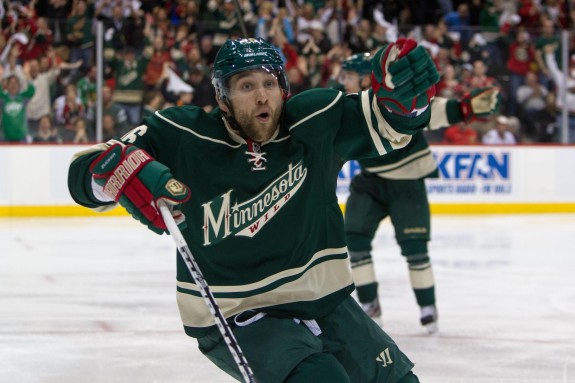 Jason Zucker
Jason Zucker has explosive speed and great hands, not to mention the Wild fan base is already in love with him. (Mostly for this goal.) But we've been waiting for Zucker's breakout season to happen for the last two seasons. It feels a bit like it needs to happen early this season or the team could move him while his value as a prospect is still high.
Holding him back?
His role. His lack of defensive responsibility leaves him ill-suited to a bottom six role, where he's likely to start the season. The top six is stack with Zach Parise, Thomas Vanek, Jason Pominville, and Mikko Koivu, who are going nowhere. Mikael Granlund and Charlie Coyle are likely to be the other two and that means Zucker could really only crack the top six if he replaces Coyle or there's an injury. He has his work cut out for him, but he also has a lot of skill and began addressing the defensive issues last season.
Mathew Dumba
Mathew Dumba is one of the Wild's top prospects and he's still very young at just 20. He's what the Wild have needed on the blue line for a while: A young defenseman with decent size and offensive prowess. He was great in the WHL for Portland and Red Deer, at the World Junior Hockey Tournament, development camp, and the 2013 Traverse City Prospects Tournament, now he needs to be great on the big stage.
Holding him back?
Competition. There are open spots on the blue line, but his playing time will be limited if he can't separate himself from other top candidates like Christian Folin and Gustav Olofsson. Also, don't discount a dark horse grabbing a spot from Dumba. Zucker was supposed to be a lock for a spot on the roster last year, but Erik Haula and Justin Fontaine asserted themselves into consistent roles. (Haula more than Fontaine, but even when Fontaine was scratched, he wasn't going back to Iowa.)
Erik Haula
Speaking of Erik Haula, he was great last year, but he has room to grow and show some consistency.
There aren't any projected depth charts out there that don't have Haula slotted in as the third line center, which shows how well he asserted himself into the lineup during his rookie season. But Haula could breakout (breakout more?) as a top six talent this season, even if he's on the third line. Haula was solid all year, but really stepped up when Mikael Granlund went out late in the season and he had to slot in as the second line center. He was even better in the playoffs. He was arguably the Wild's best forward in the second round against Chicago. In the playoffs he scored four goals and three assists with a 56.9% Corsi for (+1.7% relative) and did that with a low PDO of 96.7%, crap zone starts at 36% (-17.2% relative), and while playing 46.5% of all penalty kill time. There's a lot of potential in his play.
Holding him back?
Role. Short of an injury, it's hard to see him climbing into a top six spot. He's also become essential on the penalty kill, which he's great in, but isn't conducive to a breakout performance. The advanced stats above paint a picture of his usage and role, but also show that he is capable of much more than he's being given the opportunity to do.
Nino Niederreiter
Nino Niederreiter finished third on the team in goals with 14 and scored the overtime-winner in Game 7 against Colorado. He was really a breakout player last year after having been thrown into the NHL too early by the Islanders and then left in the AHL for the entire season before being traded to the Wild.
However, Niederreiter could really breakout as a star in the NHL this season. He's arguably the most likely on this list to do so. Nino could easily deliver 20 goals, consistent power play time, and has the ability break into the top six.
Holding him back?
Charlie Coyle. Like with Zucker, Coyle's the only player, short of an injury, that Niederreiter is likely to replace in the top six. Little else stands in Niederreiter's way.
Christian Folin
If it's not Dumba breaking out on the blueline, it should be Christian Folin, who was signed as an un-drafted free agent at the end of last season. One of these two should have a good shot at some consistent ice time. Even more than Dumba, Folin fits the Wild's defensive needs with size and offensive firepower.
Holding him back?
Like with Dumba, it's a battle for ice time. He has to be better than the other prospects to get ice time and then he has to do something with that time.
Michael Keränen
He's the dark horse on this list, but he showed tremendous growth and potential last season in Finland and could be a surprise for the Wild this season.
Holding him back?
A lot. It's a crowded forward corps, with a lot of promising players looking to grab a very small amount of available ice time. It'll also be his first season playing in North America, he's a little small for the NHL, he's an older prospect at 24, and he's on a one-year contract, so he has to prove himself if he wants to stick. There's plenty working against him, but he's got a lot of talent if he can make it work in the NHL.