With the summer winding down and the Blackhawks first game fewer than 60 days away, it's impossible not to obsess over what the new season will be like. With that in mind, here are some choices the Blackhawks have already made (and a couple more they should consider) to improve the upcoming season.
1) Traded Brandon Bollig to the Flames
As much as I liked Bollig as a part of the team — his interviews made him seem like a real stand-up guy — he was a fourth-line bruiser on a team like the Blackhawks. He was great at morale and worked just as hard as the rest of them, but didn't have the skating or the stick skill to make it any higher in the ranks. With Bollig gone, a spot has opened up where someone like Jeremy Morin could add some depth.
If the Blackhawks miss Bollig too much, they might be able to compensate by calling Brandon Mashinter up from the IceHogs for a few games to crack some skulls and earn some PIM, but I'm ever-hopeful that the role of the enforcer is less and less necessary in this iteration of the NHL.
2)  Michael Handzus Replaced by Brad Richards
Again, 'Zus seemed like another good addition to the team in the room, but on the ice his production was minimal and it seems that he dragged down his linemates' production as well, judging by Kane's point tally over the last season. I'm not sold on Richards just yet, but at this point, nearly anyone could do a better job centering Kane and Saad than Handzus.
The second part of this is that it gives 19-year old center Teuvo Teravainen time to adjust to NHL play. It's practically a foregone conclusion that he will be on Chicago's roster before the New Year. He is highly spoken of by players and coaching staff alike, and he fits in with the system already in place. Coach Joel Quenneville was right to send him down to Rockford for a period of time after letting him see just how not-ready he was in March, when he registered a total of 0 across the board in points and +/-. It gave Quenneville the chance to see Teravainen in action, introduce him to the system, and deliver a reality check on the difference between the Finnish Liiga and NHL play. Teravainen didn't take the ice by storm, but acquitted himself well, winning seven out of seven faceoffs at the dot.
Had the Blackhawks held on to Handzus, Teravainen might have seen NHL ice before December. While Quenneville clearly likes him, bringing him up too early very well could handicap or slow his development as a player, putting the team in a tough position of either sending him back down, or offloading his entry-level contract on a team that has the cap space and needs a dynamic center. The first team that comes to mind is Dallas, but a number of GMs would certainly be happy to get their mitts on Teravainen.
3)  Got rid of 'The Stripper'
No, this isn't a roster change, but what franchise doesn't want more money flowing into its bank accounts? Fans that no longer feel uncomfortable and vaguely unwelcome at games are likely to return, purchasing tickets, merchandise, and buying from the concession stands while at the game itself. With women measuring approximately 40% of Chicago's fanbase this is plain good business sense and will likely grow that number even more, which in turn will push revenue streams higher.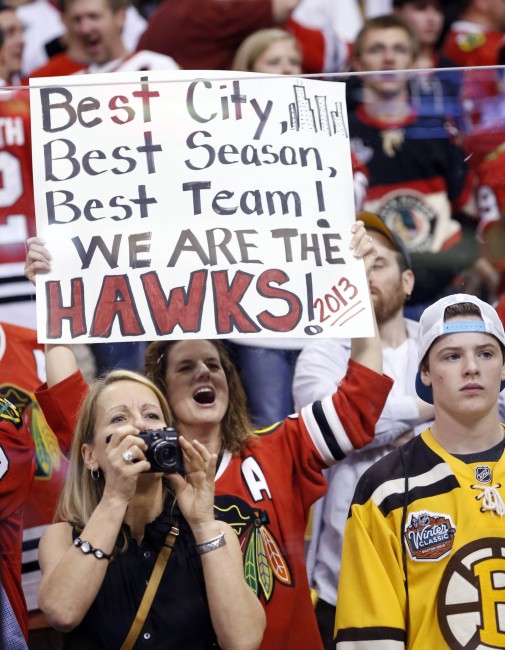 4)  Bring Shaw Back to 2C
While Brad Richards' 1-year contract is essentially designed to give Teravainen the development time he needs to be a second-line center in the NHL, there's no reason not to give Shaw a shot at the second line again. We saw a dynamic Kane-Shaw-Saad line in Game 6 against L.A. in the Western Conference Finals. The untested combination registered one of the 4 points Chicago won with, and seemed to give Kane a little more pep in his step, resulting in his scoring the winning goal.
5)  Shake Up the Defense – Specifically, Keith and Seabrook
These two have been a dynamic, puck-stopping combination for years, Keith's rushing defensive style complementing Seabrook's stay-at-home mentality. They are the superstars of the Blackhawks defense, not least because they've won two Cups with Chicago. However, the past two playoff series have seen them play better apart than together.
Whether it's general fatigue from a year of hard play or a comment on the way they approach playoffs individually, at this point, it's worth separating them occasionally during the regular season to see if that has any impact on their postseason play together. They are both more than good enough to deal with a change in partners on occasion during the season and if it improves their play in the post then the downside would be minimal.