Jeff Skinner is skating his way to leading the Carolina Hurricanes to a potentially good season. Against the Winnipeg Jets in the last game of Carolina's five-game home stand Sunday night in Raleigh, Skinner joined center Jordan Staal and forward Sebastian Aho on the 'Canes' top line, replacing Teuvo Teravainen.
Head coach Bill Peters had made a change to the lines in the middle of last Friday night's win against the Montreal Canadiens, liked what he saw and put Skinner at the top. Of course, Peters changes lines often, and this configuration may not last going forward. For the moment Skinner is at the top, and I think deservedly so.
Skinner also started the game against the Jets at the top of the Hurricanes' stats sheet, tied with Victor Rask. Both were sitting at 14 points, seven goals and seven assists each. Rask notched goal number eight Sunday night, with assists from Lee Stempniak and of course, Skinner.
[HIGHLIGHT] @VictorRask buries Stempniak's feed for the GWG on the power play. #Redvolution #WPGvsCAR pic.twitter.com/GaupQwllfT

— Carolina Hurricanes (@Canes) November 21, 2016
A crowd of 10,109 fans saw an epic battle between the 'Canes and Jets, and while Skinner did not register a goal, he played a huge part in helping set what was a torrid pace for the entire 60 minutes.
First Impressions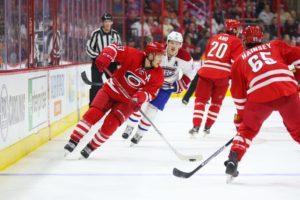 I remember when Skinner was drafted by the 'Canes in the 2010 NHL Entry Draft and the announcers commented on his figure skating ability. To be honest, I somewhat cynically thought, "Great." I have learned over the past six years of watching him skate, that he is particularly gifted in his capabilities on the ice.
I have written about Skinner's concussions and how he seemed timid when going to the net. In 2015 he was mentioned as being looked at seriously by the Pittsburgh Penguins. I wrote at that time, "I do not know what is going on in Skinner's head. However, I did hear more than a few times the question raised by my colleagues in the media whether he was "right" after the most recent concussion. At times, he lacked the kind of aggressive moves to the net that we have seen from Skinner in the past. One has to wonder if he is just a bit tentative about the possibility of another injury, especially another concussion." That quote is absolutely no longer applicable, as Skinner is showing no hesitation, no tentativeness and is playing very aggressive hockey this season. It's great being able to watch him skate at the top of his game.
Skinner Said…
After the Jets game, I caught up with Skinner in the Hurricanes' locker room. I said that he seems to be skating more confidently, and asked if he is feeling better because he really seems aggressive. Skinner said,
Yeah, I feel good. Things are clicking pretty well with my linemates, 'Rasky' and Stempniak for the most part of the season, and then tonight Aho and Staal.
I asked how he liked playing on the top line tonight and he said,
It's good. It's good. Obviously Staal's a big presence out in the middle, he makes plays. And Aho's really talented, really smart. It's fun.
It is fun as a fan of the 'Canes to watch Skinner skating with confidence and making contributions no matter where Peters slots him.
Peters Zinger
I walked into a nice zinger by Peters in the coach's post-game press conference. I was in the middle of asking him how he liked Skinner on the line with Staal and Aho when he interrupted me and said, "I like Skinner, period." After the chuckling among my colleagues died down, Peters said, "Oh yeah, you bet I do." You know what coach, we like Skinner on that line or anywhere you decide to play him, too.