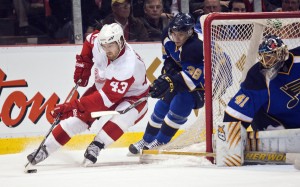 Get over it.
With team General Mangers hiking up prices for players, and giving out inflated contracts combined with the parity in the league right now the trade deadline become as important as years past.
The last huge deal Detroit did at the deadline was in 2008 and General Manager Ken Holland brought in Brad Stuart. That worked out great as he found a piece he desired for a price that was fair.
Holland was honest yesterday that he was looking to add a forward; but the price didn't fit.
You don't want to sell the farm to get a tractor.
Right now three Central Division teams are in the top five overall for the league in points: The St. Louis Blues (85 points), the Detroit Red Wings (85 points) and the Nashville Predators (81 points).
Both the Blues and the Predators are 'young' teams; but with youth also comes a lack of experience that can not be replaced. They don't have Nicklas Lidstrom or Tomas Holmstrom. The Predators might have the Konstitsyn brothers; but they don't have Pavel Datsyuk nor Johan Franzen.
The Red Wings did send Mike Commodore to the Tampa Bay Lightning and freed up a roster spot for Brendan Smith.
Smith picked 27th overall in the 2007 NHL Entry Draft played three regular season NHL games back in November where he notched 2 points, 4 PIM, and 20-26 shifts per game before being sent back to the Griffins. With the Griffins Smith has raked up 32 points in 47 games and a plus/minus of seven.
The youth core is slowly entering the Red Wings line up – just how Holland planned it.
There are 30 teams in the National Hockey League and only one will win the Stanley Cup this year.