The Maple Leafs – barring a not impossible collapse by Columbus and simultaneous three game Toronto winning streak – will miss the NHL Playoffs this year. While the eight game losing streak and lifeless effort Saturday against the Jets will no doubt set fans teeth on edge and bring about a fair amount of insanity in the form of "analysis" to Southern Ontario, the fact is, there are a lot of things to like about this team and where it is headed. With that in mind, I offer you some thoughts on the Leafs as they stand here and now, on this, the eighth day of April, in the year 2014.
A Ninth Place Team?
When the season began, back in October, the experts were not optimistic about the Leafs chances for the playoffs. Most experts predicted the Leafs to either miss the playoffs or come in around 8th. Hardly anyone predicted they would have a successful season, the rationale being that they were a young team that was still building and not quite there yet. 
Fast forward to today, and that is exactly what happened. The fact that they had to lose eight games in a row in order to miss the playoffs suggests that they are well on their way to being a better team. In fact, losing eight games in a row is a situation so rare, and requiring such bad luck, that the Leafs – clearly not the worst team in hockey – are the only team to go so long without at least a single point this year. What I mean here is that the Leafs would have easily made the playoffs had they won a single game during the losing streak and pocketed a couple of points in overtime in at least two others, and that this scenario (even if they played worse than they did) is far more likely to occur than what actually happened.
Furthermore, people quick to say "I told you so," in response to their losing streak and the fact that they are constantly out-shot, fail to credit the fact that they lost their star goalie and probably best player for the first five games of that streak, and that he was clearly still hurt upon his return. In reality, it was probably a combination of both factors, but that still bodes well for the team in the future. You can't prevent injuries, but I can say with confidence that once the Leafs have an NHL quality defense corps, that they will improve their possession game and not be out-shot with such high frequency.
People also use this streak to point to Dion Phaneuf and insult him, conveniently forgetting that he was probably having his best NHL season to date up to the beginning of the losing steak. Never mind that he seems to have been playing hurt at the time. Never mind that he does not, and never has had, since coming to Toronto, a partner who he can call a peer. Never mind that he is asked to sacrifice his biggest strength as a hockey player – his dynamic offensive abilities- in order to be everything to a team's defense that has nothing else. Never in my life have I witnessed such a disconnect between reality and a common meme as I see between the actual play of Phaneuf and his role as scapegoat for everything wrong with this team.
The Rebuild
This is a team that is about 3/4 of the way through a rebuild and even with the losing streak, they are pretty much right where everyone expected right now. Another way of looking at this, is that despite a horrendous amount of bad luck, they are still moving ahead as a franchise and their young players are developing nicely. (And defenders of a "proper" rebuild should note the fact that the Leafs are stacked with high picks who are age 30 or under: Lupul, 7th, Phaneuf, 9th, Kessel, 5th,  JVR, 2nd, Rielly, 5th, and  Kadri 7th.)
Say what you want about how ever long its been since 1967 and tell your hilariously original Plan the Parade jokes if you want, but the fact remains that Dave Nonis has been this team's GM for one and a half seasons. During this time, he made a great signing in Tyler Bozak, made a questionable, but probably not as bad as most people think signing in  David Clarkson, stole Jonathan Bernier from the Kings, and most importantly, kept his patience and didn't sell his soul just to squeak into this years playoffs.
The current core of the team, as I see it, is Bernier, Rielly, Phaneuf, Kessel and JVR. All of these players are under 28, just entering or currently in their prime and unlikely to have had their best NHL seasons yet. All of them are locked up for the long term and together they constitute a core worth being excited about.
Secondary to that core, but still key pieces, are players like Clarkson, Kadri, Bozak, Gardiner and Lupul. These make up good secondary players, all of which are sure to be better next year than they were this year (or in Bozak's case just continuing to improve). With the exception of Bozak and Clarkson,who are here to stay, these players represent guys who can either stick around or be traded, but they are nevertheless excellent assets on a rebuilding team.
As far as the forwards go, you would like to see them add a centre with size for one of the top two lines, as well as to retain Bolland and McClement, but the overall outlook is positive. The Leafs currently have two of the top scorers in the league and a top power play. The team can already score and their forwards are not their problem at all.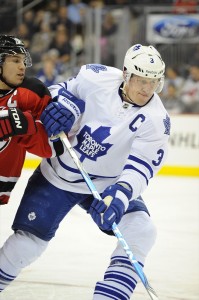 On Defense the Leafs have Dion Phanuef and Morgan Rielly. Everyone else is expendable or in need of an upgrade. Franson is the worst 6'5 player in NHL history, Gleason is good, but playing too high up in the lineup (he's an ideal 6th defenseman) Gardiner is tradebait on a team with too many offense defenseman, Carl Gunnerson is the worst first pairing defenseman in possibly NHL history, and Paul Ranger is a placeholder.
The only thing separating the Leafs from contender status is their defense. They need a top pairing guy to go with Dion, and a few shutdown guys to make their team harder to play against. Once they acquire those players, the rebuild will be complete. A shutdown forward and a top-two centre would also be ideal, but that will make them elite, not just contenders.
So, as you can see. These aren't the directionless Maple Leafs of old. They aren't the same team that collapsed year after year with Ron Wilson in charge. They literally have nothing to do with the teams that failed to win the Cup since 1967. The team, as currently constructed, is responsible for two, maybe three of those years. And in all those years, they were not even expected to make the playoffs.
The early success built the fanbase up for a huge letdown, but besides that, what is to be upset about? It's a team with a solid foundation, full of some of the best young talent in the league and poised for success for years to come. So you don't get to watch them get swept in the first round? Big deal. They are close to ascending to the top of the league and depending on how things transpire this summer, that is going to happen a lot sooner than most people think.
Tweet me up for some fun hockey talk: @james_tanner123