Once upon a time, the Pittsburgh Penguins were an up-and-coming team on the verge of a potential dynasty. They had a core of two superstar centers, taken #2 overall in 2004 and #1 overall in 2005, and a franchise goalie who was taken #1 overall in 2003.
The team skyrocketed towards the top of the league quicker than anyone anticipated during the 2007-08 postseason.  It ended with a trip to the Stanley Cup Final and a frustrating, yet exhilarating six-game lesson at the hands of the veteran Detroit Red Wings.
Spurned by Marian Hossa in the offseason, the Penguins continued their assent to the ultimate goal by winning the Stanley Cup the following season, beating Hossa and those Red Wings that taught them so much a year earlier.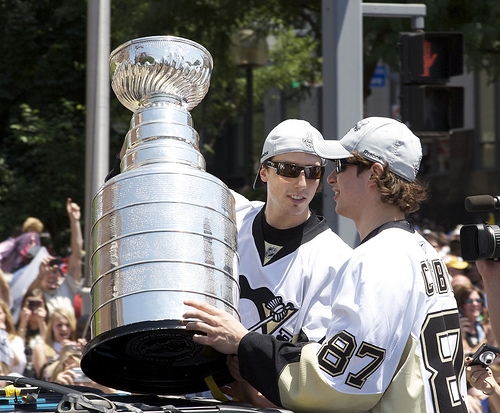 Five year later…what happened to having a dynasty?
Despite keeping the core of the team mostly intact, the Penguins have seen four straight years of "upsets" in the postseason. They are no longer an up-and-coming team. They are a team that arrived early and can't seem to find the same magic again. Five years later, they are a team that is trying desperately to find that magic at least one more time before the proverbial window closes on this core group.
Even with Pascal Dupuis out for the season, the current roster still features eight of the Cup winners from the '08-09 team (pending the injury of the day, of course). Each man of this still-promising core has questions to answer this postseason. Can any of them do it?
Postseason Failures
Marc-Andre Fleury
It all starts, and may end, with Marc-Andre Fleury. Fleury posted beautiful postseason numbers in Pittsburgh's first Stanley Cup run in '07-08 under Michel Therrien. With a .933 save percentage and 1.97 GAA, it appeared that he just needed the team to grow around him.
The team did grow around him in '08-09 as they won the Stanley Cup under Dan Bylsma. Surprisingly, his drop in stats began in that Cup-winning year though as his postseason numbers fell to a .908 save percentage and 2.61 GAA. The numbers never matter with a Cup ring though.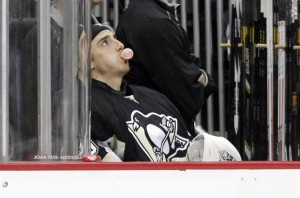 Since then, things have only gotten worse for Fleury in the postseason.
2010: .891 save percentage, 2.78 GAA
2011: .899 save percentage, 2.52 GAA
2012: .834 save percentage, 4.63 GAA
2013: .883 save percentage, 3.52 GAA
Fleury was pulled in the first round last year against the Islanders, leaving Tomas Vokoun to lead the Penguins to the Eastern Conference Final.
He is currently enjoying a "rebound" season, but his numbers closely mirror his regular season stats from the last three seasons as well. Will this be the year that he exorcises his postseason demons or will the Penguins be forced to look for a new goaltender?  That may depend on the defense just as much as Fleury.
Declining Careers
Brooks Orpik
As Brooks Orpik nears the end of a six-year contract, many question how much the hard-hitting defenseman still has left in the tank.
[See: The Quiet Decline of Brooks Orpik]
There is no question that Orpik can still throw a hit.
http://youtu.be/zgIgat2GBRI
Can he still keep up with a game that only gets faster and more brutal in the postseason though?
Some of his perceived struggles this season may have come from the concussion that he suffered in December during the Shawn Thornton incident.
"I think in hindsight, I probably came back way too quick from it. I felt a lot of pressure because of the Olympics coming up…I know for a while, it just kind of seemed like the play was going too quick. A step behind. That's something you've got to be smart about. I probably didn't take the smartest approach to it but you learn from it." – Brooks Orpik, from Seth Rorabaugh of the Pittsburgh Post-Gazette
Not only will Orpik be battling for a Stanley Cup this postseason, but the future of his career hangs in the balance as well.
Rob Scuderi
The signing of Rob Scuderi this past offseason was supposed to be the correction of a mistake. General Manager Ray Shero admitted to himself and the hockey world that he should have kept Scuderi after the '08-09 season and this was his chance to fix that.
Early reviews suggest that maybe it was too late to fix that mistake and perhaps Scuderi's four-year contract was ill-advised.
[See: The Penguins signed Rob Scuderi to a 4 year contract 4 years too late]
Much like Orpik, Scuderi also had to deal with an injury (broken ankle) that slowed him down. If he can find a way to be "The Piece" again in the playoffs, his regular season will be forgotten. If he struggles though, his four-year contract will receive an abundance of loud scrutiny all offseason.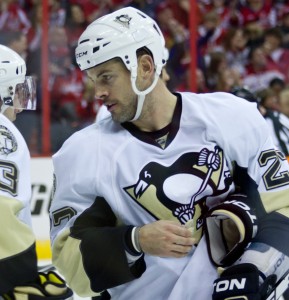 Craig Adams
When Craig Adams was claimed off of waivers by the Penguins in 2009, it was largely met with a shrug and typical comments about depth. The move turned out to be more than just depth though as Adams provided grit, leadership, and penalty kill help that has lasted for several years now.
Just like everyone else on this list though, Adams is now four years older. He will turn 37 later this month. His plus/minus is at a career worst -14 this season and advanced stats don't help his case either. As the Penguins penalty killing performance dropped from 1st to 3rd overall last month, his role on special teams was even questioned.
Despite playing all 79 games so far this season, is Adams approaching a level of performance that would make him a healthy scratch? He might be depending on the (lack of) health of the roster to stay in the lineup when the playoffs start.
Leadership
Sidney Crosby
Production is not a question for Sidney Crosby. The soon-to-be Art Ross Trophy winner and likely Hart Trophy winner will be the only player to pass the 100-point mark this season. He may have a "cold streak" here or there, but Crosby can be counted on for scoring.
The question that the Penguins captain faces is whether he can keep his own emotions in check and help control the temperament of his team. The past two postseasons have been memorable for Crosby, with a fight against Claude Giroux and some testy arguments with Zdeno Chara. Unfortunately, those aren't the memories that Pittsburgh wants.
Every player, captain or not, is bound to lose control at some point, but Crosby's emotions have been one of the lowlights of each exit from the playoffs. Recent evidence suggests that nothing will change either.
With controversies surrounding teammates such as James Neal, it's time to find out if Crosby can lead by example when it comes to being smart emotionally on the ice.
Chris Kunitz
Placing Chris Kunitz under this category is somewhat of a surprise, but the two-time Stanley Cup winner has his leadership role to maintain as well. The Penguins alternate captain has now been through it all with Crosby as they have won a Stanley Cup and a gold medal together. If Crosby falters, it's time for Kunitz to step up alongside him.
Remember that magical moment during last year's playoffs when Brent Seabrook calmed down Jonathan Toews in the penalty box?
Here is your blueprint, Kunitz. If Crosby falters, it's up to you to pull a Seabrook.
Injury Returns
Evgeni Malkin
Evgeni Malkin already has a Conn Smythe trophy to his name and has no issues with offensive production either. Aside from an unexpected fight with Patrice Bergeron last year, Malkin's temperament has not been a major issue in the playoffs either.
The biggest question with Malkin is just his health going into the playoffs. Malkin suffered a hairline fracture in his foot in late March and was expected to be out 2-3 weeks. The Penguins hope to have him back in the first round, but that is far from certain still. While the Penguins have survived the season through a plethora of injuries, it's hard to suggest they can be very successful without Malkin in the lineup.
Kris Letang
Kris Letang is the other big health concern. He has generally produced well in the playoffs, but has also had several questionable emotional moments: ranging from shushing the crowd in Philadelphia to cross-checking a referee in Long Island.
None of that currently matters though as Letang continues to recover from a stroke that he suffered in late January. He has been cleared by physicians to resume playing and has been practicing with the team, but his return date is still uncertain. At this point, the decision is up to Letang.
While the Penguins could really use another puck-moving defenseman in the lineup, no one should begrudge him for taking his time with this return. If Letang does return in the playoffs, the Penguins should see a significant boost in their offense immediately. There will be a big question of where he is mentally after such a big health scare though.
Bonus: Coaching?
Dan Bylsma
Finally, another holdover from that '08-09 Cup team is Head Coach Dan Bylsma. Bylsma has faced plenty of criticism over the past year and still has plenty of avid supporters as well.
[See: Should Dan Bylsma Be on the Hot Seat? and Dan Bylsma… The Best Coach in the NHL]
He has done a masterful job of getting the Penguins through injury after injury this season. Most of that will be ignored in the postseason though. Another early playoff exit will turn the masses against Bylsma once again.
The NHL coaching world is cruel and being the fastest coach to reach 250 victories in the regular season doesn't count for anything in the postseason. In the first round, Bylsma may be battling for the future of his career more than anyone else on this list.