The regular season is winding down, and that means us hockey fans get to enjoy some lovely, lovely chaos as the bubble teams fight for their playoff lives. Well, it's lovely if you aren't a fan of one of these teams. All but five playoff spots are decided, and 12 teams technically have a chance to snag one of those seats. I use the term "technically" lightly because it's not much of a race for some teams, but anything can happen.
Eastern Conference race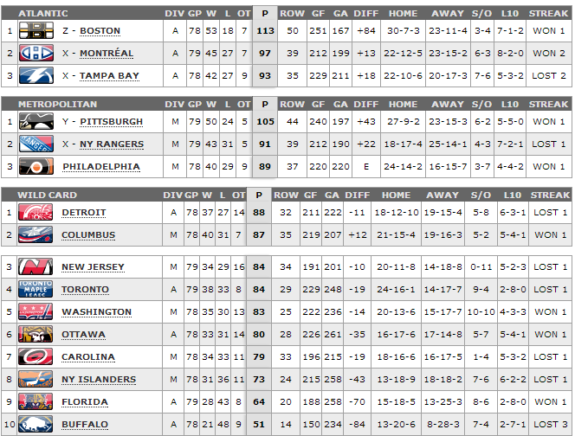 Note: Senators and Hurricanes aren't included because they'd have to win out and have the Jackets lose out to have a chance to make it.
Flyers: Remaining schedule: @FLA, @TBL, @PIT, CAR. Max points: 97; max ROW: 41
Philly needs two points to clinch a playoff spot, and they should be able to do that tonight against Florida. They'll need some wins if they want to secure the "third seed" in the Metropolitan, and even more if they want to pass the Rangers.
Red Wings: Remaining schedule: @BUF, @PIT, CAR, @STL. Max points: 96; max ROW: 36
It's strange that their schedule almost mirrors the Flyers (who beat Buffalo in their previous game). They should have that #1 wild card spot locked up with the Jackets tough schedule, but it's also possible they can pass the Lightning for the last Atlantic spot (though unlikely).
Blue Jackets: Remaining schedule: PHX, @DAL, @TBL, @FLA. Max points: 95; max ROW: 39
Columbus has two huge games coming up against two teams fighting for a playoff spot, but they aren't direct competitors since they're both in the West. However, that means those games will be extra tough (they're also back-to-back) and their schedule isn't easy, hurting their chances of jumping to a non-wild card spot. Still, it's hard to see them getting passed.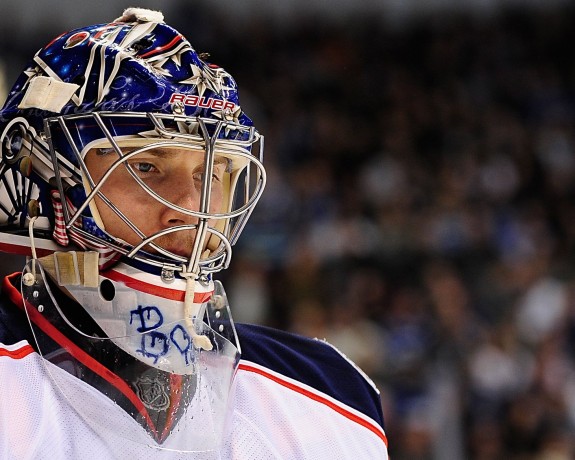 Devils: Remaining schedule: @OTT, NYI, BOS. Max points: 90, max ROW: 37
Who would've thought the Devils would still be alive at this point in the season? All three of their games are very winnable, since the Sens and Isles aren't very good and the Bruins won't have anything to play for, but their remaining three games are still a problem since they have only three games. Would 90 points be enough? Probably not.
Maple Leafs: Remaining schedule: @TBL, @FLA, @OTT. Max points: 90, max ROW: 32
Consistently on the butt end of jokes, Toronto didn't do themselves any favors by going on an eight-game losing streak down the stretch to essentially take them out of the race. Pencil them in as "doubtful."
Capitals: Remaining schedule: @STL, @CAR, CHI, TBL. Max points: 91, max ROW: 29
All those shootout wins and they still didn't manage good position in the standings. Not only are they short in points, not only do they lose the ROW tiebreaker with every other team, but they've got the toughest schedule coming up. Sorry, Caps fans, but the season is over.
Breakdown: All in all, it's hard to see the standings changing much. The only change we might see is Philly passing New York for the home-ice advantage in round 1 (though the NYR probably don't want home-ice anyway since they play so much better on the road). The bottom three teams are going to need some help from outside the conference to pass the Jackets, who will clinch by winning two of their four games.
Western Conference race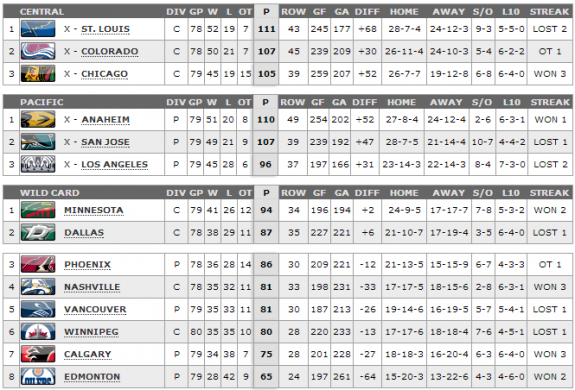 Note: Predators aren't included because they'd have to win out and have the Stars lose out to have a chance to make it.
Wild: Remaining schedule: BOS, STL, NSH. Max points: 100, max ROW: 37
At seven points above the next team, the Wild need two points in their next three games to clinch (assuming the Stars win out). Consider it a done deal.
Stars: Remaining schedule: NSH, CBJ, STL, @PHX. Max points: 95, max ROW: 39
Since Minnesota has one wild card locked up, there's just one spot left. The Stars will face two teams fighting for a playoff spot, but they might catch a break with the Blues, who may have clinched the conference at that point and will have nothing to play for.
Coyotes: Remaining schedule: @CBJ, @NSH, SJS, DAL. Max points: 94, max ROW: 34
What's interesting here is that their first two opponents mimic the Stars' first two, though Phoenix will be on the road. They have a tough game with San Jose and then it's off to battle against the only team standing in their way.
Breakdown: Despite the lack of contenders for the remaining playoff spots, this race is much more interesting that the race in the East. The Stars and Coyotes are neck and neck, though the Stars have a point and the tiebreaker over the Yotes. It's a reasonably fair battle, too, as each team's first two opponents are, amazingly, identical; their third games feature tough opponents; and the final game might make up for the current difference by giving Phoenix home-ice advantage.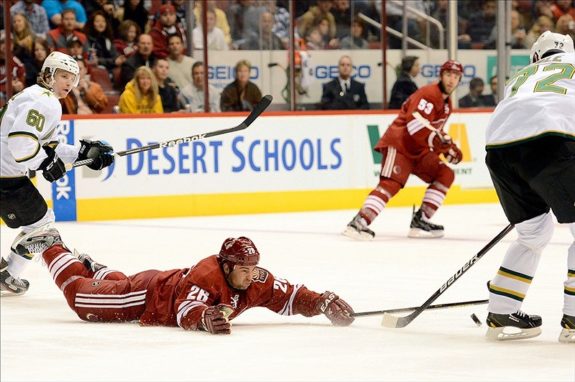 Important games to watch
There are a few games coming up on the schedule that are going to be treated like playoff games, so you can be sure they'll be fun to watch.
April 8 (7:00 p.m. EST): Phoenix @ Columbus: Tonight's game is crucial for both teams, as they both need points, though the Coyotes should be a little more desperate.
April 9 (8:30 p.m. EST): Columbus @ Dallas: Like Phoenix, Dallas is playing the team currently sitting in the last playoff spot in the East. If Dallas and Phoenix both beat the Jackets, then we'll start seeing some serious drama in the East assuming one of the three teams that's currently out can put together some W's.
April 13 (9:00 p.m. EST) Dallas @ Phoenix: This game might be for the remaining marbles in the West, and it's appropriately the final game of the season. It has potential to be like game 7 of a playoff series where every other series has been decided, because nobody else will be playing by the time the game nears its end (except the playoff-dead Flames and Canucks, so who cares). Hopefully the two will separated by no more than one point and the winner will take it all. Or maybe we'll get to see one of those weird pulling-the-goalie-in-a-tie-game scenarios if one team can't afford to allow their opponent a point or if the ROW tiebreaker comes into play. Of course, the game could also mean nothing.
So who ya got? Which teams will grab the final five (three in the East, two in the West) playoff spots?