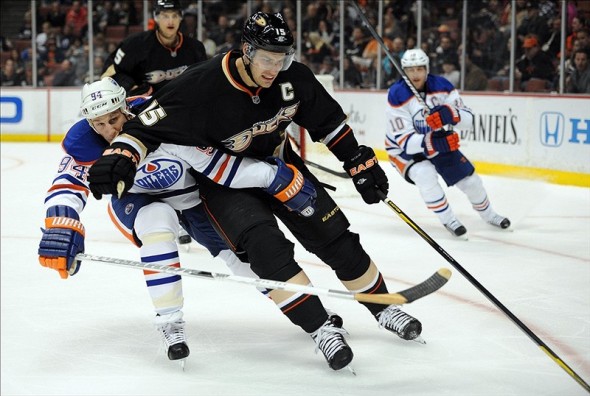 Heading into the final stretch of the season, Anaheim had a pretty decent chance to embark on a winning streak before the last three games and surpass the St. Louis Blues for first overall. But with losses to Nashville and Edmonton, the Ducks are in playoff matchup limbo. Playing Edmonton twice in five days should virtually have been four easy points, but after having come away with only two, they now sit one back of the Blues and three ahead of the San Jose Sharks in the Pacific. Wednesday's contest against the San Jose Sharks could be the deciding factor for any of Anaheim's four possible first round opponents. Check out Sportsbook Review hockey odds for the odds on who will win that key game. With that in mind, here's a preview of Anaheim's four potential matchups.
Los Angeles Kings
Record: 3-0-1
Matchup MVPs:
Corey Perry (2-2), (Frederik Anderson (2-0, .971 SV%), Jonas Hiller (1-0-1, .981 SV%)
When looking at the scoresheet, the games don't seem very exciting. In four games, only 14 goals have been scored. In the one game Anaheim lost, it took L.A. nine rounds in the shootout to get it done. They also played possibly the warmest NHL game of all time – an outdoor game at Dodger Stadium in front of 54,000 people.
Though the Kings have the ninth best record in the league, they haven't fared very well in this series. In recent years, their mantra has been "the best offence is a good defence." But with four goals in regulation in four games, this plan is not working against Anaheim. The Ducks are too big and work down low too well to let neutral zone traps and zone defences get the best of them. Finishing first overall or even first in the Pacific is definitely Anaheim's goal, but if they should somehow give up their number one spot in the division, this would be an ideal first round battle with home ice advantage. Anaheim have proved resilient in times of peril this year, and one of the most special instances came half-way through March when they beat the Kings on the road. Thanks to four losses in a row, San Jose was able to tie Anaheim for tops in the Pacific and hold a lighter to the Ducks' tails. With the Kings having won eight of nine, things looked a little bleak, but Anaheim squeaked out with a 2-1 victory and took back sole possession of first.
Prediction: six 2-1 games, four of which are won by Anaheim.
Minnesota Wild
Record: 3-1
Matchup MVPs: Mathieu Perrault (2-1, overtime winner), Corey Perry (2-2), Ryan Getzlaf (0-4), Jonas Hiller (3-1, .926)
If the playoffs were to begin right now, this would be Anaheim's opponent in the first round. Bruce Boudreau and co. should cross their fingers and hope this will be the scenario. Why? Because of proven success as well as guaranteed home-ice advantage in the first two rounds (they would play winner of L.A. and San Jose in round two). The Ducks have gone 3-1 in some close games against the Wild, including a thrilling overtime victory for their first win of the year. Seriously, watch from the 3;50 mark of this victory. The final 30 seconds are frantic.
It has been a few months since these two teams have played. Since then, Minnesota's goalie situation has been a little wild. With star Nicklas Backstrom having an off year, Josh Harding took the mantle. He sits atop the leaderboard in both GAA and SV% but has been out due to health issues for a while now. Darcy Kuemper took over but wasn't very impressive, so they borrowed wild card Ilya Bryzgalov who… wait a minute… has gone 6-0-3 since. Insanity. With Anaheim's proclivity for come-from behind victories and firepower, mixed with Minnesota's balanced scoring and impressive defence, this duel is sure to be a dandy, and one worth watching by any hockey fan.
Prediction: Harding makes his return. He, Bryzgalov, Hiller and Andersen each take turns winning 3-2 games. Neither coach knows which goalie to go with, so they decide on a best of three foosball competition. Boudreau wins simply by staring at Mike Yeo.
Dallas Stars
Record: 1-2
Matchup MVPs: Ryan Getzlaf (1-4), Corey Perry (3-1)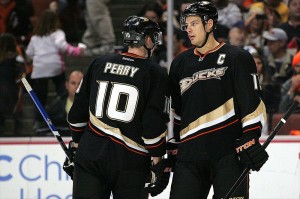 This is where things get a little testy. Anaheim began their series against Dallas with a 6-3 victory to win their seventh straight. Since then, the Stars roared back with a 6-3 victory of their own, as well as 2-0 win to top it off. In the West, the Wild have solidified their spot as the first wild card, but Dallas is locked in a tight battle with Phoenix for that final spot. If Dallas manages to seal a playoff berth, and Anaheim surpasses St. Louis for first in the West, we would have ourselves a goal-scoring showdown between these two southron teams. Anaheim ranks second with 3.19 goals-per-game and Dallas is eighth with 2.87. On top of that, both teams have two players in the top ten in terms of points: Getzlaf – 2nd (31-55-86), Tyler Seguin – 3rd (36-46-82) Perry – 4th (42-38-80) and Jamie Benn – 10th (33-42-75). Where the deciding factor lies is goals against, in which Anaheim is 10th and Dallas 20th. Jonas Hiller and Kari Lehtonen could end up being the deciding factors wherein the goalie who manages to let in fewer snipes advances his team.
Prediction: Anaheim comes out on top in a seven game series with an average of seven goals a game. Perry sets a franchise record for goals in a series.
Phoenix Coyotes
Record: 5-0
Matchup MVPs: Jonas Hiller (5-0), Cam Fowler (1-4), Nick Bonino (1-3), Koivu (2-1, OT winner).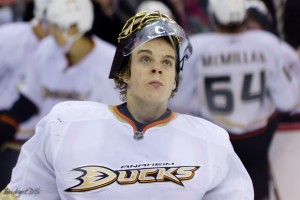 The least likely scenario of the four I've presented would also be Anaheim's most advantageous (and I say least likely very lightly. There's still a decent chance this happens). It means first spot in the West against an 8th place team who they're 5-0 against and home-ice until at least the finals (if they were to make it). The scores in all five game were as follows: 3-2, 5-2, 4-2, 3-2, 5-3. What can be gathered from this is that Phoenix has no solution for Anaheim's big forwards and balanced scoring. Also, Hiller is by no means a stalwart against the Coyotes, letting at least two goals in every game, meaning if one or two things go the way of the Phoenices, this series could be a lot closer (I just wanted to say the plural of Phoenix because it's awesome. I know it makes no sense in that context. You wouldn't call members of the Maple Leafs the Torontos). For this couple to pair off in the first round, the Ducks need to firstly beat the Sharks on Wednesday (who they have struggled with this year) and secondly hope the Blues falter (they have gone .500 in their last ten but face middling competition in their final four games).
Prediction: First round sweep. Final scores: 3-2, 4-2, 5-2, 6-2.
There you have it. Who would you prefer the Ducks face in the first round? Drop a comment down below with thoughts/predictions/quips or anything else regarding your Ducks!