When you are 25th in the NHL standings, most teams aren't paying attention to you. Your season has gone astray for one reason or another. You are probably looking ahead to next season and the possibilities that it brings. Enter the Columbus Blue Jackets. They aren't your ordinary 25th place team.
Many, myself included, had the Blue Jackets making a playoff run this season.  However, thanks to the growing injury list, the season was never able to get on track the way they had hoped it would.  Even a franchise best month of hockey, 10-1-1 in December, was not enough to get them into playoff contention.
The prevailing thought was, as soon as Columbus gets healthy, they'll be a dangerous team again.  Although up to 6 regulars are still out of the lineup, the team has many of its elite pieces back in place.  As a result, they have started to wreak havoc on the playoff race, especially the Western Conference race.
Columbus has embraced the role of the spoiler.  They have gone into places where they have been underdogs, and have come out victorious.  Their victories have helped other teams in the playoff race gain ground.  We are going to explore why Columbus has been able to turn things around.  Then we will review their recent winning streak, and preview upcoming games with teams in a playoff position.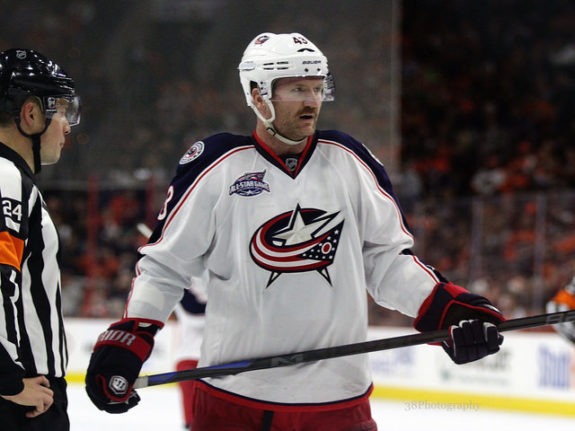 Hartnell Laying The Hurtnell
As soon as the Scott Hartnell, RJ Umberger trade was announced, Blue Jackets fans were excited to see what Hartnell could do with this team.  After going through some ups and downs to start the season, Hartnell has been on fire, especially in the month of March.
In 12 March games, Hartnell has recorded 11 goals and 3 assists for 14 points, and is a +9.  He now is up to 25 goals after his hat trick against Anaheim.  He was also named the NHL's 1st star of the week last week.  Along with Nick Foligno's 26 goals, and Ryan Johansen's 24 goals, they are the 1st trio of teammates in Blue Jackets history to each have at least 24 goals in a season.  Oh, and this trio is signed for the next 2 seasons minimum.
Columbus' Kids
The youth of this team has had just as much an impact for Columbus as the veterans have.  The youth movement has been led by the likes of Marko Dano, Alexander Wennberg, and defenseman David Savard.
Dano and Wennberg have seen time on a line with Scott Hartnell.  They have helped Hartnell get energized in this recent stretch.  Both youngsters are gaining more confidence by the game, while playing big minutes.  Dano now has 7 goals in 27 games this season.  Wennberg is now up to 16 points this season, after a very slow start.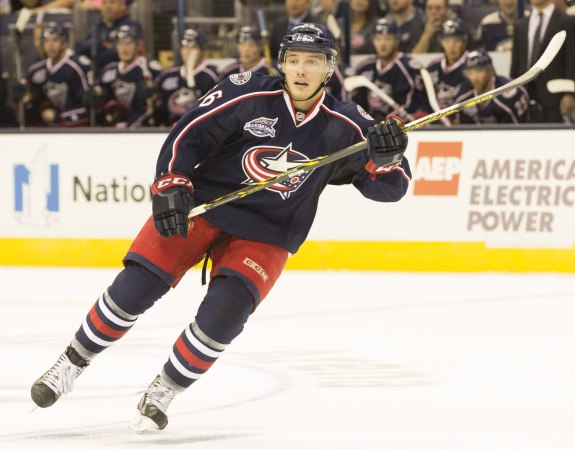 David Savard has been one of the Blue Jackets MVP's this season.  He has played in every game, recording 11 goals and 29 points, while playing a bigger role after the trade of James Wisniewski.  His performance along with the performance of Kevin Connauton made Wisniewski expendable.   Savard will continue to get better.  Once Ryan Murray is able to return, seeing Murray/Savard together will make the back-end better.
Bobrovsky!
Do we need to say more about this?   Not often a team who is 25th in the NHL standings boasts a Vezina winning goaltender.  If that wasn't enough, Bobrovsky's best months of his career are March and April.  If you count this March in which he is 7-2, his March/April record going back to 2012-2013 is now 38-12-5.
Safe to say no team wants to have to play against this guy if it's a big game.  His save% in March is at .925.  His overall record now is 23-17-2.  Considering the fact that Columbus has yet to field a healthy roster, this is impressive.  Just wait until the team is healthy.  Then we'll be talking about amongst the best in the game.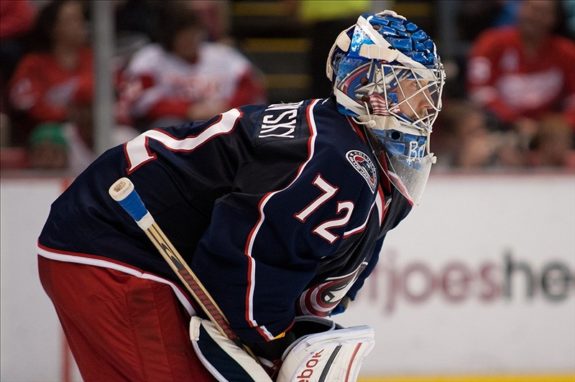 Who Has Columbus Spoiled?
The list of teams that Columbus has spoiled is getting longer by the win.  They have now won 6 games in a row on the road.  These include wins in Detroit, in Vancouver, and in Calgary.  Just last time out, the Blue Jackets beat Anaheim on home ice.
Considering that Calgary lost in a shootout to Dallas last night, they are now only 1 point ahead of the LA Kings for 3rd place in the Pacific.  Calgary also lost in a shootout to Columbus.  How big are those points for the Flames?  If they miss the playoffs, they can look back to games like the Columbus game and wonder, what if?
Vancouver sits only 4 points up on the LA Kings.  Columbus trashed the Canucks 6-2.  Those 2 points could be costly for them depending on how the season finishes.  Anaheim is fighting for home ice with St Louis and Nashville.  Columbus beat the Ducks 5-3.  That game could cost Anaheim home ice.
#CBJ have matched a franchise record with six straight road wins.

— Aaron Portzline (@Aportzline) March 21, 2015
Who's Next For Columbus?
The next 2 games for Columbus are huge in the Western playoff race.  They are tough road games, in Chicago Friday, and in St Louis Saturday.  Columbus has already beaten each team once this season, 3-2 over the Blackhawks and 7-1 over the Blues.  They each now how dangerous the Blue Jackets are.
After that brief road trip, they'll finish the season with the Islanders twice, the Penguins, and the Rangers.  Columbus will have a part in determining the final order of the Metro.
These teams had better be on high alert.  Columbus is red-hot, and will not be afraid to play anyone.  This is not your typical 25th place team.  If the playoff team is not ready, Columbus will take full advantage of them, while possibly repositioning that team in the playoff race.  Spoiler alert! Better hope Columbus is not coming your way.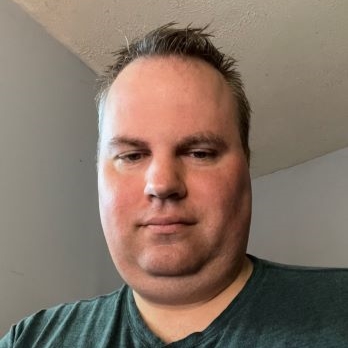 I am a fully credentialed writer who covers the Columbus Blue Jackets, Cleveland Monsters and Erie Otters as well as the Ontario Hockey League and NHL Draft. The 2021-22 season will mark eight seasons with the Hockey Writers. I am also the site's Credentials Manager.