The St. Louis Blues currently sit second in the Central Division with 17 points and a 7-5-3 record. They are only 15 games into the 2016-17 season and seem to be doing about as well as anticipated.
St. Louis is benefiting from a few key areas of their game. Goaltender Jake Allen has played his role as starter with confidence, posting a 5-3-0 record with a 2.35 goals against average. The Blues are currently leading the NHL with an impressive 91.9% penalty kill.
Those are all positive signs for a team in a difficult division and conference. However, it doesn't mean everything is perfect. The Blues have a few issues that stand out as obstacles to their success.
Inconsistency
Being a consistent team in the NHL is a challenge, to say the least. There are a lot of great teams and a lot of surprises that serve as hindrances to earning points on a daily basis, regardless of how superior one team may seem.
St. Louis has has been inconsistent throughout their short 15 game stint. In most of their outings, the Blues are either scoring more than usual or struggling to score.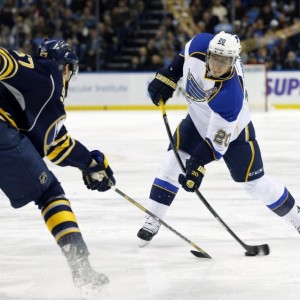 That kind of juxtaposition to their previous seasons, having usually found themselves in the middle of the league in goals per game, is interesting. The Blues aren't a team that did a complete overhaul during the offseason. They lost a few players, notably former captain and long-time Blue Note David Backes, but other than that changes were minor.
Still, their offensive output this season has varied considerably. They've given up four or more goals in a game half a dozen times in their opening 15 match-ups. Considering their record that may not seem too bad, but it is a reason for concern.
They are a defensive-minded team, more so than almost any other club in the league. They have a niche style of hockey that many teams have abandoned in favor of a faster, more offensive approach. Giving up four or more goals in 40 percent of their games is not something to sweep under the rug.
Overtime and Shootout Performances
As great as the Blues have been in a number of situations, particularly their penalty kill, games that have gone past regulation have been an issue. St. Louis has lost three of four points in either overtime or shootouts, which is significant when considering they went into each of those match-ups with an even chance of earning two points.
This early in the season, it is difficult to determine how significant those lost points will be. However, we can assume that they will have some impact down the line.
In two of the three losses after regulation, the Blues had the lead. That means that they were unable to maintain or build on their advantage to further solidify their place in the game. That is a characteristic of great teams and is certainly a point that St. Louis should address moving forward.  Just because they earned a point doesn't mean the game is over. There is still another point up for grabs and whether it's a mental issue or a physical one, the Blues need to fare better in overtime and shootouts.
Obviously, this is a small sample and the rest of the season could see the Blues dominating in post-regulation play. However, right now it is something that stands out as an issue to address.
All in All
The St. Louis Blues are in a good place right now. Fifteen games in, they are in second in the division and tied for third in the Western Conference. A lot of teams would love to be where they are and their efforts and successes shouldn't go unnoticed. However, if they can manage to improve upon their offensive inconsistencies and find a way to earn the extra point in post-regulation play, they'll be a greater force to be reckoned with.