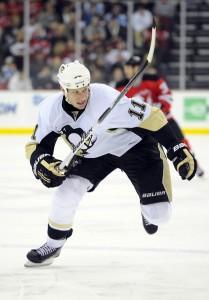 When the NHL's regular season ended in April, the Toronto Maple Leafs and Carolina Hurricanes looked like very similar teams separated only by two points near the basement of the Eastern Conference.  Both squads were expected to make a push for the post season, but alas, both fell well short.
So why are the Hurricanes all smiles?
I have a guess, his name is Jordan Staal, the second overall selection from the 2006 NHL draft.  The Carolina Hurricanes took any guessing away when they went out and acquired the 6'4 power center from the Pittsburgh Penguins.  In exchange for Staal the Penguins received the eighth overall draft pick that the Hurricanes had received for being so bad, perennial third line center Brandon Sutter and defensive A prospect Brian Dumoulin.  The Canes were clearly not going to be messing around.  Staal is definitely a nice fit on the top line, but what definitely adds to the luster of the acquisition is that his brother Eric is the team's captain.  As eventual linemates, these two are definitely a force to be reckoned with.
Here is a clip of Jordan at his best in last season's playoffs
Brian Burke and the Toronto Maple Leafs also have a reason to smile.
The day following the Jordan Staal trade, the Leafs went out and acquired the second overall draft pick from the 2007 draft, power forward, James Van Riemsdyk.  The 6'3 native of Middletown, New Jersey who  is entering his fourth season in the NHL, joins a Toronto Maple Leafs team that is desperate for a large top six forward presence.  In exchange the American born winger, the Leafs had to relinquish defensive defenseman Luke Schenn.
Very excited to start the next chapter in Toronto. Really looking forward to it

— James van Riemsdyk (@JVReemer21) June 24, 2012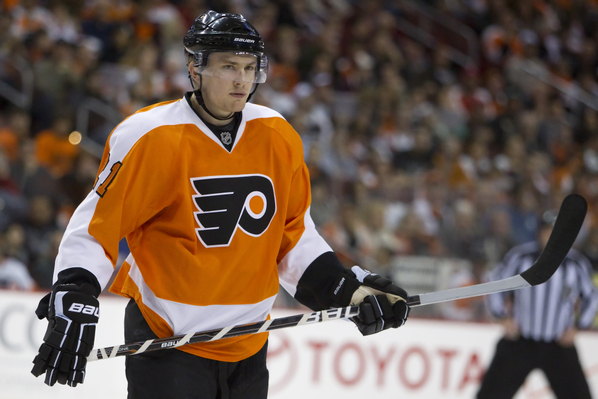 So who was the better pick up?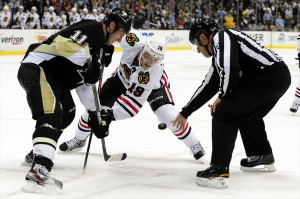 Jordan Staal
I think it's clear that Jordan Staal is the more 'complete' player.  He is a natural center.  He uses his 6'4, 215 pound frame to chase the puck down low and he can hang on to it.  He has a Stanley Cup under his belt and he has scored 248 points in 431 games.  In 2010, Jordan was a Selke trophy finalist for demonstrating the most defensive skill in the game, eventually losing out to perennial Selke winner; Pavel Datsyuk.  In 2007, Staal was a finalist for the Calder Trophy for the league's best rookie, losing out to his teammate; Evgeni Malkin.  There's no doubt that Jordan Staal has the potential to blow up.  Playing with his brother Eric won't hurt either.
However, To play devil's advocate, I would say that Staal has played his six hockey seasons in Pittsburgh with three of the best players in the league in Evgeni Malkin, Sidney Crosby and goaltender Marc-Andre Fleury.  This certainly didn't hurt his stats.  Although Staal didn't get a lot of number one line time, he did get occasional shifts with Sid the Kid and Gino Malkin.  The third eldest, 'hockey playing' Staal won't have that problem in Carolina as he is all but assured first line minutes in North Carolina on most nights, not to mention first power-play shift time.
Did the Pens get equal value in return?  You be the judge.
Staal to Carolina for Sutter, doumolin and number 8 pick

— Bob McKenzie (@TSNBobMcKenzie) June 23, 2012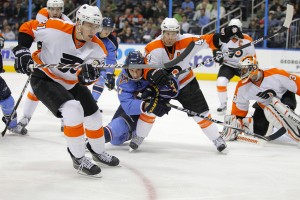 James Van Riemsdyk
In terms of experience, Staal takes the cake.
James Van Riemsdyk is about to embark on just  his fourth NHL season, his first with the Maple Leafs.  In 196 career games with the Philadelphia Flyers, JVR has just 47 goals and 99 points.  His first point in Toronto will be a big one, but hope around 'Hogtown' is that he'll get a lot more than just one point.
Like Staal, Van Riemsdyk will be going to a situation in Toronto where he will be expected to produce.  He will likely be the beneficiary of first line minutes both five-on-five and on the power-play.
This year will be a rebound year for the 6'3 speedster who suffered a concussion at the hands of Ottawa's Bobby Butler a year ago.  A fate that had plagued many Philadelphia Flyers in 2011-12.  Not lost on fans of this great franchise is the fact that Brian Burke is loading it up with American born stars.  What will Don Cherry think?
Did the Flyers do well in trading Van Riemsdyk?
Schenn for JVR makes a good deal of sense. Flyers were looking for help on D and Leafs need a big forward. Fresh start for JVR.

— Darren Dreger (@DarrenDreger) June 23, 2012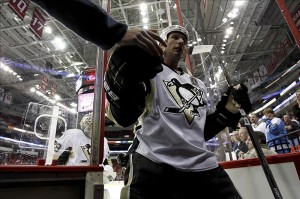 How do they Compare Head to Head?
Size:  Advantage Staal
Both players have the ability to play big, but as mentioned Staal has been known to be a bull down low in the offensive zone.  Van Riemsdyk is known to shy away from the rough stuff and would prefer to let his stick do the talking.
Speed:  Advantage Van Riemsdyk
Staal's speed is definitely not to be overlooked, but compared to Van Riemsdyk, Staal is a slowpoke.  JVR makes the already fast Maple Leafs forward corps one of the fastest in the league.
Contract: Tie
Both Staal and Van Riemsdyk have similar cap hits this season.  Staal is in his last year of a four million per season cap hit and Van Riemsdyk is in the first year of his contract at 4.25 million per.  Jim Rutherford will hope that Staal becomes a deal next season as he enters his new mammoth ten year deal worth 60 million American dollars.  Either player could be deemed as a bust in their new environment with the size of their current contracts.
Hands: Advantage Van Riemsdyk
This was a tough one to give to JVR, as Jordan Staal has been a steady eddy for the Pittsburgh Penguins and he has shown moments of brilliance with the puck in Pennsylvania.  James Van Riemsdyk on the other hand, is more of a threat offensively on the rush and has had to rely on his hands with more frequency.
Fight:  Advantage Staal
Hands down, Jordan Staal has more fight in his game.  Many of the Jordan Staal clips show the native of Thunder Bay with players draped all over him.  Bar none, He wins most fights for the puck.
Top Six: Advantage Staal
Carolina's top six is comparable to the best top six forwards in the league.  With the acquisition of Alex Semin via free agency, the Hurricanes can now flaunt both Staal brothers, Semin, Skinner, Jokinen and Ruttu.  The Leafs meanwhile have three absolute top six forwards in Kessel, Lupul and Grabovksi, but the jury is still out on who can fill out the remaining three spots.  James Van Riemsdyk is expected to step into one of these spots, but can he fill those boots?
Draft Position: Advantage Van Riemsdyk
It is perhaps unfair to compare these two players based on their draft position.  Clearly if Staal was a year younger, he would be the second overall selection of the Philadelphia Flyers in 2007.
However, as he wasn't, I think it's fair to say that Staal would likely get passed over at the hands of Jonathan Toews, Claude Giroux, Niklas Backstrom, Phil Kessel and possibly even Milan Lucic.  Obviously hindsight is 20/20.
In the 2007 draft, a much weaker draft, many teams would still select the University of New Hampshire product, merely based on his size and upside.
PPG: Advantage Staal
In his short career, Jordan Staal has managed a points per game total of 0.575, while Van Riemsdyk has managed just 0.505 points per game.  Staal's past two seasons have really lifted his totals as he has managed 0.769 points per game with either Crosby or Malkin often out of the lineup.
Social Media: Advantage Van Riemsdyk
With just under 108 thousand followers, JVR takes the cake.  Here is a tweet from JVR from the night of June 22nd talking about the Jordan Staal trade.  Clearly he too would like a chance to play with his younger brothers who are trying to make a name for themselves.  The Staals are proud Canadians from small town Ontario and would much rather be caught fishing at the cottage than caught up in the social scene.
Gotta be a pretty cool feeling for 2 of the 4 staal brothers to play on the same team #dreamcometrue @BVR_17 @TvanRiemsdyk6

— James van Riemsdyk (@JVReemer21) June 23, 2012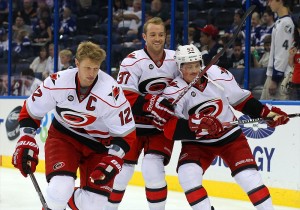 What's next?
Jordan Staal is coming off the best season of his career despite missing 20 games to injury.  Although the hype machine in Raleigh, North Carolina is nearly nil with only one 'legitimate' beat reporter, if he can stay healthy Staal is going to be looking for league wide headlines.  For the Staal brothers and the Hurricanes, I say the sky's the limit.  He has the ability to be a top 20 player in this league and this could potentially be the perfect situation for him.
James Van Riemsdyk also had an injury plagued season and will have to prove to pundits in T.O. that he has what it takes to take the next step in his career.  As Van Riemsdyk puts it, he is joining a team that in Hockey is comparable to the New York Yankees of Baseball.  With such hype comes great expectations and I hope that he understands the magnifying glass .  Toronto coach Randy Carlyle has already stated that JVR will get a crack at the top line center duties, but is he a fit for center?  Put your seat belt on.
Who wins the Fresh Start Challenge?
While JVR has a ton of upside, the Leafs likely don't have what it takes to make the post-season this year.  He is a building block and should be looked at as so.  Ironically, the Leafs are more in need of a player like Jordan Staal.
Assuming there is an NHL season, Jordan Staal will win the Fresh Start challenge.  Simply put the canes win out at almost every position.  The acquisition of Staal and Semin make the Canes a playoff team and could push them into the top 4 in the East.   Staal is a threat as a defensive minded center and he makes his brother Eric a much better player which could be dangerous.
Now you know why Carolina is all smiles.
Twitter: @StonemanStephen | Email: stoneford@yahoo.com | Stephen's archive
For every Maple Leafs article on THW, follow @THW_MapleLeafs  on Twitter