by Jas Faulkner, contributing editor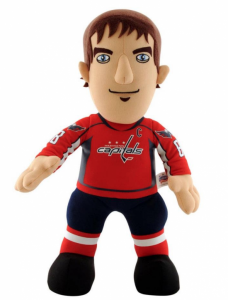 A recent story by Ben Sumner of Caps Outsider revealed that it's not just frosty Russian beauties and GMs who find Alexander Ovechkin cuddly.  A toddler decided her best buddy Ovi was the perfect companion for a brief hospital stay. It seems that Ovi, or at least his Bleacher Creature counterpart, may have a soothing effect on little ones.  Not too long after the story appeared, someone added a comment that their nineteen-month-old son cuddled a stuffed Ovi while recovering from heart surgery.
Browsing through the catalog at Bleacher Creature's website, I thought the dolls were a little bit weird and a little bit cute.  (Then again, the library in my house has a two foot tall Nashville helmeted gargoyle doll named Barry Troltz. He shares a corner with two smaller winged 'goyles named Jerred and Jordin, so the bar for cute at Casa Faulkner might seem to sit at a wonky angle as far as the Sanrio and fuzzy puppies set is concerned.)
I figured the question of the efficacy of snuggly NHL dolls was one that screamed for a field test.  I contacted a friend of mine who happened to be a toy reviewer and a hockey fan to see if he'd written up the dolls and if I could take a look at one of them.  He invited me and told me to bring some kids.
"You would be amazed at how kids react to the things, even if they've never seen a hockey game in their lives," he said.
A friend happened to be at the house when I got the response from Jay, so I headed over with Allie and her two daughters, Marisol, thriteen, and Anna, age eight,  to get a closer look.  I expected to find a single Ovi doll, still tagged and bagged.
"Ah hell, I have all twenty-one of the hockey figures.  Sometimes Aaron and I throw them at the TV. If there's a lockout,  we'll stage our own games with them."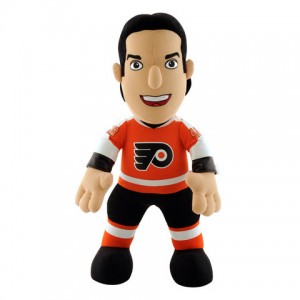 He pointed to a box next to the TV in his den and invited the girls to take a look.    Less than a minute after they started rummaging through the dolls -er- figures, Marisol skipped to the couch and plopped down with an orange-and-black-clad stuffed likeness of her Secret Hockey Boyfriend, Danny Briere.
"Where's Tootoo?" asked her little sister.
"No Tootoo in the box, I'm afraid,"  said Jay.
"Well, poop," she muttered, and then settled for Jonathan Toews "because he looks nice."
An hour later, a largely indifferent Anna put Captain Serious back in the box and Marisol finally agreed to loosen her grasp on Danny Bee after her mother promised to get her one for her birthday.
"Too bad we didn't have any babies to test them on," I said.  "They'd probably get them dirty, though."
"I just drop 'em in the laundry when they get dirty,"  he handed me Jordan Eberle.  "Guy LaFleur* dragged Eberle outside and I rubbed a Shout stick on him and he popped out of the washer, good as new.  Eberle, I mean, not the dog.   You know? It might be fun to see what happens when little kids get hold of these guys."
We arranged for a half-dozen mutual friends who had small children and grandchildren to spend an hour or two in Jay and Aaron's mancave with the dolls.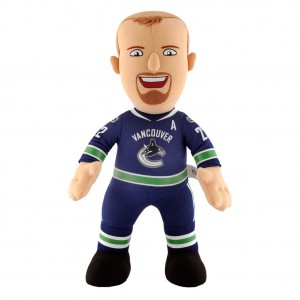 The first to arrive was Amy, who is not  a hockey fan.  Since she has  twin toddlers, we handed her the Sedins.
"That's sweet!" she exclaimed.  "You got them two of the…"  she looked at them again.  "Identical twins on the same team?"
"Not quite,"  I said.  "I can tell them apart."
She eyed them for a moment more and then looked at Jay.
"Wanna trade?"
He didn't, but Andrew and Cody did.  They dropped the Swedish twins like hot little potatoes and made beelines for P.K. Subban and Henrik Lundqvist.
By the time all eight children (ages ranging  from seventeen months to five years) arrived, all twenty-one Bleacher Creatures were in some state of play.
Who fared worse?  Poor Sidney Crosby proved that toys imitate life as a tiny enforcer-to-be spent most of the afternoon swinging him by one leg against Jay's heavy bag.   The same could be said for Evgeni Malkin and Alexander Ovechkin, who were stand-ins for "Edward" and 'Jacob" as two small girls acted out their big sisters' favourite battling sparkly monster battles by whaling on each other with the stuffed Russians.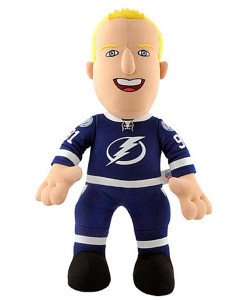 Three children got into fights over Jonathan Toews.
One toddler cried every time her dad showed her Tim Thomas.  She finally found happiness sitting in a corner, deep in conversation with a boxing glove and Henrik Zetterberg.
My favourite response was from a three-year-old.  She was the last to arrive with her mother and clung to her leg, staring timidly at the mayhem taking place in the mancave.    No way was she walking into the middle of that!  I picked up the nearest available doll, Steve Stamkos, and held it out to her.
"PIKACHU!" she squealed, and hugged the doll.
Yep. Those little guys are magic. Gotta get 'em all!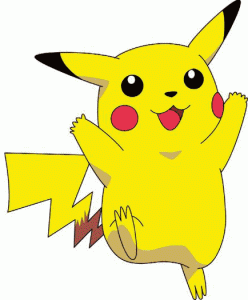 *Guy LaFleur is a French Bulldog.