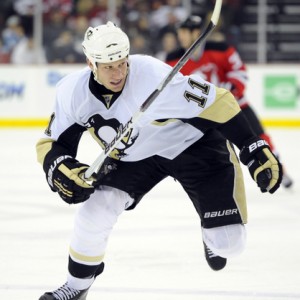 Pittsburgh's Evgeni Malkin won his first Hart Trophy as NHL MVP Wednesday night. He joined Mario Lemieux, Jaromir Jagr and Sidney Crosby as the four Penguins to have won the award and Jordan Staal as the second Penguins center to lie at the heart of ongoing trade rumors.
Ahem.
Geno was the big story Wednesday, but the focus shifts immediately back to Pittsburgh's $4 million third-line center. Staal-to-everywhere trade rumors haven't stopped splashing since the Flyers allowed him to lead all Penguins skaters in playoff scoring with nine points in six miserable games earlier this spring.
Despite Shero's comments, the rumor mill continues to spin.
The big center hasn't made any trade overtures to the press, but with Sidney Crosby's next deal the clear priority and the position of strength Staal holds as a UFA-to-be, trade talk isn't likely to stop until Staal re-signs or is traded.
Those rumors got a push in the direction of credibility Wednesday night after the NHL Awards Circus.
Andy Strickland of TrueHockey.com reported that Staal indeed plans to seek free agency and does not plan to re-sign with the Penguins.
Staal is under contract for one more season with the Pens. If he indeed has indicated to the team that he won't be re-signing, his trade value will never get any higher than the day before, thus making a move more likely.
From Strickland,
Sources tell me Staal has indicated to GM Ray Shero that he will not be re-signing with the club once his contract officially expires. Staal has one year remaining at $4 million. This would not fall in line with what Shero has stated publicly although it certainly gives him some leverage by suggesting he has no plans of moving his third best center. Again take most of what you hear publicly this time of year with a grain of salt. There's nothing for Shero to gain by telling reporters Staal has told the team he will not re-sign.

There's no urgency for Shero, who I personally respect as much as any GM in the game today, to move Staal now. There's plenty of time for that decision to be made as his value will remain high at the trade deadline or even after next season. A player like Staal would be tough for Pittsburgh move at the deadline assuming they're in position to contend. Might be hard to cut the cord with one of your best players just before the playoffs.
As Strickland mentions, Staal is still a Penguin for at least one more season, barring a trade. The Penguins are already favored to win the Stanley Cup with 7-to-1 odds and, excepting the unlikely departures of any of their other stars, are set to begin the 2012-13 regular season with Crosby, Evgeni Malkin, Marc-Andre Fleury, Kris Letang and James Neal healthy and under contract.
Two straight seasons have passed in which this team began the year missing one of its key players. It will take a strong stance on Staal's part to convince Shero to part with one of his key forwards heading into a year with that kind of lineup.
Sidney Crosby made it through the playoffs concussion free but there's always a level of uncertainty when you're dealing with head injuries. You better make sure your best player is fully healthy and doesn't suffer any setbacks before you turn your back on a player as skilled as Staal.
This is perhaps the biggest point to be made. Staal and Malkin presently create a nice cushion against the uncertainty of Crosby's condition.
While Crosby seemed to be much less delicate about his injury after receiving a diagnosis of a soft-tissue injury of the neck, another concussion episode isn't out of the question, and would make Staal's departure almost impossible to recover from.
Carolina GM Jim Rutherford has been rather vocal in his attempt to land a top offensive player. It's rather obvious Staal is at the top of his list. Sources close to Staal tell me he would love nothing more than to land in Carolina or New York and play with one of his two brothers currently playing in the NHL.
Interesting points all around. Strickland has been trustworthy concerning past rumors, but free agency season is take-it-with-a-grain-of-salt season.
Et tu, #JagrWatch?
Talk of Staal's desire to move on, however, conflict with quotes directly from Shero.
Via Josh Yohe at the Pittsburgh Tribune-Review,
"People read the newspapers and so maybe they think [Staal]'s available," Shero said. "That stuff is all speculation. I have made it clear to every team that has asked. I don't want to trade Jordan. I'm not listening to offers. I want Jordan here. I want him here for a long time, and that's what I'm going to try to do."

"He told me he likes it here," Shero said. "Told me he likes Pittsburgh, likes being a Penguin."
As many have pointed out, Shero would do his own trade leverage no favors by publicly admitting Staal's desire to move on. Either Staal intends to stay and Shero is on point, or he's posturing to keep Staal's trade value higher.
We'll probably know shortly after Sidney Crosby is re-signed (the team's stated and genuine top priority) where Staal stands. If he is to be dealt, it's likely he'll have some say in where he goes.
Carolina has been mentioned repeatedly as a destination. 'Canes GM Jim Rutherford has enough space under the cap to sign Staal to the three richest contracts in hockey and still fight to clear the salary floor.
It has also been reported by Strickland and others that Staal has a desire to play with one of his brothers, either Marc (NYR) or Eric (CAR). Given New York's near-cap spending and upcoming RFA's and UFA's, Carolina has become the trading partner du jour.
THW's Mike Colligan brings up a good counterpoint to the Staal-to-Carolina rumors:
When Staal was peppered with questions after the season as to whether he'd ever like to play with his brother Eric in Carolina or not, he said 'I'm sure it'd be fun' and set off two months of speculation that Jordan wanted to be dealt to the Hurricanes.

I find it hard to believe that the ultra-competitive Staal wants to be traded to the cellar of the Southeast Division where his linemates are Patrick Dwyer and Chad LaRose in a contract year, just so he can sit next to his brother in the 'Canes locker room.
Just an interesting time of year. Until Shero makes a move or Staal comments publicly, any scenario is perhaps as likely as another.
As many have mentioned, Staal is in the driver's seat.
James was a Penguins contributor at THW and SB Nation Pensburgh and owns the Pittsburgh sports blog Slew Footers.