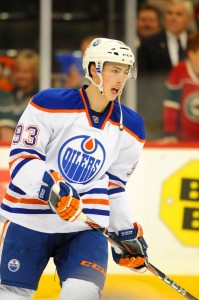 Last night the NHL held it's annual award show in a Las Vegas, a night filled with uncomfortable jokes, and celebrities having trouble pronouncing the players names. The big winner of the night was Pittsburgh's Evgeni Malkin, who took home the Hart Trophy and Ted Lindsay award to go along with his Art Ross. Among other notable winners, Erik Karlsson of the Ottawa Senators won the Norris for best defenceman and Henrik Lundqvist of the New York Rangers earned the Vezina. Two Edmonton Oilers were up for awards. Rookie Ryan Nugent-Hopkins was nominated for the Calder and Jordan Eberle for the Lady Byng. The duo had a great time in Vegas enjoying the event, but both struck out on winning their respective awards.
Gabriel Landeskog won the Calder trophy for the leagues best rookie with 116 first place votes to Nugent-Hopkins 26 votes. The large margin of first place votes between the two was surprising, considering the stellar campaign that RNH had despite missing a number of games. It was most likely the strong two way play of Landeskog and the fact he led his team in goals that secured the victory. The voting totals for the Lady Byng were much closer. Brian Campbell of the Florida Panthers won with 31 first place votes, while Eberle came in second with 18. Campbell became the first defenseman since 1954 to win the award.
The young Oilers took the event in stride, and were just happy to be there and be nominated this early in their careers.
"To be at such and young age and only in my second year, it was just an honour to be nominated," said Eberle. "To be the second youngest (nominee) since Paul Kariya is quite the honour. I was probably more nervous to go up there and give a speech," he joked. "The NHL should adopt some sort of public speaking program. I think there were a few guys who were nervous up there, too. But I definitely had the refs as my people to thank first, for not giving me any penalties." (Toronto Sun)

"It definitely would have been cool (to win), but it was pretty cool to be nominated and just being named one of the top rookies is an honour for me." said Ryan Nugent-Hopkins. "It was definitely a cool experience to go through everything I did this week. I think as the season went on I started to feel more comfortable out there. Like I was an NHLer." (Toronto Sun)
The Oilers now have arguably the biggest day of the year to look forward to, the NHL draft on Friday in Pittsburgh. There is still no definite word on who they will select with their first overall pick, whether they choose the consensus best player, Nail Yakupov, or go with a much needed defenceman. The draft begins at 7pm.