Two Teams, Two Directions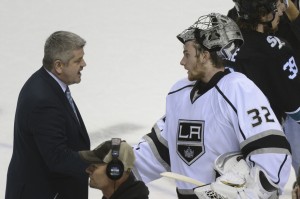 The NHL couldn't ask for better story lines heading into a February outdoor game. The defending Stanley Cup champion Los Angeles Kings are making a charge up the standings as they ride a five game winning streak into Colorado on Wednesday night. The San Jose Sharks on the other hand are in a free fall losing seven of their last nine games. A Kings win in the Stadium Series game on Saturday will likely push LA past the Sharks in the division standings while knocking San Jose (at least temporarily) out of the playoff picture.
I'm not one to often say that a single regular season game in February is a must win but this is shaping up to be as close as it gets for the Sharks. San Jose is in the midst of a full blown identity crisis. They are too stubborn to admit they are a better team with Brent Burns as a forward, that their bottom six isn't good enough without Joe Pavelski on it, and that Antti Niemi is not going to lead them to the promise land between the pipes. They say they want to go younger and to their credit have played a bunch of young guys. However they still continue to shell out ice time to veterans like Niemi, James Sheppard, Mike Brown, Andrew Desjardins, Scott Hannan, Matt Irwin, and John Scott. None of whom have much potential to improve their level of play. They are what they are. Some of them are valuable in certain roles to a true contending team but bring little to a team that is clearly not going to push for a Stanley Cup this season. That said, if the Sharks want to at least make the postseason, they need to start winning and soon.
Sharks Fans Showing Disapproval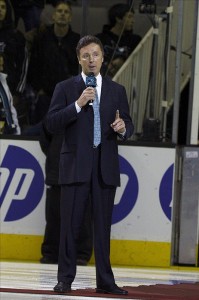 There is no better place for them to start winning than Saturday's home Stadium Series game against the Kings. Everyone knows how the Kings embarrassed the Sharks in last year's playoffs, and if San Jose loses this game, a once in a career type game for many of their players, it will be extremely disappointing. The Sharks have played well against the Kings this year and for both confidence purposes and standings, they need this game big time. They also need to give their fans something to cheer about again.
It is no surprise why San Jose's multiple season sell out streak has ended this season. The franchise followed up its most embarrassing playoff exit a year ago with a terrible summer where they did next to nothing. They didn't bring in any new marquee talent at any position and their play has dropped off a cliff compared to last season. A year ago they were sixth in even strength scoring, this year they are all the way down to 24th. That is a free fall that even a rather young and hockey inexperienced fan base is fed up with. That said, two of the three previous teams to lose four straight after going up 3-0 came back the following year to win the Stanley Cup. The Sharks organization could have pounded home that information to their fan base, retooled, and made another run. They still have an elite core players to do just that. Instead, their offseason swirled around rumors of them trading their best player and future hall of famer Joe Thornton. A player who this season, is still as dominant a No. 1 center as he ever has been. Thornton remains a puck possession stud and is on pace for yet another 70 point season. In no way shape or form would moving out one of the few truly elite centers in the game today make the Sharks better in the near future. The focus of the offseason should have been looking to get immediately better, not worse. It's not as if they don't have the cap space.
The Sharks are no longer an organization with the utmost respect of its fan base after the chaos that has been their last nine months. They are no longer a top quality team that can compete come playoff time. At the very least the players could give their fan base a chance to feel good about themselves one more time this season. Losing the Stadium Series game and then missing the playoffs altogether, that will be a fun sell to season ticket holders this summer.