There really are no untouchables at this point. If a team calls with an offer and includes the name Morgan Rielly or William Nylander you'd have to listen, right?
One would presume that Dave Nonis and Brendan Shanahan would be extremely hesitant to even entertain the notion of dealing either of the Toronto Maple Leafs two top prospects.
But still, to the rest of the NHL, the Maple Leafs are open for trading season and everything must go…well everything except the aforementioned Rielly and Nylander.
With the spirit of the rebuild in mind and the 2015 NHL trade deadline less than two weeks away, we take a look at some of the Toronto Maple Leafs most enticing and valuable trade chips.
Expiring Contracts – Must Trades
Daniel Winnik
Winnik continues to be a serviceable NHL forward, posting 23 points in 56 games for the Maple Leafs this season. The front-runners for Winnik appear to be the Pittsburgh Penguins and the Winnipeg Jets, but a number of other teams are also rumoured to have shown interest in the Mississauga native.
Leafs Asking Price: 3rd-5th round draft pick
David Booth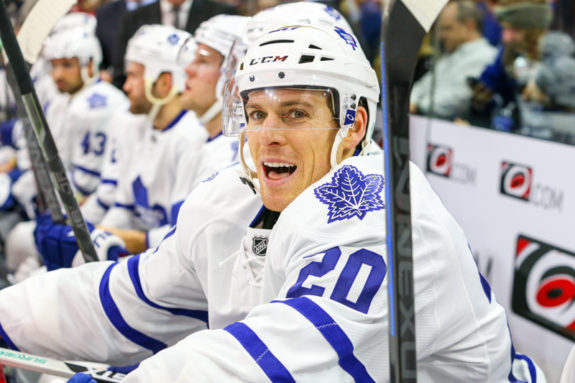 At best, David Booth was supposed to be the surprise success that Mason Raymond was last year. Well it hasn't exactly panned out for Booth in Toronto the way it did for Raymond here last year. Injuries have hampered Booth this season, as he's picked up only three points in 35 games played. Booth enjoyed his best statistical season with the Florida Panthers when he scored 31 goals and 60 points in 72 games back in 08-09. Maybe Dave Nonis can sell Dale Tallon on the idea of bringing Booth back to the place he preformed best.
Leafs Asking Price: 4th-6th round draft pick, B-level prospect
Richard Panik
After coming to the Maple Leafs early in the season as a waiver claim, Richard Panik was able to increase his individual value. Panik has scored nine goals and 12 points in 52 games for Toronto this season. A big body on the right-wing with the ability to occasionally put the puck in the net, Panik can definitely contribute to a playoff contender down the stretch.
Leafs Asking Price: 3rd-5th round draft pick, B-level prospect
Trevor Smith
To quote A Tribe Called Quest, Keep It Moving. Through 39 games this season, Smith has been little more than a warm body. He's potted just four points and averages under 10:00 TOI/game. Smith isn't overly appealing, even as a depth player. On a playoff contender he's more likely to be a healthy scratch or assigned to the minors.
Leafs Asking Price: 6th or 7th round draft pick, C-level prospect
Olli Jokinen
Does Olli Jokinen even bother to unpack his bags, or does the NHL journeyman wait until the March 2nd trade deadline before getting acclimated in Toronto? Either way, no one is really expecting Olli to stick around for very long. With Olli in Toronto for little more than a cup of coffee, expect Nonis and Shanahan to flip Jokinen before or at the deadline. Potential suitors could include the St. Louis Blues, San Jose Sharks, Anaheim Ducks, Detroit Red Wings and Boston Bruins.
Leafs Asking Price: 2nd-4th round draft pick, NHL roster player
Keep Them in TO – Bernier, Kadri, Holzer
Pieces for Playoff Contenders – Depth Guys for Depth Picks
Roman Polak
When the Maple Leafs acquired Roman Polak from the St. Louis Blues, the hope was that the Maple Leafs had picked up a defensive partner for Dion Phaneuf…or at the very least a top-four defenseman. While the former didn't turn out, Polak did provide the Leafs with a physical presence and 20+min TOI/game this season. A right-handed defenceman that plays a physical game and eats up big minutes is absolutely a trade chip for any playoff contender. According to various reports, the LA Kings, Pittsburgh Penguins and the Winnipeg Jets are all rumored to have some interest in Polak.
Leafs Asking Price: 3rd-5th round draft pick plus a B-level prospect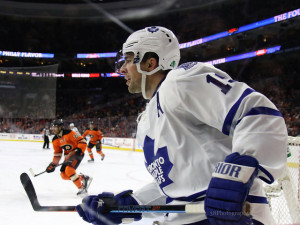 Joffery Lupul
If Lupul was ever able to stay healthy he'd be an absolute stud. But the reality is that Lupul has the label of being injury prone, and considering he's played in 70-plus games just four times in his 12 year career, teams know they can't depend on Lupul to make it through the year healthy. That said, he still has some tremendous value to a team looking to add scoring depth. A five time 20-goal scorer, Lupul could be an enticing acquisition for the Montreal Canadiens, NY Islanders, St. Louis Blues and Winnipeg Jets.
Leafs Asking Price: 2nd-4th round draft pick, B-level prospect, NHL roster player
Stephane Robidas
The Maple Leafs took a chance on Robidas, hoping the veteran d-man could rebound from injury. It hasn't worked out with Robidas here in Toronto, and the Leafs should try move him now while there's still a deal to be made. There are always teams looking for a tough, grizzled vet to add on the back-end, but unfortunately for the Maple Leafs, they're going to have to sell low with Robidas.
Leafs Asking Price: 4th-7th round draft pick, C-level prospect
Tyler Bozak
Considering Brian Burke plucked Bozak as a relative unknown from the college ranks, the Maple Leafs got more than anyone could have expected out of Tyler Bozak. Miscast as a number one centerman in Toronto, Bozak has tallied 36 points in 57 games this season. Bozak can be a useful center to a playoff bound team looking to add depth up the middle. Teams that could be interested in dealing for Bozak include the Chicago Blackhawks, Anaheim Ducks, Winnipeg Jets and Vancouver Canucks.
Leafs Asking Price: 2nd-4th round draft pick plus a NHL roster player
Keep Them in TO – Holland, Komarov, Reimer
Bad Contracts to Miscast Players – Rotten to the Core
Dion Phaneuf
Phaneuf has been miscast here in Toronto and it's a shame. As a third or fourth defenceman he's a physical and effective force. But when Phaneuf is forced to play too many minutes against the top offensive players in the league, his warts get exposed and an otherwise solid player gets branded as a pylon or a plug. Phaneuf could provide a lot of depth and value to a team looking to shore up the blue line en route to a Stanley Cup run. Interested suitors could include the LA Kings, Anaheim Ducks, Detroit Red Wings, Tampa Bay Lightning and Dallas Stars.
Leafs Asking Price: 1st-2nd round draft pick, cap space, A-level prospect
Phil Kessel
There's no player on the Toronto Maple Leafs streakier than Kessel. We've seen him go cold for 20-plus games, and we've also witnessed him score ten goals in nine games. When Phil is on his game, there are very few players like him in the NHL. That's how the Maple Leafs need to sell Kessel to interested teams. Nonis and Shanahan need to keep a hardline that Kessel is a top-ten goal scorer, and don't sell him as anything less. Any team that wants Kessel is going to have to pay to get him. If they don't want to pay now, keep him until the summer when more trade offers could be available around the NHL Draft.
Leafs Asking Price: 1st-2nd round draft pick, A-level prospect, cap space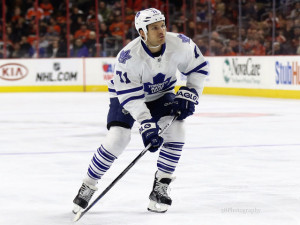 David Clarkson
This reminds me of when everyone said the Blue Jays would never be able to trade Vernon Wells because his contract was just as horrendous as his play in centerfield. Well it took time, but eventually the Blue Jays traded the immoveable Wells, and that's the hope here with Clarkson. It's not likely to happen this season, but at some point the Maple Leafs need to find a way to move Clarkson in the coming years.
Leafs Asking Price: Cap space; just get out from that contract
Jake Gardiner
The team committed too much money and too much term too early to Jake Gardiner, and it's really come back to bite the Toronto Maple Leafs. His hockey IQ isn't improving, and neither is his play on the ice. His trade value might be plateauing, so move him while you can. Remember, it's only a rumor, but the LA Kings, Colorado Avalanche, Edmonton Oilers and Pittsburgh Penguins are all thought to have shown interest in the former first round draft pick.
Leafs Asking Price: 2nd-4th round draft pick plus a NHL roster player or B-level prospect
Keep Them in TO – Rielly, JVR
Nicco Cardarelli writes about all things Toronto Maple Leafs for TheHockeyWriters.com. Nicco has PxP & Color commentary experience calling IIHF, Hockey Canada, OHL and CWHL games. Follow Nicco on Instagram and Twitter @BroBehindTheMic.