Sept. 4, 2020, was an exciting night for Dallas Stars fans. If you have ceased to understand time in this funky year and September feels like a lifetime ago, that's fair. That fateful night was Game 7 between the Dallas Stars and Colorado Avalanche in Round 2 of the 2020 Stanley Cup Playoffs. 
That night, a new player made a name for himself: Joel Kiviranta.
Before that night, most Stars fans hadn't heard much about him. Undrafted, the Finnish left-wing quietly signed a two-year, entry-level contract with the Stars in July 2019. He spent most of the 2019-20 season with the Stars' AHL affiliate, the Texas Stars, and made his NHL debut in January 2020 after Corey Perry was suspended.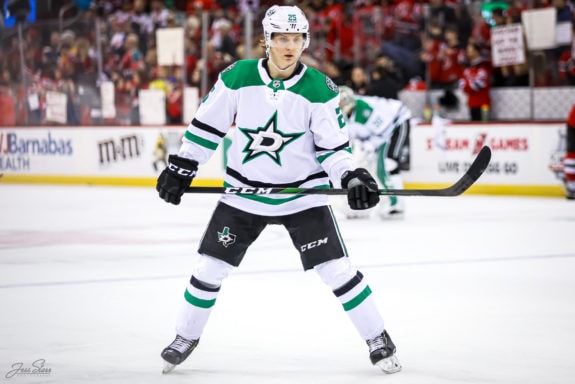 In terms of statistics, Kiviranta was productive in the AHL, racking up 12 goals and 11 assists in 48 games. In 11 total games in the NHL last season, he was a solid two-way winger who did his job but didn't pull anything flashy out of the bag. 
The game against the Avalanche was Kiviranta's third of the 2020 Playoffs. At that point he had tallied one assist, on Denis Gurianov's fourth goal in Game 7 against the Calgary Flames in the first round. 
So, how did he pull off a Game 7 hat trick? Let's break down the goals and why Kiviranta could be a valuable player for Dallas going forward.
Goal #1: Good Stick, Bud
A classic tip-in. The beauty of Kiviranta's first goal is in its simplicity. 
As the puck is being cycled up top between Esa Lindell, John Klingberg and Gurianov, Kiviranta is in a positional battle with Avalanche defenseman Kevin Connauton just outside the blue paint. Connauton's stick breaks and Kiviranta uses the absences of a defensive stick to his advantage.
He also has enough strength to push around a guy who has 25 pounds on him. By the time the puck makes it to Gurianov up top and undefended, Kiviranta has placed himself with his stick on the ice, ready to be a target for his teammate.
And the rest seems pretty easy for Kiviranta. Gurianov takes his shot and the puck is deflected into the net with nothing the goalie can do about it. 
What does this goal tell us about Kiviranta as a player?
This first goal shows a player who knows his job and gets it done. He goes to the right place on the ice and he wins the battle against Connauton. Kiviranta is small by some hockey player standards, 5-foot-11 and 180 pounds. He's closer to Johnny Gaudreau's build than Alex Ovechkin's when it comes to left-wingers, but his battle with Connauton shows he's strong.
Goal #2: The Second Mouse Gets the Cheese
Rebound goals are another classic category of hockey goals, and Kiviranta's second goal of the night is a great example of one. It is a great off-the-rush goal by the Stars in general, and has some classic Dallas elements like a defenseman getting involved.
For this goal, it's all about the passing. Defenseman Miro Hieskanen gets this play going by taking the puck from Colorado, but the key aspect of this play is Kiviranta's pass to Roope Hintz in the slot. Hintz is the late guy coming and Kiviranta has the eyes to see him coming.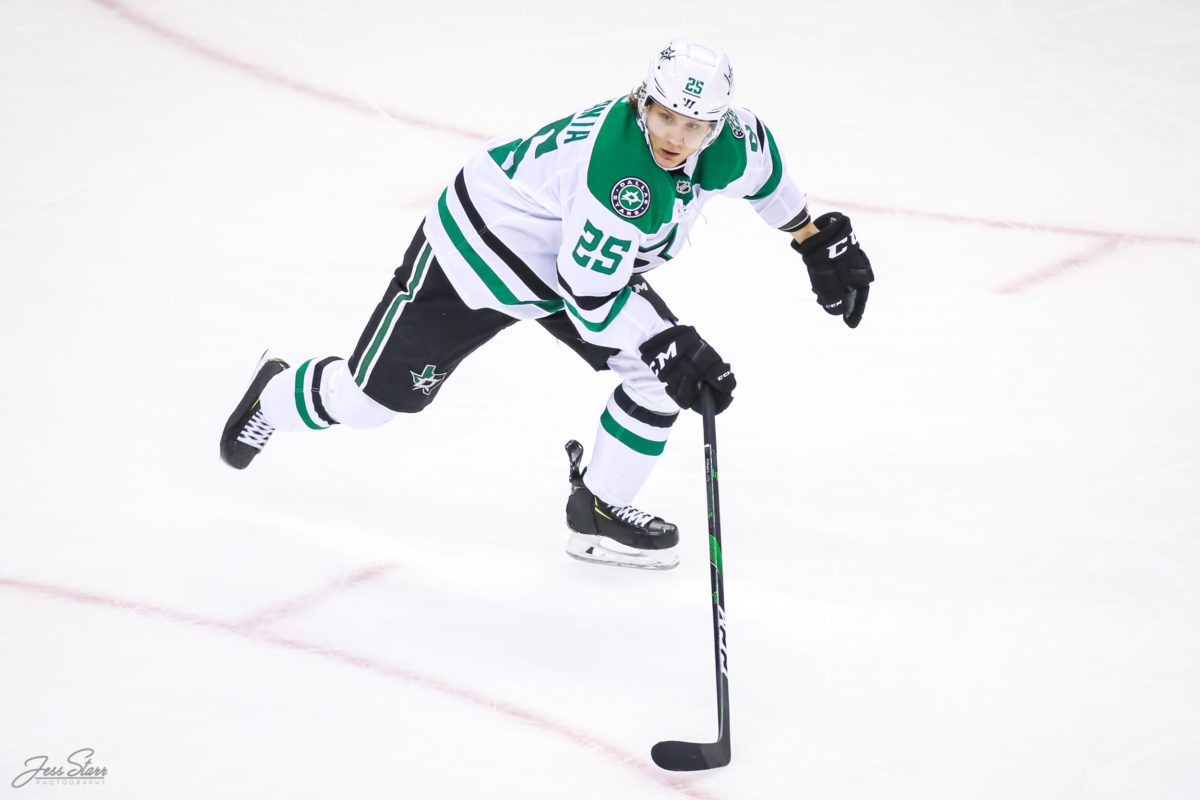 This goal gives two encouraging points towards Kiviranta's potential. First, his vision. Seeing Hintz coming and choosing to pass to the guy streaking in speaks to Kiviranta's hockey IQ, and gives a good idea of the type of player he is. Second, his follow through. This is a rebound goal, so not only does he make a good decision in passing to Hintz, he also makes the decision to stay with the play. Of course, this is also poor rebound control by Avalanche goaltender Michael Hutchinson, but Kiviranta is there to make Hutchinson pay for it.
Goal #3: Right Place, Right Time
The hat trick goal. A beauty. 
Kiviranta makes a few great decisions during this play that lead to him scoring. First, he goes back to what he did during the first goal, he battles in front of the net and gives the Avalanche a hard time. But instead of getting his stick in the right place for a tip-in, he takes it one step further and is aware of Andrej Sekera behind the net looking for an open guy. 
Kiviranta makes the decision to stop battling in front of the net and shifts himself subtly a few feet away, giving Sekera the perfect lane to pass to him. This ability to do his job, battle in front of the net, while still seeing the whole ice and making himself available to a teammate, is not something that should go unappreciated. 
There are a lot of young guys — 24 is still young and it is his first year in the NHL — who can get bogged down in their tasks and forget that there's a fast moving game happening around them. If Kiviranta doesn't notice Sekera, there is no goal, Sekera probably would have been forced to cycle the puck up the boards and hope for the best. Instead, it's an overtime, Game 7 winning goal, and the Stars move on to the Western Conference Final.
Will He Make the Team Though?
Assuming the Stars eventually sign Hintz to a new contract (which they should totally do, and soon) the team would have exactly 12 forwards on their official roster. Considering Tyler Seguin is now out at least five months after hip surgery and the Stars won't have him for the start of the season, there is almost no doubt that Kiviranta will make the opening night roster.
Remember, even when other players got healthy for the Stanley Cup Final, Bowness kept Kiviranta in the lineup. He slotted in well with a few different line combinations throughout the latter half of the playoffs, and with the Seguin injury it wouldn't be all that surprising to see Kiviranta get more minutes and perhaps even time on the power play next season.
Overall, Kiviranta is a reliable, quick-thinking winger, who shows strength and determination in his play. He will be an asset to Dallas next season and a good addition to the growing "Helsinki south" identity.
---
---