Last Sunday night the Stars closed out a franchise best midseason record (28-9-4, 60 points) by losing back-to-back games for the first time in 2015-16. They followed up Tuesday night with a dreadful 6-2 loss to the New York Rangers to kick off the second half of the season.
Is there cause for concern? Sure, but for now take a deep breath, hold it in for a couple of seconds and exhale. See don't you feel better already? Now, let's take a closer look at the Stars midseason grades. Note: Stats referenced below were as of Monday, January 4th.
Stars Management
Jim Nill (A): Really this grade is mostly for his work leading into the season. Since the first drop of the puck, Nill has been able to sit back while making minor temporary tweaks (AHL call-ups) to the roster. Even in those cases the moves have been a success.
Lindy Ruff (A): Ruff's post-game reactions have been spot on. He hasn't panicked on nights when his team has dominated yet lost due to bad puck luck. Meanwhile, at times when the results have been positive, he has gone to the whip because the team's performance didn't match the results.
Stars Forwards
Jamie Benn (A-): Hard to fathom we were talking about a slow start in October when he was first testing his surgically-repaired hips! He leads the league in goals (24) and is 2nd to Patrick Kane in points with 52. A few too many undisciplined penalties and being tied for first among NHL forwards in giveaways keeps him from an A.
Tyler Seguin (A): One goal and one assist behind Benn, good for 3rd overall with 50 points. A team leading 56.7% FOW. He's also added a bit more physicality to his game this season. Seguin has nearly twice as many hits (38) as rival sniper Patrick Kane (20). He has a plus 17 rating but still could be a little more consistent defensively.
Patrick Sharp (B+): Understandably got off to a bit of a slow start while adjusting to his new team and surroundings. His 16 goals are 3rd on the team and 18 assists are good for 4th and is a plus 7. Tied for team lead in GWG (5). Tied for 3rd most shots hitting the post in the NHL with 4.
Jason Spezza (B+): 14 goals are good for 4th on the team, 4 GWG ranks second on the team and his 54.5% FOW is also second best among Stars' centers. Spezza has played well with seemingly different linemates every night. Corsi For, Per 60 Minutes of 69.12 is highest in NHL of players with 15+ games played. He also has a high percentage of shots that have missed the net.
Cody Eakin (B-): Super versatile, has jumped up to center Benn and Seguin at times. Has also played some wing. Typically he is holding down the fort at his usual 3rd line center spot. His 47.4% FOW is a bit concerning. Also, Eakin is capable of producing more than 19 points (9 goals, 10 assists) in 41 games.
Antoine Roussel (C+): Super Pest. Tied for team lead in GWG (5), yet only 6 goals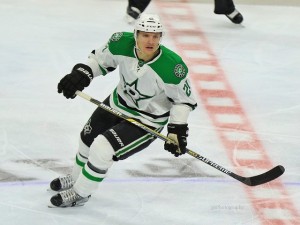 overall in 39 games. He has only 40 SOG which gives him the 2nd best S% on the team at 15%. Shoot Antoine, Shoot! He has the worst Corsi For, Per 60 Minutes among Stars' forwards (53.54).
Mattias Janmark (A): Super Rookie. Tied with Eakin for 5th on team in goals (9). His plus 11 is 3rd among Stars' forwards behind only Benn (21) and Seguin (17). He leads all NHL rookies with a 67.47 Corsi For, Per 60 Minutes.
Vernon Fiddler (B): Grinds it out every night. Leads Stars forwards in SHTOI with 87.43 minutes. He has a respectable 51.5% FOW. Good puck protector, only 6 giveaways all season! A leader in the dressing room and apparently very influential with friends back home.
Valeri Nichushkin (C): A roller coaster start. Has fluctuated from one extreme (healthy scratch) to the other (1st line minutes). Still only 20 years old, has been dynamic in spurts and hard to watch other times. The talent is there but 6 goals and 9 assists in 38 games is too low.
Colton Sceviour (C+): Similar to last season, he started off incredibly cold, but has caught fire of late. Has only 5 goals on the season but has 4 since December 22nd. Most of his ice time has been 3rd or 4th line minutes. Maybe the recent scoring surge will lead to a bigger opportunity.
Patrick Eaves (C): Small sample size of 22 games. Eaves has just 3 goals and 1 assist. Low offensive production for someone who sees power-play (1:24) time. However, excellent hockey sense and a steady depth player who can fill in on any of the 4 lines.
Ales Hemsky (D): Known for his offensive skill set, but only has 3 goals and 10 assists in 37 games on the best offensive team in the league. Currently on injured reserve.
Radek Faksa, Travis Moen, Curtis McKenzie and Devin Shore didn't play in enough games to warrant a midseason grade.