When the Islanders conducted their exit interviews with Jack Capuano and the rest of the coaching staff, it became clear that a major question surrounding the franchise had been answered: Capuano will coach the team next year in Brooklyn. General Manager Garth Snow later confirmed this to Newsday.
"Our coaches did a great job, whether it was preparing our players or with the communication between coaches and players, which was outstanding," Snow said. "There were some aspects of our game, whether it was with our penalty-kill that struggled early on and became a strength for us by the end, or our power play, which was a strength at times early on and we didn't have one in the playoffs. That's an area of concern. We'll analyze all different areas of our team and try to get better."
As Snow mentions, the communication between the players and this staff is incredible. Players talk about Capuano as being an absolute pleasure to play for, and a guy who looks to help each of his players take their game to the next level. The big knock on Capuano may be similar to the one on John Tortorella: he's great with his bottom players but can't handle the high-end guys. Then why not keep him around, since this team realistically only has one star forward?
Look no further than the fourth line, which Don Cherry called "maybe the best fourth line ever in hockey". While the credit needs to go to Snow for bringing these guys in, it's clear that Capuano knows how to utilize the line of Martin, Cizikas, and Clutterbuck to get the most out of them. In game 7 against the Capitals, this was their best line. Easily.
In terms of strategy, special teams is a big point a lot of Islanders fans have pointed out. The Greg Cronin hiring was a bit of a head-scratcher, admittedly, but there were some improvements with the team's penalty kill at the end of the season. Just after the hiring, when the club had staff-wide meetings that included the AHL staff and some local coaches, Cronin did mention that players in the past had a hard time with his system at first but were ultimately very successful when it caught on. The Islanders penalty kill was very good in the playoffs.
The 0-14 power play in the playoffs? Not good. Really bad, honestly. But that's hard to pin on Doug Weight. During the regular season, their power play was successful 18.7% of the time–better than Chicago, Montreal, Winnipeg, Minnesota, Anaheim, Nashville, Ottawa, and the Rangers (plus quite a few other teams that didn't make the playoffs). Being middle-of-the-pack among playoff teams, and 16th in the league overall is not bad. What I saw in the postseason wasn't a lack of strategy, but a lack of execution. That's on the players.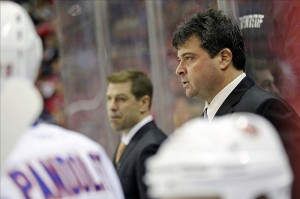 Losing three of your top six defensemen isn't a winning recipe no matter who you are, and Capuano should not be held accountable there. At the end of the day, losing to a very strong Washington Capitals team in seven games is not a horrible way to close out a season. The Islanders were a slight underdog, and once you lose Hamonic, de Haan, and Visnovsky, it's hard to imagine a scenario in which they could have come out on top.
There's something to be said about staying the course in the National Hockey League, and in sports in general. Teams that change coaches because they don't win a cup every five years generally don't have much long-term success. Just check out those other guys in New York City. And here's the thing: this season was the first time Jack Capuano has EVER had a good roster to work with. Imagine what this team could look like in a few years, with some of the big-time prospects moving up and the young guys really hitting their stride. There's a ton of potential here, and Snow made the right move in keeping it together.