How does Cooper get Steven Stamkos going?
Clearly, the fact that the Tampa Bay Lighting won their first round series against Detroit is a plus for the entire organization. However, you have to know that there must be at the very least, some mild concern about the fact that their Captain, Steven Stamkos was held off the goal sheet for all seven games.
Coach Jon Cooper has to find a way to get Stamkos going in this round against the Montreal Canadiens. As much as the NHL playoffs are a test of will and character, the success of any team relies heavily on two things. Keep pucks out of your net and put pucks in the other team's net. For the Tampa Bay Lightning, the man that primarily puts pucks in the net for them is Steven Stamkos. This season he had 43 goals. Most on the team and second in the NHL behind Alexander Ovechkin.
For the record, it isn't like Stamkos stunk up the joint in the first round series. He won 55.6% of his faceoffs and added three assists in the seven games thus far. He did have an unusually high number of penalty minutes, 14, but was able to get off 22 shots in the series.
Lined up primarily with Ryan Callahan and Alex Killorn most of the series, we did see Jon Cooper attempt a few times to get his star going by pairing him with Tyler Johnson and Nikita Kucherov. Both Johnson and Kucherov see the ice better and are better passers than Killorn and Callahan. Nothing seemed to get Stammer off the schneid.
Does Cooper play Jonathan Drouin?
One way to help Stamkos would be to put him on the ice with a speedy playmaker. Jonathan Drouin fills that role. Although scratched from six of the seven first round games, Drouin would be a better fit against the Canadiens than the heavy hitting Red Wings the team saw in round one.
Montreal defense is more offensive minded than the defense of Detroit. P.K. Subban led Montreal in scoring in the first round. Other blueliners such as Jeff Petry, Alexei Emelin and Andrei Markov while solid defenders, they do not have the hitting power of a Niklas Kronwall or Jonathan Ericsson.
Also, during the regular season, it was the speed of Tampa's forwards that gave Montreal defenders fits which led to a 5-0-0 sweep of the Habs. Tampa outscored Montreal 21 to 8 in those five games. Before anyone tells me that regular season does not mean a thing in the playoffs. I agree, but I need to put some perspective on my point.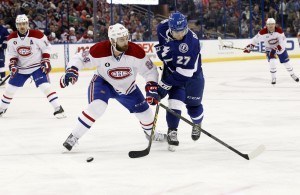 The point being that Jon Cooper needs to take Jonathan Drouin off the shelf. Coop needs to put some miles on them wheels. In addition to being able to feed the puck in Stamkos' wheelhouse, Drouin has fresh legs. Having been a healthy scratch for six of the seven games Tampa played. There is no doubt that he sees the whole ice as well as anyone on the Lightning roster. Why not give the kid a chance to help out your struggling superstar?
To play Drouin, would mean that you sit Brenden Morrow. As part of G.M. Steve Yzerman and his Yzer-Plan, Morrow was acquired last summer to help the abundance of youth and inexperience on this team. Morrow has done that. I understand why Cooper played Morrow in six of the seven games in the Detroit series. He knew that Detroit was going to come out banging to put the young Tampa forwards back a little on their heels. It worked on a few, Tyler Johnson being the notable exception.
To his credit, Morrow added some punch of his own but was not any bit of a difference maker in the series at all. For the six games he played, Morrow did not register a single point. Was a zero in the plus/minus. Had four penalty minutes, took two shots and laid out seven hits in the six games. Morrow also averaged 8:38 TOI in the games he played.
Compare that to Drouin's one game line. Drouin also did not register a point and was a minus 2 in the only game he played. He was called for a two minute penalty and had one shot and delivered two hits in his 8:42 of ice time. Virtually the same line for both Drouin and Morrow. The upside is that Drouin might have the opportunity to feed a pass to a scorer like Stamkos but that simply is not a part of Morrow's game.
7-11 or 6 and 12
To make matters more challenging for Drouin seeing any ice time, in three of the last four games of the Detroit series, Jon Cooper went with 11 forwards and 7 defensemen. Those three games were all Tampa victories, so Cooper would be hard pressed to mess with that formula.
The extra defender certainly helps the Lightning blueliners keep fresher legs towards the end of the games. As Nikita Nesterov is the seventh defenseman, he has been able to jump in on the power play to attempt to help turn around that unit'€™s fortunes.
However, going with one less forward makes it even more difficult for Cooper to play Drouin. During the three games the team went with 11 forwards, they sat Drouin and J.T. Brown in two of those. Vladislav Namestnikov and Brenden Morrow sat in the other game.
So, if Cooper sticks with the 11/7 strategy and plays Drouin. He will have to sit two of these three players: Brenden Morrow, J.T. Brown and Vlad Namestinikov. Difficult choices indeed but this is the playoffs. Win or go home. Win or set up tee times. The dilemma for Jon Cooper in this next series is which is the formula for Lightning success?  One thing for certain, if Steven Stamkos continues to throw goose eggs on the goal sheet, the only strategy Cooper will be thinking about is wedge or iron.
Born in Chicago, Illinois. Grew up playing and loving sports. Spent most of my formative years playing, debating, arguing and talking sports. for the last couple of years I have written about hockey. I am currently a Tampa Bay Lightning contributor for The Hockey Writers. I know that I may not always be right, but I am passionate about hockey and it is damn hard to hide that passion in my writing.