Stechermania has officially taken over Vancouver.
If it wasn't official before, it is now after the 22-year-old rookie scored his first career goal against the Dallas Stars on Sunday.
It couldn't have come at a better time. Stecher scored with 100 seconds remaining in the game to tie the contest up at 4-4. That led to Markus Granlund scoring the game-winning goal 1:27 into overtime.
Stecher could have registered his first career game-winning goal if it wasn't for a controversial disallowed goal from Alex Burrows earlier in the period.
The young defenceman wasn't without his flaws against the Stars. He was on the ice for two goals against in the contest, despite the fact that he had the best Corsi rating among all Canucks defenders. In fact, Stecher 54.6% the third best Corsi percentage on the entire Canucks team, behind only Loui Eriksson and Henrik Sedin.
Stecher has filled in admirably during the absence of Chris Tanev on the Canucks top pairing beside Alex Edler. It isn't often that a coach asks a green defender to step up onto the top pairing and play more than 20 minutes per night. However, that's exactly what Stecher has done, and he's done it well. The legend of young Stecher continues to grow.
Breaking: A bronze statue of Troy Stecher to be erected outside Rogers Arena, with the inscription: "Always give him the puck."

— Daniel Wagner (@passittobulis) November 13, 2016
The bigger question is, how will the legend of young Stecher affect Tanev and his place on the roster?
Could Tanev Be Traded?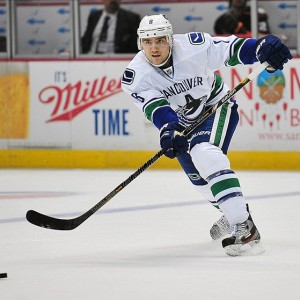 When you look at the context of the situation, it's hard to fathom that Tanev could be replaced by a rookie with seven games of NHL experience.
It's a ludicrous assessment really. Tanev is the most reliable defenceman on the Canucks roster, and it really isn't even close. He regularly plays against the opponents top line, works hard in the corners and constantly throws his body in front of shots. He's an unsung hero for this team, and possibly one of the most underrated players in the league.
However, Stecher's emergence isn't the only reason why the Canucks would trade Tanev.
The Canucks are painfully starved for some offensive firepower in their lineup. They've only averaged 1.5 goals per game at even-strength, putting them ahead of only the struggling Colorado Avalanche.
It's no secret that Jim Benning wants to add a scoring winger — everyone in the league knows the Canucks are desperate for a top six winger. Surely teams are calling and asking for one of the Vancouver's Cthree best prospects, but Benning wouldn't deal away the future to fuel the playoff pipe dream, would he?
There aren't many available Canucks who would garner a big return on the trade market. Tanev might be one of the few who could fetch a top six winger. With Stecher quickly establishing himself as an everyday NHL player, it's easier to envision life without Tanev.
Perhaps a team like Colorado wants to shake things up after another disappointing start to the season. They aren't scoring goals either, but something more was expected from their young core. It would take more than Tanev to land someone like Landeskog, but Tanev would be a welcome addition to a mediocre Colorado blueline.
Why He Won't Be Traded
At some point, the Canucks have to be honest with themselves. They aren't a playoff team, and won't be a competitive playoff team for the foreseeable future. With that being the case, is there any point trading Tanev?
Any deal involving Tanev will likely never lean in the Canucks favour. As mentioned before, Tanev is one of the most underrated defenders in the league. Although he's the team's most valuable trade chip, he likely won't fetch that bonafide top-six winger they are looking for.
Never say never. Adam Larsson did fetch Taylor Hall.
Judging by Benning's trade history, a deal like that has almost no chance of taking place.
https://twitter.com/HockeyDipshit/status/795821707634216960
What Happens When Tanev Returns?
Stecher has played admirably in Tanev's spot on the top pairing. But what about when Tanev returns?
Does Tanev fall down the depth chart and play on a pairing with a guy like Nikita Tryamkin or Luca Sbisa?
Will Willie Desjardins break up the struggling pairing of Erik Gudbranson and Ben Hutton?
Would Desjardins dare put together the ultra-green duo of Stecher and Tryamkin?
Does Philip Larsen make it into another game this season?
There are lots of questions to be answered, and Desjardins has some interesting decisions to make. While Stecher has played well with a heavy workload, how will he look if he gets paired with Tryamkin or Sbisa for five games?
Judging by his hockey IQ and puck moving ability, you would think he's going to thrive anywhere in the lineup.
Maybe that's just the Stechermania getting to me.
If Benning swings a deal involving Tanev, we will know that Stechermania has taken a stranglehold on him as well.