The Toronto Maple Leafs have done something interesting this season. They've set up their roster so that they have extra players on both offense and defense. This is great for a young team. It allows players to slowly transition to the NHL by alternating in and out of the lineup with other young players so they can rest or have a night off after a bad game.
The problem is that they aren't making much use of their extra players. The Leafs initially claimed Seth Griffith off waivers from the Boston Bruins just before the season began. Griffith played a grand total of three games with Toronto and was placed on waivers again, being claimed by the Florida Panthers this week.
Seth Griffith claimed off waivers by #FlaPanthers.

With injuries, he should find much more opportunity there than he got with #leafs.

— Chris Johnston (@reporterchris) November 12, 2016
Nothing Gained, Nothing Lost
In his three games he was unable to record a point, but that is mainly because he spent those three games playing on the Leafs fourth line. Those three games were all consecutive, so it looked like the coaching staff was giving him a few games to prove himself. The only problem is that Griffith barely got enough ice-time in those three games.
In Griffith's first game against the Panthers on Oct. 27, he had a total ice-time of 9:09. He then had a TOI of 8:24 against the Montreal Canadiens on Oct. 29 and got a bit more time with a TOI of 10:51 on Oct. 30 against the New York Islanders.
Griffith is a small skilled winger who has shown a tremendous offensive upside to what he lacks in defense. The Leafs tried to force Griffith into a role that he just can't play. And instead of giving him a shot with other lines, they decided to get rid of him.
They could have traded Griffith and at least gotten something in return, but by claiming him off waivers and then losing him on waivers they lost a free player for nothing. In that sense, it's no big loss for the Leafs.
The Potential for Greatness?
At 23-years old, Griffith still has the potential to be an NHL player, but it's up to him where he ends up in the lineup. Last year he finished second in AHL scoring with 77 points in 57 games, which was only three points less than Chris Bourque and in 15-less games.
Unfortunately, a lot of players like Griffith have the skill but just can't translate their game to the NHL level. The best example of this is Bourque as a small skilled winger. Bourque is 30-years old and has only played 51 NHL games, while the rest of his time has been spent in the AHL.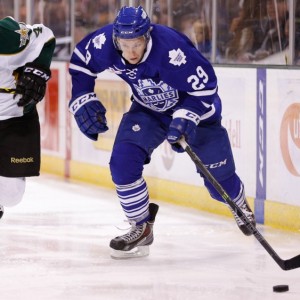 Bourque has consistently put up high numbers in the AHL with the most being 93 points in 73 games during the 2011-12 season with the Hershey Bears. Griffith's future could mirror the career that Bourque has had and playing for Florida could give Griffith the chance he's always needed.
It would have been nice for the Leafs to get something in return for Griffith, but it doesn't matter that much to the organization when they are already packed with wingers. Players like Connor Brown and Nikita Soshnikov have worked their way into the Leafs' lineup and there are more with the Toronto Marlies that should make a similar jump next season.
The Marlies leading scorer, Brendan Leipsic, is also the AHL leading scorer with 17 points in 12 games. Then there is Kasperi Kapanen who has 13 points in 12 games with the Marlies. Both players are wingers and will fill any role that Griffith would eventually move into if he stayed with the Leafs.
It was a waste that the Leafs never got anything for Griffith, but it's no real loss when looking at all the talent that will soon be fighting for a place in the Leafs lineup.