Week four of fantasy hockey was yet again led by a strong output from the goaltenders. Owners had to deal with Carey Price's first loss of the season as well as a resurgence from a number of stand-out fantasy hopefuls, mainly coming from the Dallas Stars organization. Week four is around the time when you can finally start to let go of any of the underperformers occupying your roster and add that waiver wire pickup you've been eyeing since the season's start. With that, here are your week four major fantasy hockey awards:
Fantasy Hart Trophy – Antoine Roussel
GP:4 G:3 A:3 Pts:6 PIM:16 PPP:2 GWG:1 
The Fantasy Hart Trophy is awarded to the week's most valuable player. This week's award could have been given to any of the three fantasy studs from the Dallas Stars second line which includes Tyler Seguin, Patrick Eaves and Antoine Roussel. Since I had to cho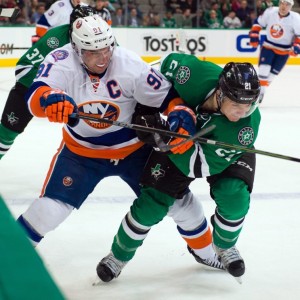 ose one, left winger Antoine Roussel rose above his linemates with his dominance across all categories, especially in the penalty column.
Roussel's six points through four games ranked him second only to linemate Tyler Seguin, while his 16 penalty minutes tied him for sixth on the week, and first among fantasy-relevant players.
Roussel's aggressive style earned him a spot on the Star's top power-play unit leading to a surprising two power play points through the four games. He completed his impressive week with a game-winning goal to award his fantasy owners in even more categories.
Lining up alongside superstar Tyler Seguin and veteran forward Patrick Eaves, Roussel seems to have found a very fantasy-relevant role with the high-powered Stars offense for the time being.
While the Star's have been plagued by injuries, Roussel is one forward who has made the most of his opportunity and absolutely warrants a pick up across all fantasy leagues, especially those which count penalty minutes.
A five-game point streak (2-4-6) for @Rous_ant. Beautiful backhander to give the Stars a 3-2 lead.

— Owen Newkirk (@OwenNewkirk) November 12, 2016
With a combined seven goals and 19 points between Roussel, Seguin, and Eaves, the trio will look to continue their success for weeks to come. Expect the three to be considered weekly for this award if they can continue to perform like they did in week four.
Honourable Mention: Patrick Eaves, Tyler Seguin
Fantasy James Norris Trophy – Andrei Markov
GP:4 G:1 A:4 Pts:5 +/-:+3 PPP:3
The Fantasy James Norris Trophy is awarded to the week's most valuable fantasy defenseman.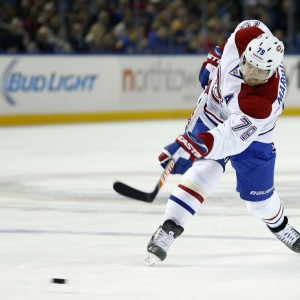 It was a quiet week for fantasy defenseman which makes it all the more fitting that Andrei Markov of the Montreal Canadiens is this week's Fantasy James Norris award recipient.
Across four games Markov managed to record an assist in every game while adding an impressive goal in the team's final game of the week against the Chicago Blackhawks.
His five points led all fantasy defensemen on the week, while his three power-play points tied him with fellow linemate Shea Weber for the lead among defenders. His +3 rating through the four games ranks him sixth among defensemen and adds a nice boost to his overall fantasy value for the week.
Markov has always been a valuable source of offense when it comes to fantasy hockey. A generally late draft pick in many leagues, his ability to man the power play has always made him a relevant fantasy name regardless of his age. The veteran defenseman is looking to out-do his 45.6 points per game average from the past three seasons in this, his 16th season with the Canadiens.
Pairing up alongside fantasy superstar Shea Weber, Markov's fantasy value has never been higher at this point of the season and owners should continue to ride his impressive play as long as he stays on the Canadiens top power-play unit.
Honourable Mention: Torey Krug, Morgan Rielly
Fantasy Vezina Trophy – Tuukka Rask
GS:4  W:4 L:0  GAA:0.75 SV%:.970% SO: 2
The Fantasy Vezina Trophy is awarded to the week's top goaltender. This week there was a glaringly obvious standout in the goaltender category. Tuukka Rask of the Boston Bruins was nothing short of sensational as he led the Bruins to four straight wins in all four of his fantasy week starts.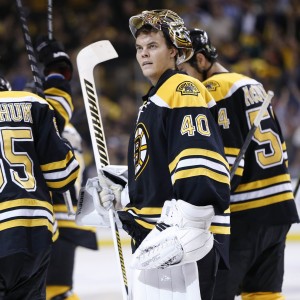 Not only did Rask supply elite stats across all categories, but did so while acquiring the rare fourth start of the week. Regular starters of his magnitude will average three starts per fantasy period on a normal weekly basis.
Through his four starts, Rask's four wins were top among all netminders, while his 0.75 goals against ranked him second behind only to Nashville's Pekka Rinne. Rask's save percentage of .970% was also second to Rinne, but his two shutouts on the week pushed him above the opposing Finnish netminder for this week's honour.
After a rough season in 2014-15 which saw Rask post a save percentage 10 points lower than his career average (.925), the Bruins netminder is reminding owners of his elite goaltending potential from years prior which solidified him as a number one fantasy starter.
As Boston slowly starts to figure out their team identity as a whole, one thing they do know for sure is that they can depend on the consistency of Rask night in and night out rewarding fantasy owners across all major categories.
Tuukka Rask is 2nd goalie in @NHLBruins history to win 10 of his 1st 11 appearances in a season (also Gerry Cheevers, 1976-77). @EliasSports pic.twitter.com/TOTVGNeel4

— NHL Public Relations (@PR_NHL) November 14, 2016
Rask has a remarkable 10 victories through his first 11 starts followed by a respectable .945 save percentage which ranks him third among starters only to previous weeks Fantasy Vezina winners Carey Price and Devan Dubnyk.
Rask's biggest issue this year will be his overall health through his high workload, as owners already lost the Bruins netminder for the entirety of week two of their fantasy season. Owners are hoping with good health, and a fresh positive start to the season, Rask can return to the form which saw him win the Vezina trophy in 2013-14.
Honourable Mention: Pekka Rinne, Martin Jones