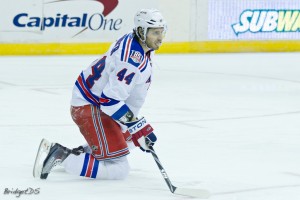 No other current Norfolk Admiral has more games played in the NHL than Steve Eminger. The Woodbridge, ON native has 488 NHL games to his credit. The 1983 born defenseman recently signed an AHL contract with the Anaheim Ducks affiliate the Norfolk Admirals. Prior to joining the Admirals, Eminger spent 25 games in Russia playing with CSKA Moscow.
TheHockeyWriters had a formal Q&A session with Eminger at a recent morning skate.
THW: Were you excited to come back to North America to play?
S.E.: North America is where I wanted to be. I definitely feel more comfortable here. I enjoyed my time in Russia, but to get back to my end goal to get back to the NHL was the first step.
THW: What has been the biggest transition back to North America?
S.E.: The pace is different. In Russia the ice is bigger, but the pace is fast, and really skilled. It's a more controlled game, kind of like a chess game. That's been the difference. Where here it's more go-go-go and you have a little less time with the puck.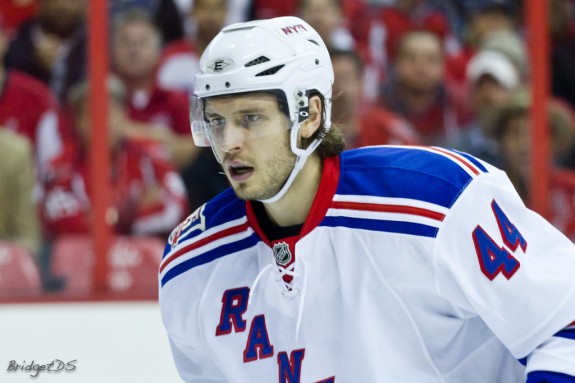 THW: You have some history with Steckel and Yonkman. How is it to be playing with them again?
S.E.: Hockey works in full circles.  With Yonkman I spent three or four years of my career with him and Stecks was a little bit later, but both are good guys they helped me in this transition.
THW: Yawney is a defensive style coach. Since you're a defenseman, how are you fitting into his puzzle?
S.E.: He's a pretty straight forward coach; he tells it like it is. It helps us as a unit. Having a coach with a defensive style helps us out as well. His game plan is pretty simple. It's push the pace, get the puck, advance, be safe at both blue lines, and be strong on the forecheck.
THW: You spent a season with the Ducks. How is it coming back to the Anaheim Organization?
S.E: It's a great organization; they're first place going into Olympic break. They have a great team, they're well coached, and I think they're really balanced.
THW: The AHL is all about development. How are you developing your game?
S.E: You can develop your game wherever you are, any age you are. This is a good league. I think in the past it was under rated. There are a lot of good players and when they get called up, you see how effective they are in the NHL. It's helping me to get back to my goal of playing in the NHL.
THW: With you being a veteran, how are you mentoring some of the younger D-Men on the team?
S.E.: I'm still new, but I've been here long enough now to where I could speak up, but I'm more of a one-on-one guy. We have a lot of leadership here and a lot of veteran guys as well. It's a group leadership.
In closing, Eminger's solid blue line play with Norfolk has the rock steady Defenseman back on the road to the NHL.
Follow Ted on Twitter @Bauerhockeydude
Ted grew up in Virginia. Warren has a passion for the AHL and dishes out articles about the Norfolk Admirals and the AHL. Follow him on Twitter @bauerhockeydude