Steven Stamkos has a lot going for him. He's a superstar in the National Hockey League, he's the best player and current captain of his team, and he's universally respected and feared by his teammates and competition. He's a power forward that can literally do it all. Stamkos will become an unrestricted free agent at the end of the season unless he signs a new contract with the Tampa Bay Lightning.
There has been speculation for months about why the deal isn't done yet. The theory that has easily gained the most traction is that there is a very real possibility that Stamkos will take his talents back home and sign a deal with the his hometown Toronto Maple Leafs. By liking a tweet sent from TSN about whether or not the Leafs should pursue him, Stamkos either intentionally or or unintentionally set off a media firestorm.
Accident or Not?
You can look at this situation from a couple of angles. This is not the first time something like this has happened with Stamkos and his Twitter account. Back in July of 2014, Stamkos favourited a tweet from The Hockey News which discussed him coming back home in the prime of his career. He also favourited a tweet from a fan that asked if Stamkos and New York Islanders, John Tavares, would join the Maple Leafs.
Counting this latest one, that would be the third. I'm not one to jump to conclusions by any stretch, but situations like this really make you wonder what is going on behind closed doors. Stamkos is the current face of the Lightning. General Manager, Steve Yzerman, has made is abundantly clear that re-signing the young talent is his number one priority.
Both Stamkos and his agent, Don Meehan, have said very little in respect to the contract negotiations and the progress, or lack there of, being made. This could mean something or it could mean nothing. For all we know, Stamkos is trolling Leaf fans and media types alike. If that's the case, then it appears we bit pretty hard.
The Pros and Cons of Coming to Toronto
When Stamkos was growing up in Markham, Ontario, his favourite team was the Toronto Maple Leafs. So many kids grow up dreaming of playing for their childhood team. Unfortunately, so few actually realize their dream. Stamkos could be one of those lucky few. It would be quite a feat to see the 25-year-old pull on the famed blue and white sweater.
However, there is a downside to playing in Toronto. Maple Leafs fans are incredibly passionate about their team and players. Many are not shy of voicing their opinions, be they good or bad. It may be difficult for Stamkos to play under the weight of all those expectations and the constant media gaze that comes with having your team and yourself under a microscope 24/7. Stamkos would get mobbed on the street wherever he went, but that would be the price of playing in his hometown.
Others could argue that by the time the Maple Leafs would be competitive again, Stamkos would be too old and wouldn't fit with the younger pieces. My THW colleague, Jeff Langridge, addressed this exact concern in his latest article. https://thehockeywriters.com/stamkos-wouldnt-ruin-leafs-rebuild/ Having a player of  the calibre of Stamkos would only speed up the Leafs rebuild and could be a valuable asset for when the Buds young guns make the jump in the future.
Let's talk about money for a moment. Stamkos is now in the final year of a five-year, $37.5 million dollar contract. If he were to test the free agent waters on July 1st, you better believe he's going to be in for a huge payday. Jonathan Toews and Patrick Kane, the superstars with the Chicago Blackhawks, each signed an eight-year, $84 million contract a couple summers ago. Crazy as that money and term is, Stamkos could easily get that if he wanted it.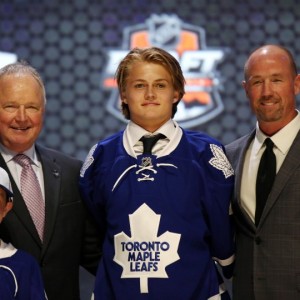 The best way for the Maple leafs to approach this is simple. Sit back and not make any moves. Trading for Stamkos at this stage would actually be a bad  move for the rebuilding franchise. Let's say a deal was reached that sends the former first overall pick to Toronto. You better believe that one or both of Mitch Marner and William Nylander would be going the other way. It would be counter-productive for a franchise trying to rebuild smartly.
They should wait and see if Stamkos re-signs or not. If he does, the Leafs lose nothing and can continue on with their rebuild. But if he does become a free agent, the Leafs have the resources and the personnel to at least make a decent pitch. After that, the decision lies in the hands of Stamkos and his agent.
Whatever happens, it has provided a pretty unique situation for fans and media alike. Crazier things have happened in hockey so my best advice for now it to sit tight, but also keep a close eye on the situation because you just never know.