Stanley Cup or no Stanley Cup, San Jose Sharks center Joe Thornton should be unanimously considered a slam dunk Hall of Famer. The 36-year old currently sits 18th all-time with 913 assists. Put it this way, hockey games are played with 18 skaters on each side. If we were to fill out a fantasy team of the all-time greatest passers, Thornton would be on it.
By the time Thornton decides to hang up the skates he will likely have become just the 13th player ever to reach 1,000 career assists. Just think of that number for a moment. The only 12 players who have done that? Wayne Gretzky, Ron Francis, Mario Lemieux, Mark Messier, Ray Bourque, Paul Coffey, Jaromir Jagr, Gordie Howe, Steve Yzerman, Adam Oates, Marcel Dionne and Joe Sakic. Not bad company, eh?
Unfortunately, Thornton has mostly received harsh criticisms both in Boston and San Jose for not getting over the Stanley Cup hump. With experts and fans alike still judging individuals on team success, Thornton's lack of a championship means he hasn't been rightfully appreciated for his performance. Like artists who don't receive critical acclaim until after their deaths, hopefully Thornton will get his accolades after retirement. Despite not playing in the high-flying 80s with tons of goal scoring, Thornton is one of only three players all-time to have posted back-to-back 90 assists seasons. The others were Gretzky and Lemieux.
Remarkable Consistency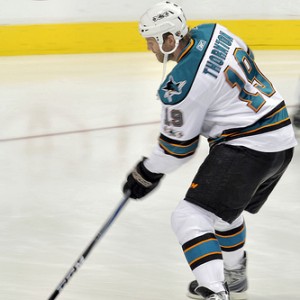 For the past 10 years Thornton has been the No. 1 center for the Sharks. Going back to his Boston days, Thornton has been an elite top line player since before Y2K. Remember everyone used to say "party like it's 1999?" well in 1999-2000, Thornton finished with 23 goals and 37 assists for 60 points. That was over 15 years ago, his first of 15 straight seasons with 60 or more points (pro-rating the lockout shortened season of course). That is simply remarkable consistency. Not a single down year offensively, a top-line talent playing at a high level for 15 straight seasons. If not for the two lockouts over his career, Thornton would likely have an opportunity to pass Mr. Hockey Gordie Howe for ninth all-time in assists.
First Signs of Aging
Unfortunately here in 2015-16, we are seeing the first signs of decline from Thornton. Through 28 games, Thornton has just 16 points, putting him on pace for only 47 points over 82 games. With the game continuing to tighten up defensively over the years and skating/puck-handling wizards like Patrick Kane and Johnny Hockey Gaudreau lighting up the league, Thornton's slow it down grinding style isn't quite keeping up anymore. As a self-admitted huge Thornton fan, it pains me to actually have to write this analysis. Thornton's possession numbers are down from the past two seasons even though Joe Pavelski continues to score at an elite pace on his right wing. While Jumbo still leads the team in possession, this is the first year where you can clearly say that Pavelski is the best player on the line. For the past few years it has been Pavelski playing shotgun on the Thornton line. This year though Thornton is now Pavelski's sidekick.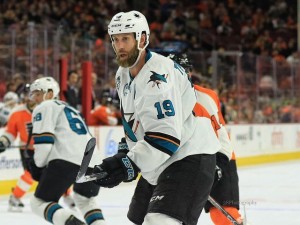 The Sharks have been struggling lately and Thornton's decline in scoring hasn't helped. San Jose's top center has just two points in his past 10 games. The Sharks have gone just 4-5-1 over that span. Over the years Thornton has always been the guy you want on the ice in the final moments to tie the game but the offensive production simply hasn't been there this season like it has the previous 15. Most of Pavelski's goals are coming on re-directs of point shots. Hardly any have come off the accustomed brilliant Thornton pass.
Despite the noticeable decline, Thornton remains a more than adequate centerman for the top line. He and Pavelski continue to spend most of their shifts in the offensive zone. Thornton's first signs of aging is far down on the list of concerns facing this team. San Jose still scores nearly 70% of the goals at even strength with Thornton on the ice. It is still extremely difficult for opponents to score goals when No. 19 has hopped over the boards. That said, the fact that the Sharks offensive production is no longer being driven by the slam dunk Hall of Famer is a weird feeling. Only being able to describe Thornton's play this season as good rather than great just doesn't sound right. That is the best way of putting it. As a Sharks fan, I have been spoiled watching Thornton the past 10 years. If only more fans would realize how spoiled they have been. They have gotten to watch one of the top 25 players of all-time play in their city for a decade.
Andrew has been credentialed to cover the Sharks since 2010 and the 49ers since 2012. He graduated with his BA in Broadcast Electronic Communication Arts in 2013 from San Francisco State University.