The start of December has not been kind to the Arizona Coyotes. Arizona recently finished a five-game road trip that saw them go winless through Nashville, Detroit, Buffalo, Carolina and St. Louis. The Coyotes now find themselves with a losing record for the first time all season, but they will have an opportunity to turn this losing stretch around at home.
Road Woes
There were not many positives to take from the winless five-game road trip. The Coyotes were outscored 24-10 and allowed five goals in four of the five contests. Arizona's biggest struggles on the trip came in the third period, where they were outscored 12-3. The Coyotes currently have a -15 goal differential in the final 20 minutes, the worst of any team in the league. In addition, Arizona allowed two shorthanded goals during this trip, both of which turned out to be game-winning goals. In 28 games and 101 power play opportunities this season, the Coyotes have allowed seven shorthanded goals. Arizona surrendered that same number of shorthanded goals all last season on 230 power plays.
In addition to not keeping the puck out of their net, Arizona had issues with scoring goals on the road trip. The Coyotes scored two goals or fewer in four of the five games. Arizona also saw a pair of critical goals taken away thanks to a coach's challenge. An early goal from Klas Dahlback in Detroit was negated as a challenge determined that Connor Murphy was offsides prior to the goal. The next night in Buffalo, a goal from Nicklas Grossmann that would have pulled Arizona to within a goal was erased due to Martin Hanzal committing goaltender interference.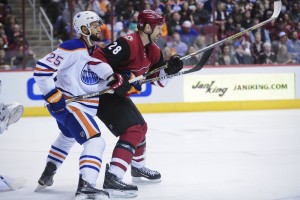 Heading Home
The Coyotes might have hit a wall on the road, but now they will get to enjoy some quality time in the desert. The Coyotes have won four in a row and five of their last six games on home ice dating back to November 5. After starting the season playing 18 of 28 games away from Glendale, Arizona will now play 15 of their next 19 games at Gila River Arena. The Coyotes will begin this run with back-to-back home games on Friday and Saturday against the Minnesota Wild and Carolina Hurricanes, their seventh set of consecutive games this season.
This stretch of games at home could potentially be a defining moment for Arizona's season. Currently, the Coyotes are just two points out of third place in the Pacific Division. However, only six points separates second place from seventh place. After failing to gain any points on their recent road trip, it is vital for Arizona to get back on track quickly. While there is still over half of the season left, the Pacific Division is already shaping up to be a fierce battle for at least the second and third playoff positions.
Charles Woodall-Pike is a journalist who writes about the Arizona Coyotes for The Hockey Writers.