The Pittsburgh Penguins rounded out their recent four-game road trip with a 4-2 win over the Colorado Avalanche. They played an impressive 40 minutes of hockey through the second and third periods but how much does this win change things when it comes to their head coaching situation? Lets face it, this Penguins team is expected to beat struggling opponents like the Avalanche, right? And, they almost lost, had they not stormed back in the third period and scored three goals.
Heading into Wednesday night's contest, it was widely believed that a loss would essentially seal the fate of Mike Johnston. Penguins' GM Jim Rutherford was candid in discussing his disagreement with lineup decisions that Johnston has made, specifically those concerning rookie Daniel Sprong. He also canceled his trip to the NHL Board of Governors meeting to join the team in Colorado, something that many saw as an indication that he would relieve Johnston of his duties prior to returning home.
The Penguins won and Sprong played but was it out of necessity more than actually wanting to infuse him in the lineup? His roughly six minutes of ice time, while his most frequent line mates topped 10 minutes of even-strength time, sure doesn't boast confidence in the youngster. And it's unfortunate considering that he showed some pizzazz with the puck during that short stint of playing time.
Johnston Watch Isn't Over
The L.A. Kings will visit the Consol Energy Center tomorrow night. The Penguins faced the Kings on their most recent trip as well and turned in one of the most embarrassing performances of the season, so there will obviously be a lot of eyes on how this team responds. There will also be a lot of eyes on the lineup that Johnston deploys and how much he utilizes guys like Sprong. If the Penguins look like the team that we saw at the Staples Center this past Saturday, they may have an interim head coach behind the bench when they face the Washington Capitals on Monday.
Darren Dreger of TSN echoed these sentiments while discussing Pittsburgh's situation on the radio earlier today.
https://twitter.com/NicholsOnHockey/status/674974760401432576
Personally, I saw a spirited team against the Avalanche that looked determined to make a statement in the third period. But, that emotionally charged performance could very well have been a response to one of the most respected players in the locker room, Pascal Dupuis, retiring from hockey one day prior. Ben Lovejoy and Ian Cole were quick to say that this team wanted to play hard for their coach amidst all of the controversy surrounding him. I guess we'll see if that still stands true tomorrow night when the Penguins face a Kings team that will be a much more formidable foe than Colorado.
Pittsburgh Penguins vs. Colorado Avalanche – Thoughts and Observations
Sergei Plotnikov is becoming a serious force on the ice. His play below the opponent's goal line and along the boards is truly something to marvel. At one point last night, he battled three Avalanche players almost directly behind the net and came away with possession. I recently wrote about wanting to see more points from the Penguins' bottom-six and that remains true. But, I feel like it's only a matter of time before Plotnikov starts seeing the fruit of his labor.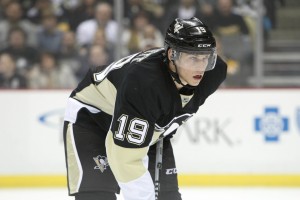 Johnston has made very few good decisions when it comes to the Penguins' lines. However, moving Beau Bennett to Crosby's right-wing definitely falls under the category of "good idea". Bennett, at least so far, is seizing the opportunity and playing well. Many of us that watch and analyze this team have been beating that drum for weeks but better late than never I guess.
Chris Kunitz may truly be the answer on Crosby's left side, as long as he's flanked by a skilled forward like Bennett on the opposite wing. That trio has been good and Kunitz is a big part of that success. His tenacity and forechecking is reminiscent of what we saw from him prior to last season's downward spiral and now that his opposite winger isn't also chipping and chasing, that line is creating chances. Crosby's production hasn't returned to what we've expected but the recent uptick in performance by Kunitz paired with Bennett's contributions seem to be turning things around for the Captain.
Lastly, if the Penguins can figure things out in time for a playoff run next spring, they certainly seem to have a goaltender that's ready to carry them in the post season. Marc-Andre Fleury was fantastic yet again in Colorado and a large part of why the Penguins had the opportunity to come back in the third. He continues to be nothing short of spectacular and remains cemented into team MVP status.