LEAFS DAILY:
The other day I wrote about how the Leafs, having assembled a large collection of quality former first-round picks, could consider themselves much farther ahead in the rebuild than generally acknowledged.
Ultimately the purpose of that article was to try to get people to think about different ways to construct a hockey team, because the idea of just being horrible for five years and drafting at the top of the draft isn't a realistic team-building strategy.  However, it was also to point out that the Leafs actually have several players who are much better than generally acknowledged and that the current situation may not be as bleak as it seems.
As the Maple Leafs get set for a week off after last night's victory against the Devils, they sit last in the Atlantic with ten wins and 25 points.  On one hand, they are only a point out of last place in the entire league – however 13 of 30 teams, close to 50% of the entire league, are within four points of last place – and yet, on the other hand, the Leafs are just three wins out of a wildcard spot.
Given the team the Leafs have, the parity in the NHL and the number of teams they'd have to climb over to get to the Playoffs, they are extremely unlikely to make the second season, especially if Detroit and Ottawa out-perform the wildcard position and block what only recently seemed like an easier path to the playoffs.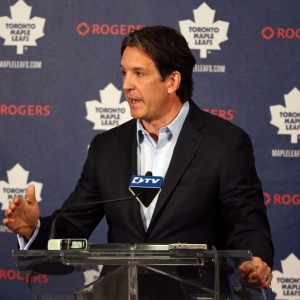 They Promised a Rebuild, They Moved One Player
One of the weirder facts about the way the Leafs have gone about rebuilding since they decided to stop trying to build a Phil Kessel led team into a competitor, is that they haven't done any rebuilding. Tyler Bozak? Still here.  Joffrey Lupul ? Same. Roman Polak? Dion Phaneuf?  Both still here.
Now, it's clear that they need to move certain players, but if they were really to "scorch the earth" then they'd have to get rid of players that I suggested last week they build around – namely Jake Gardiner, Nazem Kadri , James Reimer, Leo Komarov and James Van Rymsdyk.
While I think that all five of those players are excellent, I also think it is entirely possible that I was wrong about building around them and that their best use to the organization is as trade chips – I'm not sure you can replace them or hope to draft better players, but if you really and truly want to do a very patient rebuild, then it must at least be considered.
What Could You Get?
This is the exciting part. As much as I am a huge fan of all of these players and would hate to see them go, I think that you could get quite a haul if you made them all available.
Kadri
Just 25, Kadri will be a RFA after this season meaning that his current contract isn't prohibitive to a trade, but also that if a team acquired him, it would mean he can't just walk away for nothing like an unrestricted free agent could.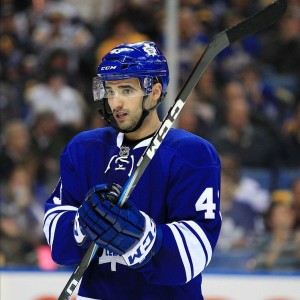 I speculate that this, combined with his game-breaking talent, his potential, excellent peripheral stats and the fact that it's generally impossible to acquire a player of his talent without a cap hit in the middle of the season, could make a Kadri trade a potential windfall for the Leafs.
I do, however, say this with extreme caution. The Leafs can only trade Kadri if the return is some kind of potentially elite blue-chip player – you can't give a team a valuable piece at a discount, especially one you've spent years developing, just because he went through one of the unluckiest shooting stretches imaginable and doesn't have traditional stats to match his true value.
Van Riemsdyk
JVR is 26, he is putting excellent possession numbers this year and is statistically having an excellent season.  The low cap-hit, the potential to keep him around for a few years and the fact that he has 40 goal talent would make him the jewel of the trade market if he were made available.
Honestly, it would be hard to have JVR and be rebuilding and not be curious about what you could get for him.  I think he could bring back an absolute ton for the Leafs.
James Reimer
Goalies don't generally bring back a lot, so I might keep Reimer regardless of what direction the organization takes. I can see him being an excellent mentor to a young goalie like Sparks.  Then again, if some team does suffer a goalie injury and you could get a second or third round pick for him, why not?
Leo Komarov
He's having his best offensive season and is an elite defensive option. Not trading him would almost seem counter-productive. If I was the Leafs I would be shopping him to a team like the Oilers who could desperately use a Selke quality forward in their lineup.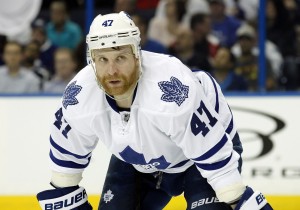 Jake Gardiner
Given his age, contract and excellent statistical impact, it probably isn't a good idea to trade Jake Gardiner since he is unquestionably the Leafs' current best dman and they are not well stocked in prospects who project to be anywhere near as good as he is.
However, not many top pairing worthy 25 year-old defensemen ever come on the market, so if a team looking to compete now came calling and you could exchange him for a blue-chip prospect, I would think you'd have to at least consider it.
Final Analysis
The Leafs have two options as I see it: Option A is to do what I suggested last week, which is to realize that the Leafs have a bevy of quality mid-twenties players they'd be lucky to replicate in the future, and move forward with a hybrid rebuild somewhere between scorching the earth and trying to win now.  I think this move offers the least risk and is perhaps not as exciting, but we'd get to see good hockey sooner.
The second option is what I have just outlined. Going to absolute crazy-town and getting rid of every single player on the current roster besides Morgan Reilly – scorching the earth, if you will.  This option is risky because you have less cost control, less idea of what you actually have (since you're projecting into the future as opposed to just evaluating the present) and a longer time until the team is good again.  But for all that risk, you have a chance at a better reward.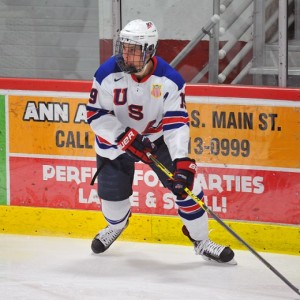 The Leafs could move out nearly everyone on their roster and finish 30th in the NHL, giving them a guarantee of no worse than fourth pick in the draft and the best odds at franchise-changing Auston Matthews.  They would also benefit by adding several more first-round picks and top prospects from the guys they moved out, which, when added to Mitch Marner, William Nylander, Morgan Rielly and Kasperi Kapanen would give them an absolutely insane collection of prospects and young players.
It would take some serious guts to follow through with plan B.  You'd have to commit to at least one more year of total crap after this one and you'd be betting that you could replace JVR, Gardiner, Kadri and Reimer with younger, better versions.  The odds of doing that make up almost  the entire reasoning for my having previously suggested strenuously that they go with option A.
It might be difficult and it might not work, but the more I think about it, blowing it all up completely sounds kind of fun. I do however have extremely mixed feelings about trading either Kadri or Gardiner, so I don't honestly know what I would do if it was up to me, or even what I want the Leafs to do.
What do you think?
Covering the Leafs for the Hockey Writers.